Nvidia rally pumps AI-themed cryptos; Bitcoin, Ether rise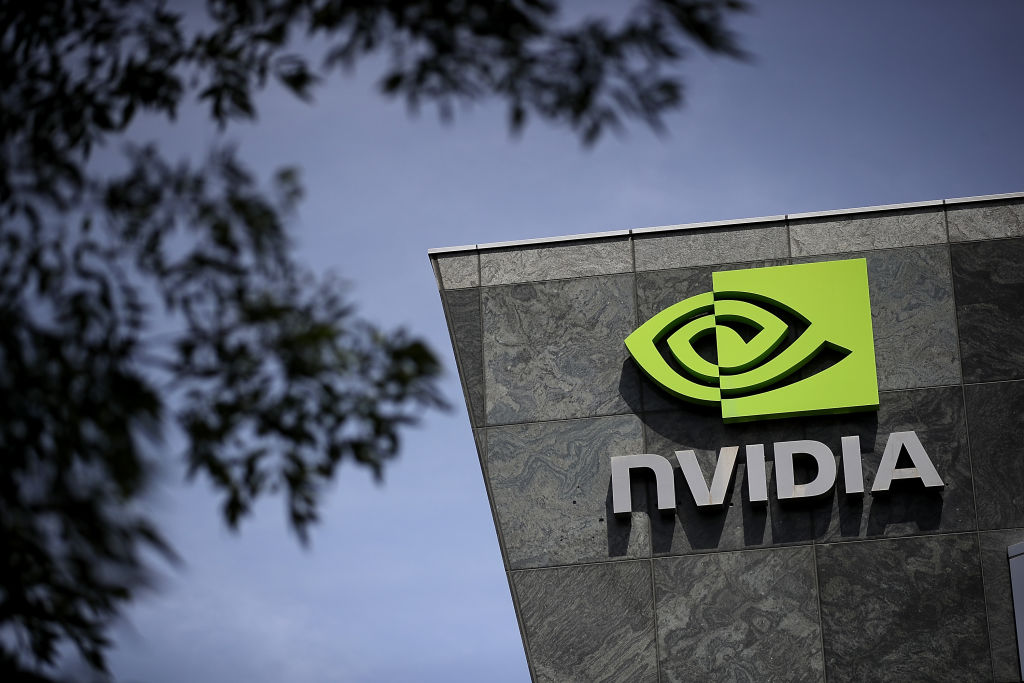 Bit­coin and Ether rose on Fri­day morn­ing in Asia, along with near­ly all oth­er top 10 non-sta­ble­coin cryp­tocur­ren­cies. Binance is jump­ing on the non-fun­gi­ble token (NFT) lend­ing band­wag­on to take on Blur, which launched an NFT lend­ing pro­to­col ear­li­er this month that's now dom­i­nat­ing the mar­ket. U.S. investors con­tin­ue to mon­i­tor the country's ongo­ing debt ceil­ing talks, with media reports say­ing nego­ti­a­tions are edg­ing clos­er to a deal.
Nvidia boost for cryptocurrencies
Bit­coin rose 1.82% over the last 24 hours to US$26,431 at 9:30 a.m. in Hong Kong, accord­ing to data from Coin­Mar­ket­Cap. The world's largest cryp­tocur­ren­cy by mar­ket cap­i­tal­iza­tion was, how­ev­er, down 1.53% over the past sev­en days.
Ether climbed 1.85% in the past 24 hours to US$1,800. It remained lit­tle changed over the past week.
"This week, Bit­coin briefly dipped below its two-week range between US$26,500 and US$27,000, now chal­leng­ing the crit­i­cal 200-week­ly mov­ing aver­age at $26,275," said Rachel Lin, chief exec­u­tive offi­cer of Sin­ga­pore-based decen­tral­ized deriv­a­tives exchange Synfutures.
"A close below this week­ly range could neg­a­tive­ly impact Bit­coin and the broad­er cryp­to mar­ket, but a bounce from this lev­el could sig­ni­fy a pos­si­ble recov­ery," Lin added.
Lite­coin was the biggest gain­er in the past day among the top 10 non-sta­ble­coin cryp­tos. It rose 4.53% in the last 24 hours to US$87.4, but it logged a 4.09% loss for the week.
Tron record­ed the largest week­ly rise among the top 10 tokens, adding 9.38% for the week. How­ev­er, it slid 0.17% in the past 24 hours to US$0.07684. Cardano's ADA token dipped 0.22% in the past day and dropped 3.94% over the past week.
Mean­while, the surge of inter­est in chip­mak­er Nvidia – whose Nas­daq stock closed 24% high­er on Thurs­day giv­en its strong first-quar­ter earn­ings results – has extend­ed to the cryp­to space. Tokens relat­ed to arti­fi­cial intel­li­gence are show­ing sig­nif­i­cant gains.
FET — which has a mar­ket cap­i­tal­iza­tion of US$193 mil­lion — is the native cur­ren­cy of AI-pow­ered blockchain plat­form Fetch.ai. It gained 4.13% over the past 24 hours.
Sim­i­lar­ly, Sin­gu­lar­i­tyNET, the native coin of the decen­tral­ized AI mar­ket­place Sin­gu­lar­i­tyNET, rose 9% over the past day. Ren­der Token, the native coin of GPU-based ren­der­ing plat­form Ren­der Net­work, also added 3.31%.
Else­where, cryp­to exchange OKX announced Thurs­day that it has upgrad­ed its app to serve retail investors in Hong Kong. The city's new cryp­to trad­ing frame­work is set to take effect on June 1.
OKX users in Hong Kong will soon be able to trade 16 major cryp­tos, includ­ing Bit­coin and Ether.
Blur, Binance vie for top NFT lender status
In the non-fun­gi­ble token (NFT) mar­ket, the Forkast 500 NFT index slipped 0.94% to 3,336.45 in the 24 hours to 11:00 a.m. in Hong Kong. The index was down 1.7% over the past sev­en days.
NFT sales on Ethereum fell 25.33% in the past 24 hours to US$13.75 mil­lion, accord­ing to Cryp­toSlam data. Where­as, sales on the Bit­coin blockchain rose 9.04% to US$2.2 million.
NFT lend­ing has emerged as a major area of com­pe­ti­tion between indus­try play­ers, with Binance and Blur now vying for top spot as the sector's pri­ma­ry lender.
Binance, the world's largest cryp­to exchange, is bet­ting big on NFT lend­ing. On Thurs­day it launched an NFT loan fea­ture that, it says, "merges the NFT and DeFi spaces to pro­vide liq­uid­i­ty to NFT own­ers through col­lat­er­al-based loans."
The move builds on Binance's launch of its own NFT mar­ket­place in June 2021.
Blur — an NFT mar­ket­place that rose to promi­nence ear­li­er this year with its zero-fee trans­ac­tion mod­el — intro­duced its own NFT lend­ing pro­to­col Blend on May 1. It has since cor­nered 82% of the NFT lend­ing mar­ket, accord­ing to a Thurs­day report from blockchain data firm DappRadar.
The report reveals that Blend han­dled a total loan vol­ume of 169,900 Ether (rough­ly US$305.8 mil­lion) in its first 22 days.
"Blur con­tin­ues to push for­ward inno­va­tion in bring­ing prod­ucts and tools to traders, and NFT-lend­ing options are an impor­tant part of the devel­op­ment and mat­u­ra­tion of the NFT space as a whole," said Bren­dan Humphries, head of busi­ness at Pine Pro­to­col, a peer-to-pro­to­col NFT lend­ing plat­form, via email.
Humphries added that Blur's gov­er­nance frame­work and its token incen­tives have allowed it to cap­ture dom­i­nant mar­ket share in its emerg­ing rival­ry with oth­er NFT mar­ket­places such as OpenSea.
"The con­tin­u­ous nature of Blend's loans has proven attrac­tive to traders seek­ing addi­tion­al lever­age," Humphries said. "Prod­ucts like Blend con­tribute to the con­tin­ued mat­u­ra­tion of the NFT mar­ket, increase mar­ket effi­cien­cy, and make the space more attrac­tive to new entrants seek­ing sophis­ti­cat­ed prod­ucts and tools."
Else­where, Pudgy Pen­guins, an Ethereum NFT col­lec­tion launched in July 2021, gained momen­tum with a 24.34% rise in the past 24 hours. That made it the 14th most sold col­lec­tion with US$280,680 in dai­ly sales. Those gains fol­low the project's release of new phys­i­cal action fig­ures on May 19. Over 20,000 of the fig­ures sold in the first two days.
Addi­tion­al­ly, sports­wear brand Nike's vir­tu­al cre­ation debut has received pos­i­tive indus­try reac­tions. Its Force 1 NFT sneak­er col­lec­tion — which went on sale from Wednes­day — sold over 55,000 pieces to over 30,000 unique mem­bers in the first day via the brand's own NFT plat­form .SWOOSH.
Our Force 1 Day 1 was HUGE 🤯

Over 55K OF1 Box­es sold to over 30K unique .SWOOSH members 🤝

As a reminder – You can buy up to 4 OF1 Box­es dur­ing Gen­er­al Access, even if you already pur­chased 1 dur­ing First Access. 📦

— .SWOOSH (@dotSWOOSH) May 25, 2023
Bored Ape Yacht Club (BAYC) saw the most sales across the NFT mar­ket in the past day, even as its dai­ly sales fell 52% over the last 24 hours to US$1.06 million.
U.S. futures fall
Major U.S. stock futures trad­ed down as of 12:40 p.m. in Hong Kong. The Dow Jones Indus­tri­al Aver­age futures slipped 0.15%, while the tech-heavy Nas­daq 100 futures rose edged down 0.2%. The S&P 500 futures lost 0.2%.
U.S. nego­tia­tors are edg­ing clos­er to a deal to raise the nation's debt lim­it, Reuters report­ed on Thurs­day cit­ing a source famil­iar with the mat­ter. The report said U.S. Pres­i­dent Joe Biden and House Speak­er Kevin McCarthy are now just US$70 bil­lion off in their esti­mates for dis­cre­tionary spending.
That spend­ing cov­ers areas of the bud­get that include hous­ing, edu­ca­tion and the military.
U.S. Trea­sury Sec­re­tary Janet Yellen has referred to June 1 as the poten­tial "X‑date' when the gov­ern­ment will no longer be able to pay its debts. Fail­ure to agree to a rise in the debt ceil­ing by that date would have dev­as­tat­ing ram­i­fi­ca­tions for U.S. and glob­al markets.
Mean­while, Aus­tralia said Fri­day that the country's retail sales remained flat in April amid cost of liv­ing pres­sure and ris­ing inter­est rates.
"Spend­ing was again soft in April but was boost­ed by increased spend­ing on win­ter cloth­ing in response to cool­er and wet­ter than aver­age weath­er across the coun­try," said Ben Dor­ber, head of retail sta­tis­tics at the Aus­tralian Bureau of Sta­tis­tics, in a Fri­day state­ment.
Else­where, Malaysia's infla­tion rose at a slow­er rate of 3.3% in April, com­pared to a 3.4% increase in March, accord­ing to offi­cial data released Fri­day. That is in line with mar­ket expectations.