Voyager Gets $610 Million from Selling Shiba Inu, ETH and VGX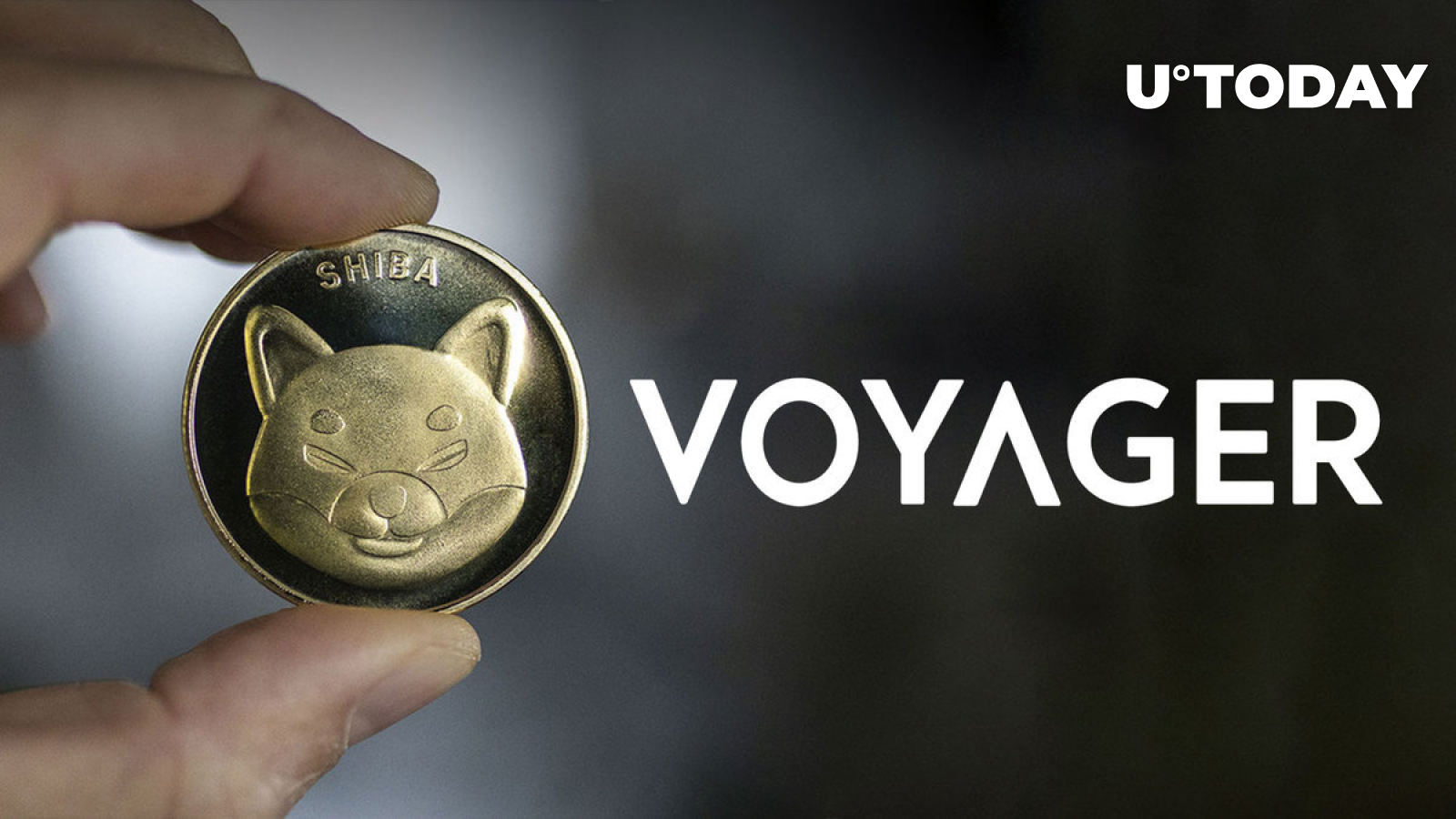 Yuri Molchan
Voy­ager received near­ly one bil­lion after get­ting rid of SHIB, com­pa­ny has already sent part of it to con­vert into fiat
Accord­ing to data obtained by @lookonchain "Smart­Money" track­er, over the past month, bank­rupt cryp­to lender Voy­ager Dig­i­tal has received an astound­ing sum in USDC for sell­ing part of its cryp­to hold­ings, includ­ing Shi­ba Inu meme coin.
Voyager receives $610 million for SHIB and other assets
In total, Voy­ager has received approx­i­mate­ly 610 mil­lion USDC for sell­ing SHIB, Ethereum, VGX and oth­er cryp­tos. From this amount, the com­pa­ny has already sent 150 mil­lion USDC to the issuer of its sta­ble­coin – Cir­cle – to con­vert this amount of cryp­to into fiat USD.
Ear­li­er this month, as report­ed by U.Today, the above-men­tioned failed cryp­to bro­ker­age firm dumped rough­ly 1.6 tril­lion Shi­ba Inu in three chunks, send­ing 2 x 400 bil­lion SHIB and 800 bil­lion SHIB to var­i­ous major cryp­to exchanges, includ­ing Coin­base and Binance.
Among oth­er cryp­to hold­ings, the com­pa­ny liq­ui­dat­ed LINK, SUSHI, COMP and MKR.
As report­ed by U.Today ear­li­er, a U.S. court approved that Binance US could acquire the dis­tressed assets of Voy­ager for $1.3 bil­lion despite the SEC reg­u­la­to­ry agency object­ing to that deal.
Voy­ager trans­ferred 150M $USDC to #Cir­cle for USD cash 6 hrs ago.

2 address­es of #Voy­ager received a total of ~610M $USDC by sell­ing tokens like $ETH, $VGX, $SHIB, etc. in the past month.https://t.co/sr3B5YFJDa pic.twitter.com/OYe4K7w5Rb

— Lookon­chain (@lookonchain) March 29, 2023
CFTC lawsuit against Binance halts Binance US-Voyager deal
How­ev­er, now that Binance and its leader CZ have been sued by the CFTC this week, a fed­er­al judge has put the already approved deal between the two com­pa­nies on hold to give oppo­nents of that deal more time for their appeals against the deal to be considered.
Binance has been sued for alleged­ly break­ing U.S. laws on spot and deriv­a­tives trad­ing by allow­ing U.S. cit­i­zens to par­tic­i­pate in those despite the pro­hi­bi­tion. CZ respond­ed to that on Binance's blog the oth­er day, say­ing that Binance blocks U.S. cit­i­zens from open­ing accounts; how­ev­er, he insists that their sub­sidiary, Binance US, fol­lows all the nec­es­sary laws and coop­er­ates with U.S. reg­u­la­tors on these issues.