Here are rates of Bitcoin, Dogecoin, Ethereum, Tether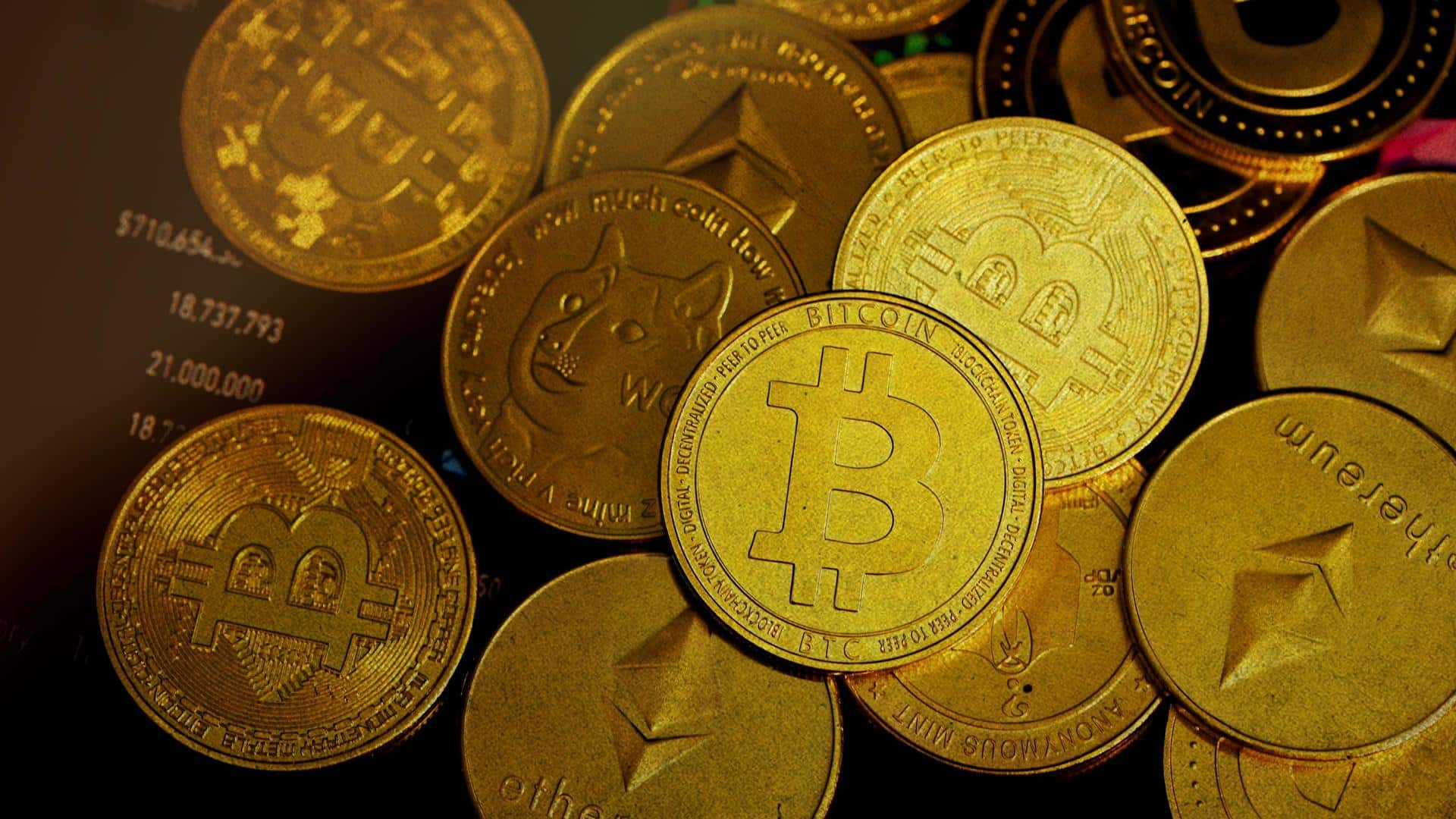 Cryp­tocur­ren­cy prices: Here are rates of Bit­coin, Doge­coin, Ethereum, Tether
Mar 19, 2023, 10:50 am
3 min read
Bit­coin has slipped by 0.77% in the past 24 hours to now trade at $27,175.77. It is 31.51% high­er than the week before.

The sec­ond most pop­u­lar token, Ethereum, has dropped by 1.54% from yes­ter­day to now trade at $1,781.38. It has climbed 20.15% from last week.

Their mar­ket cap­i­tal­iza­tion stands at $525.46 bil­lion and $218.15 bil­lion, respectively.
How have other prominent cryptocurrencies performed today?
BNB is trad­ing at $332.81, which is 3.31% less than yes­ter­day and 18.80% high­er than the pre­vi­ous week.

Today, XRP's price is $0.33, down 1.28% in the last 24 hours. It is 3.27% high­er than last week.

Car­dano and Doge­coin are trad­ing at $0.33 (down 3.04%) and $0.077 (down 3.51%), respectively.
Take a look at top 5 gainers of the day
The top five gain­ers based on the 24-hour move­ment are Mask Net­work, MAGIC, Axie Infin­i­ty, Ter­ra Clas­sic, and Fei USD. They are trad­ing at $6.41 (up 8.66%), $1.87 (up 6.33%), $9.49 (up 2.78%), $0.00011 (up 2.68%), and $0.99 (up 1.57%), respectively.
Solana has moved up by 20.59% since last week
Solana, Pol­ka Dot, Shi­ba Inu, and Poly­gon are cur­rent­ly trad­ing at $21.82 (down 3.17%), $6.6200 (up 1.85%), $0.000011 (down 2.96%), and $1.19 (down 3.14%), respectively.

Based on the week­ly chart, Solana is up 20.59% while Pol­ka Dot has risen by 10.53%.

Shi­ba Inu's val­ue has declined by 1.82% in the last sev­en days where­as Poly­gon has gained 12.22%.
Check out today's top 5 losers
The biggest losers of the day are Sin­gu­lar­i­tyNET, Lido DAO, UNUS SED LEO, Kava, and Ethereum Clas­sic. They are trad­ing at $0.55 (down 10.46%), $2.54 (down 6.35%), $3.35 (down 5.43%), $1.01 (down 5.34%), and $21.27 (down 4.91%), respectively.
These are the top 3 cryptocurrency spot exchanges
The top three cryp­tocur­ren­cy spot exchanges are Binance, Coin­base Exchange, and Krak­en, based on the traf­fic, trad­ing vol­umes, liq­uid­i­ty, and con­fi­dence in the legit­i­ma­cy of trad­ing volumes.

Binance and Coin­base Exchange saw 24-hour vol­umes of $20.5 bil­lion (down 34.41%) and $1.43 bil­lion (down 49.62%), respec­tive­ly. Krak­en record­ed a vol­ume of $0.52 bil­lion which is down 54.88% from yesterday.
Here are today's leading DeFi tokens
DeFi, which is short for decen­tral­ized finance, is relat­ed to glob­al, peer-to-peer finan­cial ser­vices on pub­lic blockchains.

Some of the promi­nent DeFi tokens are Avalanche, Dai, Uniswap, Wrapped Bit­coin, and Chain­link. They are trad­ing at $17.30 (down 2.75%), $0.99 (down 0.04%), $6.63 (up 1.38%), $27,194.11 (down 0.54%), and $7.07 (down 2.05%), respectively.
These are the top 5 NFT tokens for today
Non-fun­gi­ble tokens (NFTs) are cryp­tocur­ren­cies that lack the attribute of fun­gi­bil­i­ty, which means they can­not be exchanged for one anoth­er like oth­er tokens.

Among the pop­u­lar NFT tokens are Stacks, Inter­net Com­put­er, ApeCoin, Immutable, and Decen­tra­land. They are cur­rent­ly trad­ing at $1.20 (down 3.44%), $5.44 (down 3.32%), $4.35 (down 3.73%), $1.50 (up 0.88%), and $0.66 (down 1.37%), respectively.
Total cryptocurrency market capitalization
The cur­rent glob­al cryp­to mar­ket cap is $1.15 tril­lion, a 1.77% increase over the last day. The total cryp­to mar­ket vol­ume over the last 24 hours is $68.92 bil­lion, which marks an 18.26% increase.

Last month, the glob­al cryp­to mar­ket cap was $1.12 tril­lion while three months back, the total cap­i­tal­iza­tion stood at $810.22 billion.