NFT artwork by Bloomfield artist featured in New York Fries contest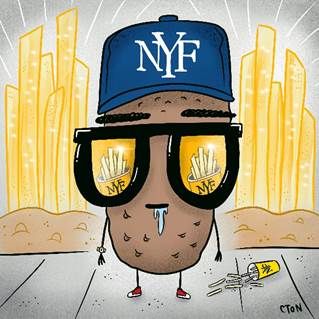 Article content
New York Fries (NYF) is part­ner­ing with Prince Edward Coun­ty-based artist Clay­ton Han­mer to cre­ate a one-of-a-kind piece of fries-inspired dig­i­tal art called "New York Fry State of Mind."
Article content
A Bloom­field res­i­dent, Hanmer's edu­ca­tion­al, comedic, and award-win­ning illus­tra­tions have giv­en him a broad range of clients from The New York Times to Nation­al Geo­graph­ic Kids, the com­pa­ny said.
The exclu­sive "New York Fry State of Mind," is up for grabs as an NFT, avail­able only to mem­bers of NYF's loy­al­ty pro­gram, Fry Society.
NFTs are dig­i­tal-only files and come in the form of dig­i­tal art­works and oth­er media that are orig­i­nals and can't be copied.
Some NFTs by artists have fetched enor­mous sums around the world since 2021.
Until March 31, Fry Soci­ety mem­bers earn an entry with every NYF pur­chase for a chance to win. Full details can be found on the NYF web­site at www.newyorkfries.com/nft.
NYF's NFT pro­gram has been gain­ing momen­tum since its launch in 2022, the com­pa­ny said.
The ini­tia­tive spot­lights local artists and bol­sters excite­ment among fans – giv­ing them the oppor­tu­ni­ty to own exclu­sive, Cana­di­an art.