Crypto market liquidation tops $200M in 24 hours
After a week­long ral­ly that pushed Bit­coin (BTC) val­ue above $23,000, the cryp­to mar­ket expe­ri­enced a sig­nif­i­cant sell-off in the last 12 hours that liq­ui­dat­ed $183.99 mil­lion, accord­ing to Coin­glass data.
Total liq­ui­da­tions over the last 24 hours stood at $223.43 mil­lion as of press time. Of these liq­ui­da­tions, 90.29% occurred on traders who took long posi­tions on the mar­ket, accord­ing to Coin­glass data.
Dur­ing this peri­od, 63,210 traders were liq­ui­dat­ed — the most sig­nif­i­cant liq­ui­da­tion being a $4.64 mil­lion long posi­tion on BTC.
Bitcoin tumbles below $23k as investors take profit
Short-term BTC investors appear to be tak­ing prof­it after the cohort saw a dra­mat­ic increase in the num­ber of their coins held in profit.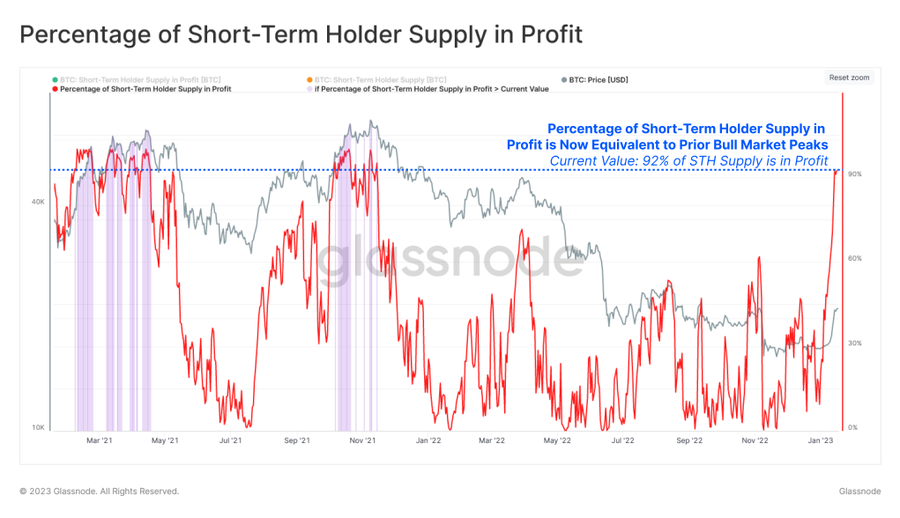 Glassnode said that this group's sup­ply in prof­it reached 92% — last seen in May 2021 and when BTC trad­ed at its all-time high in Novem­ber 2021.
"Giv­en this sub­stan­tial spike in prof­itabil­i­ty, the prob­a­bil­i­ty of sell pres­sure sourced from short-term hold­ers is like­ly to grow accordingly."
Glassnode fur­ther point­ed out that the prof­itabil­i­ty spike has dri­ven the cohort's spend­ing vol­ume above the long-term declin­ing trend.
Top 10 assets average a 5% loss
Except for sta­ble­coins, oth­er dig­i­tal assets on the top 10 cryp­to assets list post­ed an aver­age of a 5% loss in the last 24 hours, accord­ing to Cryp­toSlate data.
Dur­ing the report­ing peri­od, Ethereum (ETH) fell 5.20% to $1,552, while BNB declined 5.14% to $302. Car­dano (ADA), Solana (SOL), and Doge­coin (DOGE) plunged by 6.88%, 6.53 and 5.40%, respectively.