Ethereum liquidity staking protocol Lido links to L2 networks Arbitrum, Optimism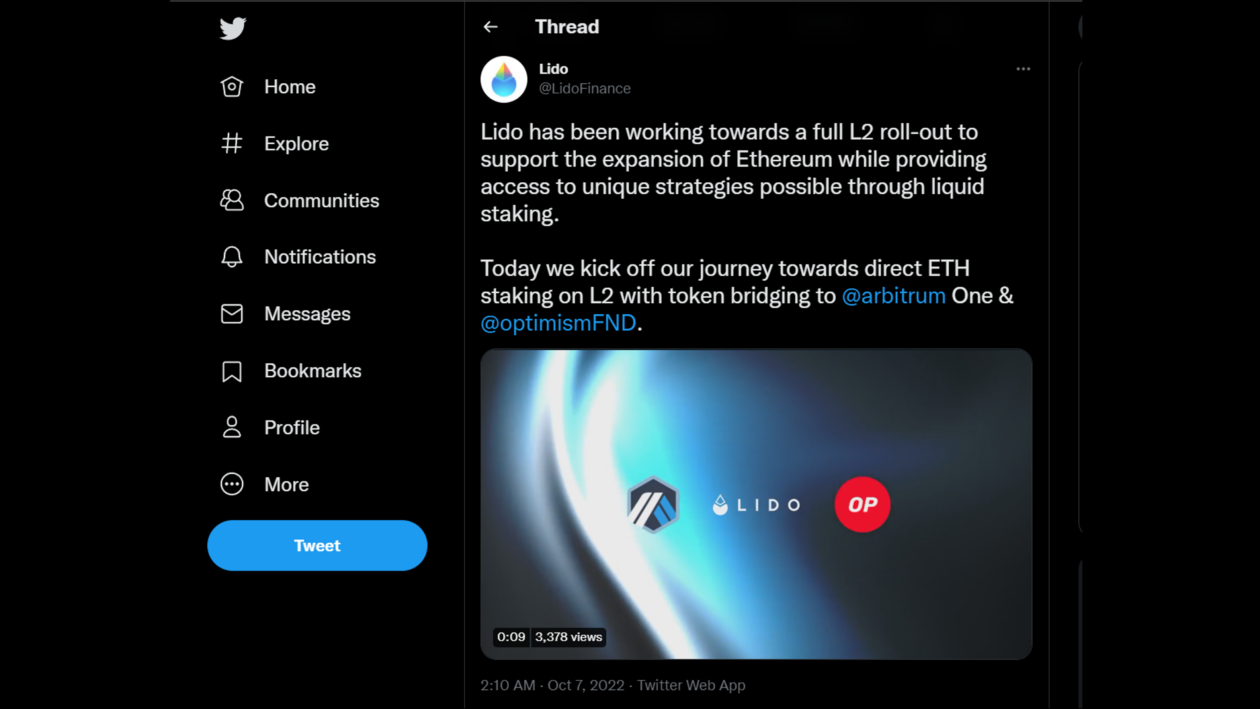 Ethereum liq­uid stak­ing pro­to­col Lido has announced the expan­sion of its stak­ing token stETH to Ethereum lay­er 2 net­works Arbi­trum Bridge and Opti­mism, accord­ing to a Fri­day tweet.
See relat­ed arti­cle: Vita­lik Buterin: Lay­er 2 the future of Ethereum scaling
Fast facts
This expan­sion comes with the launch of a token called wstETH — a "wrapped" ver­sion of the stak­ing coin stETH that pro­vides a sta­ble amount of tokens for users to cir­cu­late in the DeFi pro­to­col on the lay­er 2 networks.
The expan­sion will allow traders to stake tokens direct­ly on the lay­er 2 net­works, Lido said in the tweet.
"While stETH is con­fined to the Ethereum net­work, Lido's expan­sion means users will be able to stake and inter­act with their tokens with sig­nif­i­cant­ly low­er trans­ac­tion fees," said audit tech lead Jasper Lee of blockchain firm Sooho.io.
How­ev­er, bridge sys­tems like Arbi­trum and Opti­mism are more vul­ner­a­ble to hacks, Lee added. "It could fall vic­tim to a hack sim­i­lar to the one we saw with the Nomad bridge."
Lido is a pro­to­col that allows traders to stake with­out los­ing liq­uid­i­ty when stak­ing. Once users deposit ETH into the plat­form for stak­ing (a mech­a­nism that locks cryp­to assets for a peri­od to earn more cryp­to), they will receive the token stETH at a cer­tain rate, and the stETH can be cir­cu­lat­ed in oth­er DeFi trans­ac­tions for earning.
Opti­mism and Arbi­trum Bridge are so-called lay­er 2 blockchains that work on top of the Ethereum blockchain net­work (the "lay­er 1"). It bun­dles users' trans­ac­tions to add them to the Ethereum main­net for reduc­ing trans­ac­tion fees and alle­vi­at­ing net­work congestion.
See relat­ed arti­cle: 300 bad actors said to per­pe­trate Nomad's US$200 mln exploit