Bitcoin, Ethereum, Dogecoin Rise Despite Hawkish Fed: Analyst Says Wait For 'The Bigger Drop' Will Be Longer — Bitcoin (BTC/USD), Ethereum (ETH/USD), Dogecoin (DOGE/USD)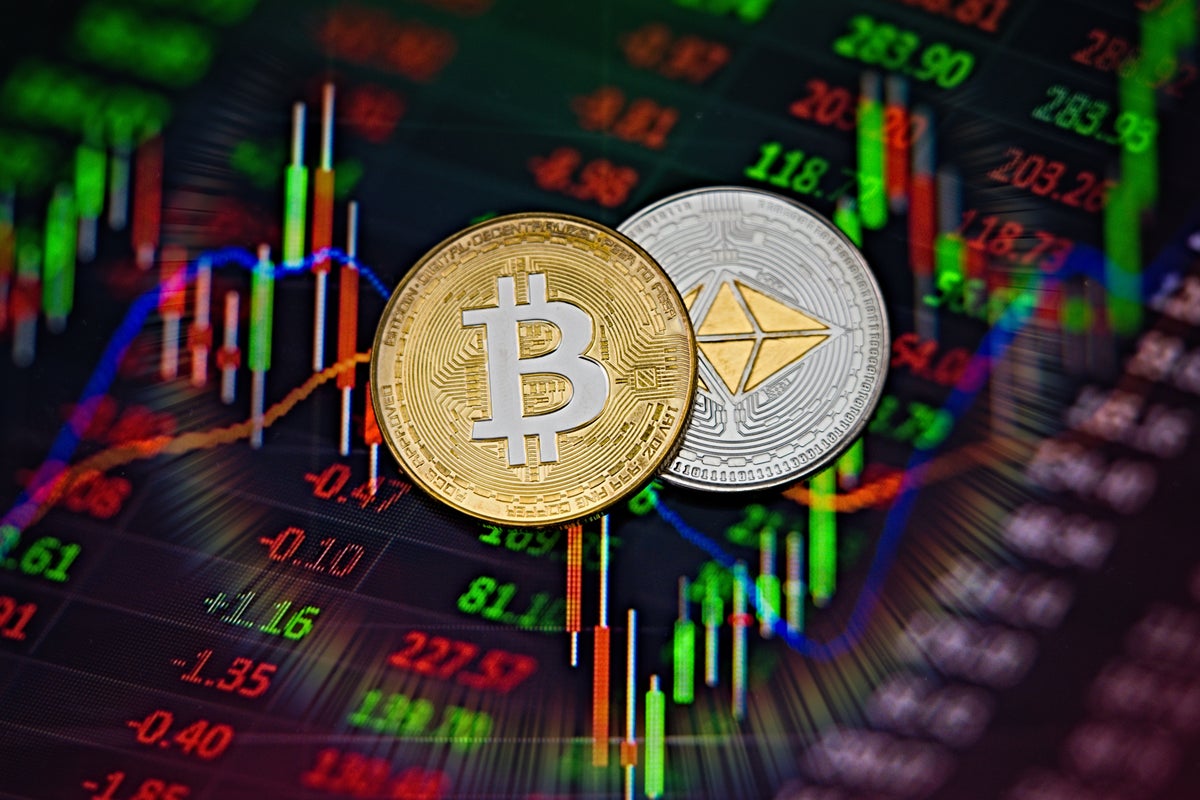 Bit­coin and Ethereum trad­ed in the green Thurs­day evening, as the glob­al cryp­tocur­ren­cy mar­ket cap rose 4.9% to $943.7 bil­lion at 8:19 p.m. EDT.
Price Per­for­mance Of Major Coins

Coin

24-hour

7‑day

Price




Bit­coin

BTC/USD

4.7%

-1.6%

$19,386.98




Ethereum

ETH/USD

6.6%

-9.6%

$1,330.52




Doge­coin

DOGE/USD

4.2%

1.6%

$0.06









Top 24-Hour Gain­ers (Data via CoinMarketCap)

| Cryp­tocur­ren­cy | 24-Hour % Change (+/-) | Price |
| --- | --- | --- |
| XRP (XRP) | +22.1% | $0.5 |
| Chiliz (CHZ) | +19.1% | $0.3 |
| UNUS SED LEO (LEO) | +14.1% | ​​$4.92 |
See Also: How To Get Free Crypto
Why It Mat­ters: Major cryp­tocur­ren­cies moved in the oppo­site direc­tion of stocks, which closed low­er on Thursday.
The S&P 500 and Nas­daq closed 0.8% and 1.4%, respec­tive­ly. At the time of writ­ing, U.S. stock futures were seen mar­gin­al­ly higher.
Mean­while, 10-year Trea­sury yields rose from four-month lows seen in ear­ly August as investors expect the U.S. Fed­er­al Reserve will con­tin­ue to main­tain its hawk­ish pose and keep rates high­er even if it affects eco­nom­ic growth, report­ed Reuters.
The yield curve between the 2‑year and 10-year trea­suries is the most invert­ed since the year 2000. The inver­sion reached as far as neg­a­tive 58 basis points, which shows the ris­ing anx­i­ety about an upcom­ing recession.
"Bit­coin is doing just fine as the glob­al bond mar­ket sell­off heats up. Recent­ly, it seems Bit­coin would be sharply low­er if Wall Street sees Trea­sury yields sky­rock­et and stocks sell-off, but that is not hap­pen­ing. Bitcoin's bot­tom could be in place if through­out this mar­ket volatil­i­ty it can hold the $18,000 lev­el," said Edward Moya, a senior mar­ket ana­lyst with OANDA, in a note seen by Benzinga.
Cryp­tocur­ren­cy trad­er Justin Ben­nett said that we are like­ly to see some "bull­ish reclaims," name­ly for Bitcoin.
"I think every­one will have to wait a while longer for the big drop," he said on Twitter.
We'll like­ly see some bull­ish reclaims at today's close, name­ly $BTC.

I think every­one will have to wait a while longer for the big drop. #stocks #cryp­to


— Justin Ben­nett (@JustinBennettFX) Sep­tem­ber 22, 2022
Cryp­tocur­ren­cy trad­er Michaël van de Poppe said that the total mar­ket cap­i­tal­iza­tion for cryp­tocur­ren­cy has regained the 200-week mov­ing aver­age, which is a pos­i­tive for the markets.
Total mar­ket cap­i­tal­iza­tion for #Cryp­to regain­ing the 200-Week MA.

That would be pos­i­tive for the mar­kets, over­all. pic.twitter.com/aUXkrsxmeI


— Michaël van de Poppe (@CryptoMichNL) Sep­tem­ber 22, 2022
Jon Haspel, a senior insti­tu­tion­al trad­ing asso­ciate at Block­Fi, tweet­ed that irre­spec­tive of the pre­vail­ing macro land­scape, Ethereum has seen pro­nounced sell­ing pres­sure due to numer­ous fac­tors such as decreas­ing whale wal­lets, min­er sell­ing and Ethereum Pow (ETHW) trade.
Well, irre­spec­tive of the macro land­scape, numer­ous fac­tors have influ­enced ETH's pro­nounced sell pressure:

- Decreas­ing Whale Wal­lets: depict­ed by @santimentfeed

— Min­er Sell­ing: tran­si­tion to PoS reduced min­er dependence

— ETHW Trade: long spot, short future trades unwound pic.twitter.com/OQcgLJq71q


— Jon Haspel (@jon_haspel) Sep­tem­ber 22, 2022
Mean­while, the price ratio of XRP/BTC hit a one-year high of 0.000025 as opti­mism builds around Rip­ple set­tling a law­suit with U.S. Secu­ri­ties and Exchange Com­mis­sion, said Santiment.
"Active shark & whale address­es hold­ing 1m to 10m [XRP] have been in an accu­mu­la­tion pat­tern since late 2020," said the mar­ket intel­li­gence plat­form on Twitter.
The price ratio of $XRP/ $BTC has hit a one-year high of 0.000025 on the con­tin­ued opti­mism of a poten­tial set­tle­ment of #Rip­ple with the #SEC. Active shark & whale address­es hold­ing 1m to 10m $XRP have been in an accu­mu­la­tion pat­tern since late 2020. https://t.co/z0E12cpn4G pic.twitter.com/dnmQZVxfvO


— San­ti­ment (@santimentfeed) Sep­tem­ber 22, 2022
Read Next: Bro­ken Record? JPMor­gan CEO Con­tin­ues Rant On Bit­coin, Calls It A 'Ponzi Scheme'