Badger DAO Price Needs To Do This To Pump 100%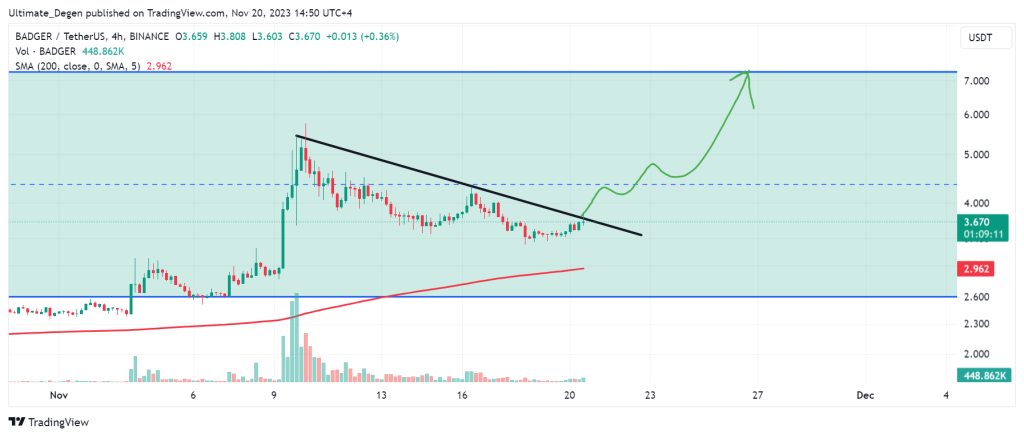 Bad­ger DAO price is attempt­ing a major break­out, which may poten­tial­ly dou­ble the price in the com­ing weeks. How­ev­er, it is too soon to jump on the band­wag­on as the break­out is not yet confirmed.
At the time of writ­ing, BADGER price is hov­er­ing around $3.66 after a 0.27% gain on Mon­day. Most of the oth­er alt­coins are also show­ing minor gains after a cor­rec­tion in the last week. This was due to the dip in Bit­coin price which took it below $36,000.
In the past 24 hrs, $14.6 mil­lion worth of Bad­ger DAO has changed hands across all the cen­tral­ized and decen­tral­ized exchanges. There also seems to be an increase in trad­ing vol­ume since the week­end which shows an increased investor interest.
Despite an 86% surge from its last month's lows, BADGER coin remains 95.85% down from its all-time high which it made back in Feb­ru­ary 2021. The down­trend could be attrib­uted to the decreased adop­tion and the decreas­ing TVL on the DeFi platform.
BADGER Coin Price Prediction
As the name sug­gests, Bad­ger is the native asset of the BADGER DAO which is a decen­tral­ized com­mu­ni­ty devel­op­ing the tools to make Bit­coin DeFi-friendly.
After a phe­nom­e­nal ral­ly from its Octo­ber lows, the cryp­tocur­ren­cy is now respect­ing a down­ward trend­line. This price action can be seen on the fol­low­ing chart on a 4‑hour timeframe.
Bad­ger price pre­dic­tion depends on the bull's abil­i­ty to break out of this down­ward trend­line and reclaim of the $4.36 lev­el which is the mid­dle of the cur­rent trad­ing range. If this occurs, a retest of the range highs around $7.3 could only be a mat­ter of time.
This will be an almost 93% price increase from the cur­rent prices. How­ev­er, the $3.66 lev­el may present a strong resis­tance in the com­ing days. There­fore, I will be per­son­al­ly watch­ing this break­out very close­ly. How­ev­er, the inval­i­da­tion of this bull­ish pre­dic­tion will be a rejec­tion from the down­ward trendline.
You can now also fol­low me on Twit­ter to fol­low my per­son­al stock and cryp­to trades.