Kingdomverse: explore the mobile games metaverse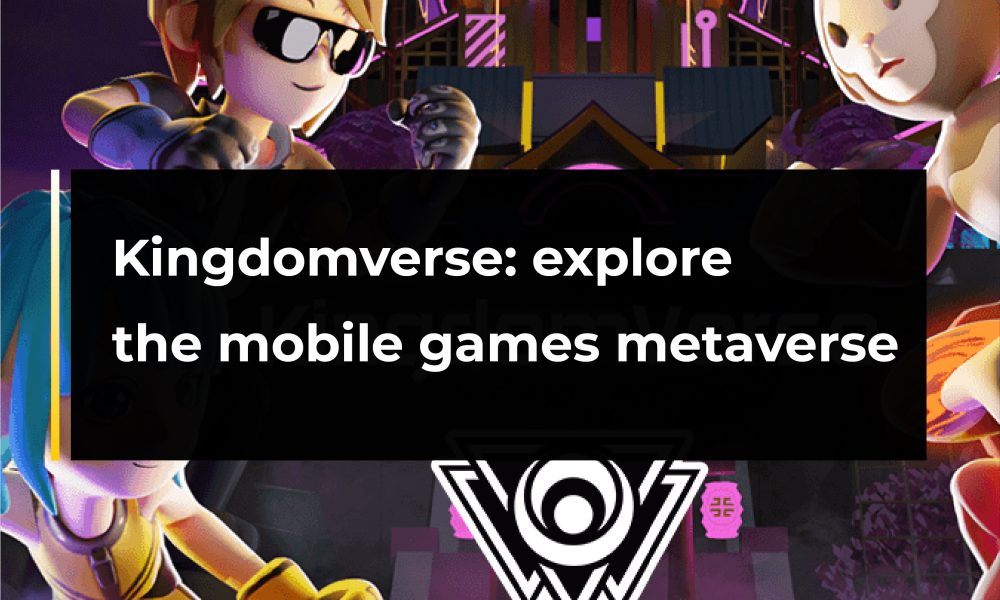 Web 3.0 is a new era that pri­or­i­tizes dig­i­tal own­er­ship, giv­ing play­ers con­trol over their in-game assets. This con­cept is based on the idea that the inter­net should be more decen­tral­ized, and that users should have more con­trol over their data and online assets. With Web 3.0, play­ers will be able to tru­ly own their in-game assets, and will be able to trade them in a peer-to-peer man­ner, with­out the need for inter­me­di­aries. This will cre­ate a more fair and open gam­ing ecosys­tem, where play­ers can tru­ly ben­e­fit from their efforts and invest­ments in the game. King­dom­verse takes this to heart, offer­ing immer­sive gam­ing expe­ri­ences that allow play­ers to tru­ly own what they acquire in the game. This rep­re­sents a sig­nif­i­cant shift in the way gamers inter­act with games, cre­at­ing a more engag­ing and reward­ing experience.
King­dom­verse is a mobile gam­ing meta­verse that com­pris­es dif­fer­ent mobile games linked by a dynam­ic, open-world social hub. This hub allows play­ers to social­ize, play games, and trade with one anoth­er. Inside this gam­i­fied social hub, gamers can also form guilds, engage in wars with one anoth­er, and cap­ture ter­ri­to­ries and regions. All in-game and meta­verse items in the King­dom­verse ecosys­tem are NFTs that may be trad­ed on the inter­nal and sec­ondary markets.
The King­dom­verse has a native token, $King, which has a max­i­mum sup­ply lim­it of 1 bil­lion tokens. The $King token will serve var­i­ous pur­pos­es and offer dif­fer­ent util­i­ties that play­ers can dis­cov­er and uti­lize with­in the King­dom­verse ecosystem.
King­dom­verse has PvP gam­ing, includ­ing both real-time and non-real-time PvP modes, to guar­an­tee that all play­ers have an enjoy­able expe­ri­ence. The King­dom­verse game design team builds on their pre­vi­ous expe­ri­ence design­ing PvP games. The team added game-bal­anc­ing tech­niques that con­sid­er a player's skill lev­el, time spent in the game, and resources invest­ed to give play­ers an immer­sive experience.
The King­dom­verse first mobile game is Defend the King­dom. In this game, play­ers form a team of five heroes to take on ene­mies and bat­tle against game mon­sters. Strate­gic place­ment of heroes on the map and com­bin­ing their abil­i­ties is essen­tial to over­come waves of ene­mies and defeat the final oppo­nent. The game fea­tures leader­boards to show­case the high­est-rat­ed play­ers. Each sea­son brings new quests, heroes, and items, but the game­play con­stant­ly evolves, requir­ing play­ers to come up with new strate­gies to defeat both ene­mies and oth­er play­ers in PvP mode. In addi­tion to PvP mode, play­ers can team up with friends in co-op mode to take on waves of AI ene­mies. The game also includes sea­son­al tour­na­ments with rewards for the top players.
Tour­na­ments in the game allow play­ers to earn tokens using a "win-to-earn" struc­ture that bal­ances skill and resources. The con­cept assures fair games by pro­hibit­ing high-spend­ing par­tic­i­pants from get­ting unfair advan­tages. It has Sea­son­al tour­na­ments which are exclu­sive­ly avail­able to play­ers who pur­chase the Sea­son Pass with $King and offer bet­ter pay­outs than reg­u­lar tour­na­ments. Fol­low­ing each sea­son­al com­pe­ti­tion, the game is adjust­ed and upgrad­ed with new Leg­ends and Heroes to ensure that the expe­ri­ence is balanced.
Kingdomverse: Mobile Metaverse
King­dom­verse Mobile Meta­verse (KMM) is a mobile game and social hub where play­ers may inter­act, form guilds, and explore the envi­ron­ment. KMM is a Real Time Strat­e­gy Game, and play­ers cre­ate their indi­vid­ual 'King­doms' and part­ner with oth­ers to form 'Empires'. The goal is to con­struct the most pow­er­ful 'King­dom' and/or 'Empire' in order to win con­flicts and grab more resources.
Players
Play­ers must pur­chase Island NFTs to con­struct King­doms, and they can join oth­er King­doms by stak­ing their King­dom­verse-issued Avatar NFTs. Play­ers can unlock NFT armours, struc­tures, and items for their King­doms as well as the Game Token "Shield" to upgrade their King­doms by play­ing the mobile games. Cer­tain Avatars have abil­i­ty to steal resources that allow them to take resources from oth­er kingdoms.
Kingdoms
King­doms are the home bases for play­er com­mu­ni­ties and take the form of float­ing islands, each of which is a unique NFT owned by a sin­gle user. Own­ers of a King­dom NFT are referred to as the Lords of their island. The NFTs have a lim­it­ed sup­ply and can be pur­chased with their native token, $King, but own­ing a King­dom is not required to par­tic­i­pate in KMM. Indi­vid­ual play­ers can stake any of their NFTs in the form of their avatars on the King­dom of their choice, so becom­ing a 'cit­i­zen' of that Kingdom.
Empires
Empires are guilds and groups that include more than one King­dom. The King­dom­verse match­ing sys­tem will pair oppo­nents with com­pa­ra­ble fight­ing pow­er. To begin a bat­tle, play­ers will have to select an oppo­nent from a list of match­es. A sta­mi­na bar will reflect the num­ber of bat­tles that play­ers can fight. Death Bat­tles are for gamers who enjoy high-risk, high-reward, furi­ous game­play. Gamers take turns fight­ing one-on-one for rare trea­sures, tokens, and oth­er rewards.
King­dom­verse employs a dual token struc­ture, with $King serv­ing as the native ERC-20 token and Shield serv­ing as the game util­i­ty token on a mul­ti-chain net­work. $King is Kingdomverse's native token, hav­ing a total sup­ply of 1 bil­lion. It can be used to pur­chase in-game items, pass­es, and King­dom­verse util­i­ty NFT items such as avatars and build­ings. It can also be used to trade NFT items in the King­dom­verse Mar­ket­place, and by hold­ing $King tokens, part­ner stu­dios can join the ecosys­tem. In addi­tion, users can receive $King tokens as sea­son tour­na­ment incen­tives for mobile games and the mobile metaverse.
King­dom­verse aims to reward play­ers who win gam­ing tour­na­ments and con­tribute to the devel­op­ment of the King­dom­verse by estab­lish­ing their king­doms and empire guilds and con­tribut­ing to the ecosys­tem. $King is award­ed to play­ers in a vari­ety of meth­ods, includ­ing top-rank­ing play­ers on leader­boards, king­dom, and empire fight cham­pi­ons, and sea­son tour­na­ment winners.
Shield has an unlim­it­ed sup­ply that can be uti­lized in both the mobile games and the mobile meta­verse. Shield can be obtained through reg­u­lar quests, leader­boards, events, and win­ning PVP battles.
Read also;
A bat­tle of suprema­cy: Uniswap Vs Pancakeswap
What do you think of this arti­cle? Share com­ments below.