Step Aside STEPN, There's a New Move2Earn APP That Requires SWEAT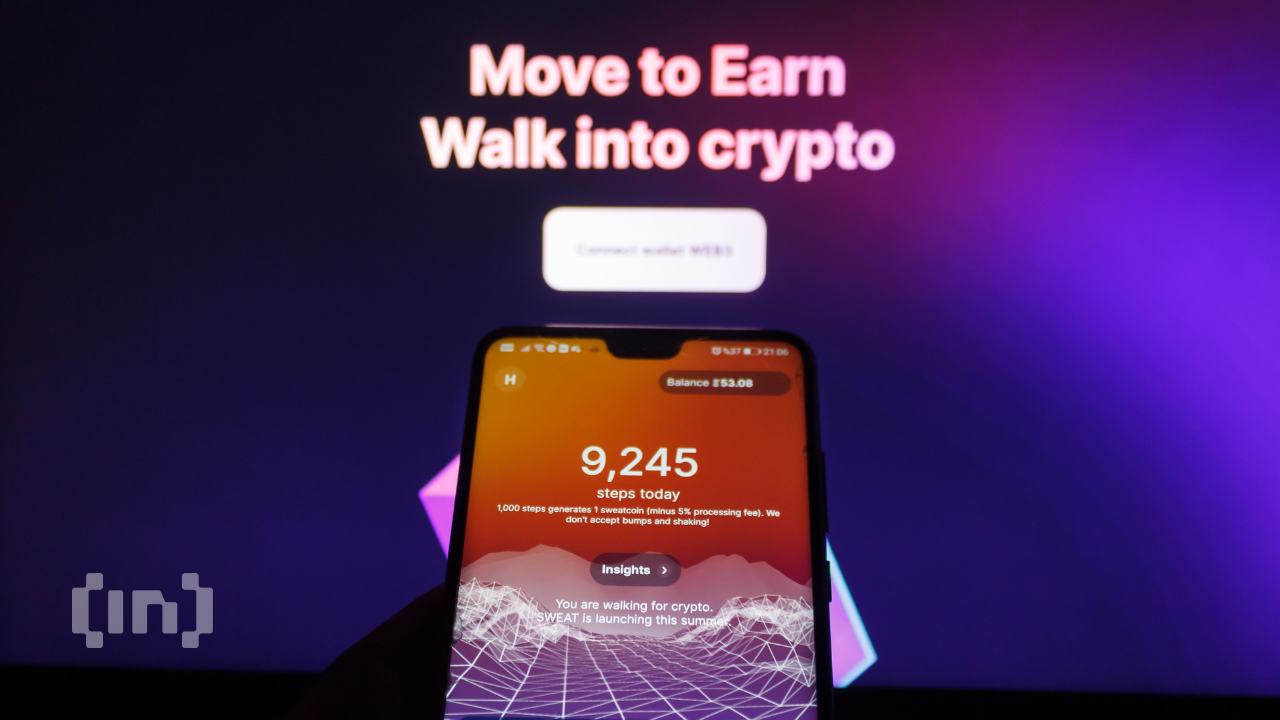 The cryp­to space is fraught with sev­er­al oppor­tu­ni­ties to reward indi­vid­u­als for par­tic­i­pa­tion. In less than two weeks after its launch, SWEAT is focused on becom­ing the new king in the move-to-earn niche, tak­ing the crown from STEPN.
The free move2earn blockchain plat­form start­ed as a web2app in 2016, reward­ing every user with one Sweat­coin for every 1000 steps. This reward is con­vert­ible to dig­i­tal prod­ucts and even cash.
Accord­ing to the project devel­op­ers, the goal was to make the world health­i­er. Now, the devel­op­ers believe the time is right to move on-chain, deploy­ing on the NEAR blockchain.
Move, earn SWEAT
SWEAT is the native token of the Sweat­coin ecosys­tem. The token can be earned through phys­i­cal activ­i­ties. Like Sweat­coin, users can make one SWEAT for every 1000 steps.
Mean­while, SWEAT can be earned for all move­ments, but a user can only earn a max­i­mum of 5 dai­ly. The token issuance dif­fi­cul­ty is expect­ed to increase over time, which means users need more steps to earn a SWEAT.
SWEAT has a total sup­ply of 21 bil­lion tokens which will be ful­ly vest­ed by Sep­tem­ber 2026. Already, Sweat­coin has air­dropped 4.7 bil­lion SWEAT to 13.5 mil­lion wal­lets ‑the largest air­drop in the space.
The big vision
SWEAT devel­op­ers have big dreams for the project. The devel­op­ers plan to release NFTs like rivals to pro­vide users with more reward opportunities.
The devel­op­ers revealed plans to cre­ate a DAO, intro­duce a refer­ral bonus, and build a cryp­to exchange and an NFT mar­ket­place. The devel­op­ers also high­light­ed that they are eye­ing the pos­si­bil­i­ty of their native token being used as gas fees for the ecosystem.
Since its launch, Sweat­coin and the Sweat Wal­let have enjoyed enor­mous com­mu­ni­ty sup­port, emerg­ing as the top apps in sev­er­al cat­e­gories and countries.
SWEAT token's val­ue dropped after peak­ing at $0.091476. It is trad­ing at $0.029608, drop­ping 21% in the last 24 hours. How­ev­er, the token has risen by over 300% from its val­ue at launch.
SWEAT Faces Competition
While SWEAT is rel­a­tive­ly new in the move-to-earn space, the project faces steep com­pe­ti­tion from sto­ried rivals like Solana-based STEPN, which boasts over 4 mil­lion reg­is­tered users across 200 countries.
STEPN recent­ly cel­e­brat­ed its first anniver­sary and has cement­ed itself as a force to reck­on with in the indus­try. Its growth has seen it piv­ot to oth­er blockchains like Ethereum and Binance Smart Chain.
How­ev­er, the tokens of the ecosys­tem have faced some lev­el of decline lead­ing to ques­tions about its toke­nomics. STEPN's GMT token has crashed by over 80% from its all-time high.
For Be[In]Crypto's lat­est Bit­coin (BTC) analy­sis, click here
Disclaimer
All the infor­ma­tion con­tained on our web­site is pub­lished in good faith and for gen­er­al infor­ma­tion pur­pos­es only. Any action the read­er takes upon the infor­ma­tion found on our web­site is strict­ly at their own risk.