Hacks in the DeFi ecosystem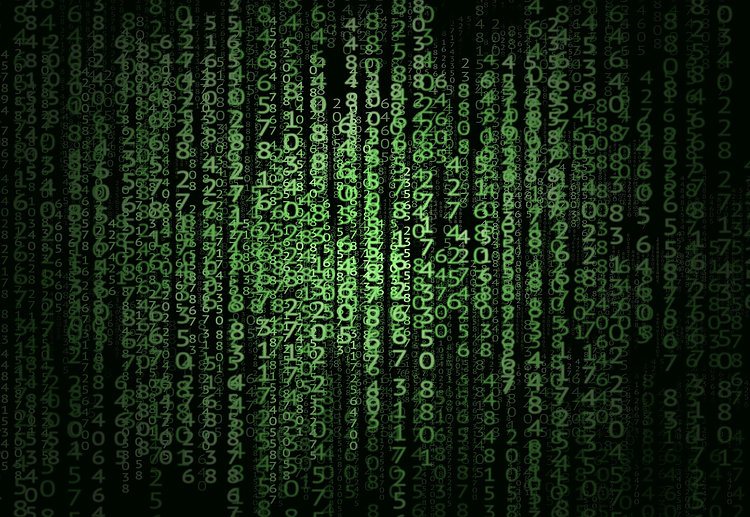 Mar­ket mak­er Win­ter­mute was drained of $160 mil­lion, after falling prey to a DeFi exploit.
A white hat hack­er uncov­ered a mul­ti-mil­lion dol­lar vul­ner­a­bil­i­ty in the Ethereum Arbi­trum Nitro bridge and received 400 ETH as payout.
90 assets were hit by the Win­ter­mute attack, none of the assets were over notion­al $2.5 mil­lion, no major sell-off expect­ed.
Exploits in the DeFi ecosys­tem, on decen­tral­ized exchanges, mar­ket mak­ers and bridges have become increas­ing­ly com­mon. Win­ter­mute was drained of $160 mil­lion in the lat­est exploit, but its CEO has con­firmed on-chain trad­ing will con­tin­ue. Ethereum and Arbi­trum-Nitro bridge dodged a mul­ti-mil­lion dol­lar attack, pay­ing out 400 ETH to a white hat hacker.
Also read: Bit­coin price: All eyes on FOMC, neg­a­tive infla­tion could slash hopes for crypto
Wintermute suffers $160 million exploit, no major sell-off expected
Lead­ing cryp­to mar­ket mak­er Win­ter­mute was hit by a $160 mil­lion exploit. Win­ter­mute has part­nered with the world's best cryp­to exchanges and projects to pro­vide liq­uid­i­ty. There­fore an exploit on Win­ter­mute raised sev­er­al con­cerns among the cryp­to com­mu­ni­ty.
Evge­ny Gaevoy, the CEO of Win­ter­mute point­ed out that the DeFi wing of the firm was tar­get­ed in the attack and funds in the cen­tral­ized exchange and over-the-counter offer­ings remained safe.
Among the 90 assets hit by the attack, only two have been for notion­al over $1 mil­lion and none more than $2.5 mil­lion. Gaevoy assured the com­mu­ni­ty that there will be no major sell-off in the cryp­to ecosys­tem. The CEO shed light on the fir­m's sol­ven­cy. "Insol­ven­cy" is a com­mon term that has been mak­ing the rounds in the cryp­to mar­ket since Three Arrows Cap­i­tal fund's failure.
Gaevoy assured traders that Win­ter­mute is still sol­vent. He was quot­ed as saying:
We are sol­vent with twice over that amount in equi­ty left. If you have a MM agree­ment with Win­ter­mute, your funds are safe. There will be a dis­rup­tion in our ser­vices today and poten­tial­ly for the next few days and will get back to nor­mal after. We are (still) open to treat­ing this as a white hat, so if you are the attack­er – get in touch.
An address asso­ci­at­ed with the Win­ter­mute hack (0xe74b28c2eae8679e3ccc3a94d5d0de83ccb84705) deposit­ed a whop­ping $114 mil­lion into Curve. The address has been flagged on Ether­scan as relat­ed to the Win­ter­mute exploit.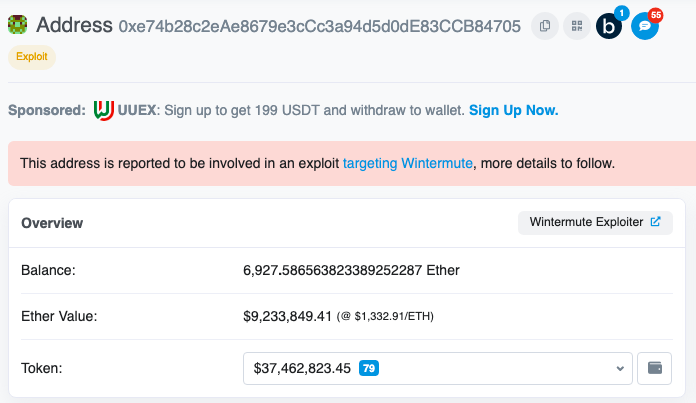 Win­ter­mute hack­er address
$114 mil­lion added to Curve
Gaevoy shared updates on the exploit, attribut­ing it to human error. The mar­ket mak­er has put a 10% boun­ty to the hack­er if all funds are returned, approx­i­mate­ly 16 mil­lion USDC. The attack vec­tor was asso­ci­at­ed with the mar­ket maker's Ethereum vault, used for on-chain DeFi trad­ing oper­a­tions and this is sep­a­rate from CeFi and OTC oper­a­tions of the firm.
Short com­mu­ni­ca­tion on the ongo­ing Win­ter­mute hack

— wish­ful cyn­ic (@EvgenyGaevoy) Sep­tem­ber 20, 2022
None of Wintermute's CeFi or OTC wal­lets were affect­ed or com­pro­mised and the exploit was most like­ly a "Pro­fan­i­ty-type exploit."
Pro­fan­i­ty, used for key-gen­er­a­tion on the com­pro­mised wal­let address was exploit­ed last week accord­ing to 1inch con­trib­u­tors and the hack was there­fore a human error. Despite the dis­cov­ery of the Pro­fan­i­ty exploit, the firm failed to switch its key gen­er­a­tion from the com­pro­mised project to elsewhere.
White hat hacker identified huge vulnerability in Ethereum to Arbitrum bridge
A white hat hack­er uncov­ered a mul­ti-mil­lion dol­lar vul­ner­a­bil­i­ty in the bridge link­ing Ethereum and Arbi­trum. Arbi­trum is a layer‑2 opti­mistic rollup solu­tion for Ethereum. It reduces net­work con­ges­tion and saves fees. Arbi­trum Nitro aims to sim­pli­fy com­mu­ni­ca­tion between Arbi­trum and Ethereum.
The hack­er received a 400 ETH boun­ty for the find. The attack­er goes by the name: Rip­tide. Rip­tide explained the exploit in a Medi­um post. The post reads:
We could either selec­tive­ly tar­get large ETH deposits to remain unde­tect­ed for a longer peri­od of time, siphon up every sin­gle deposit that comes through the bridge, or wait and just front-run the next mas­sive ETH deposit.
If a hack­er with mali­cious intent iden­ti­fied the vul­ner­a­bil­i­ty the hack could poten­tial­ly drain tens or hun­dreds of mil­lions worth of Ethereum. 168,000 ETH, val­ued over $225 mil­lion could have been stolen in the exploit.
As there was mas­sive earn­ing poten­tial from the exploit, Rip­tide believes the find should be eli­gi­ble for a max boun­ty, worth $2 million.