What Does Ethereum Merge Mean To Crypto Mining Ecosystem?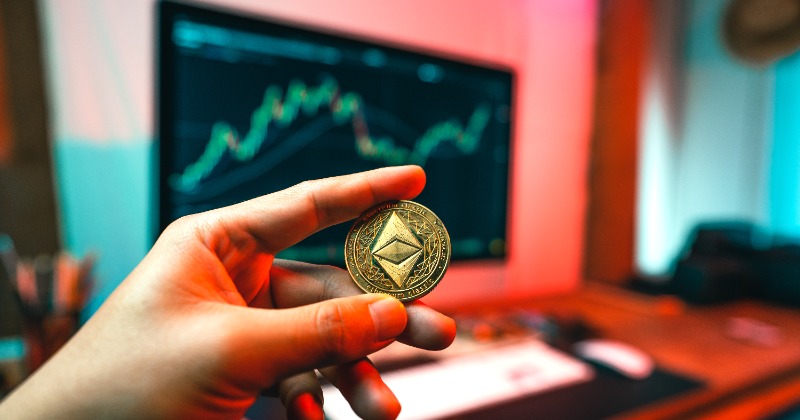 The Ethereum blockchain com­plet­ed a sig­nif­i­cant soft­ware upgrade, sig­nif­i­cant­ly low­er­ing its pow­er con­sump­tion, and Ether­mine, the top Ethereum min­ing pool oper­a­tor in the world by com­pu­ta­tion­al capa­bil­i­ties, closed down its facil­i­ties for miners.
What is Ethereum?
Fol­low­ing Bit­coin, Ethereum has become the most wide­ly used cryp­tocur­ren­cy. How­ev­er, it serves as more than just a means of trans­ac­tion or a repos­i­to­ry of wealth. In gen­er­al, Ethereum is described as "a dis­trib­uted pub­lic ledger with smart con­tract capa­bil­i­ty that is decen­tral­ized and open source."
The Ether (ETH) token pow­ers the Ethereum net­work, which was estab­lished in 2015 by Vita­lik Buterin and Gavin Wood. Through this net­work, users may con­duct trans­ac­tions, trade in cryp­tocur­ren­cies, pur­chase, and store NFTs, and more. It serves as a plat­form for the devel­op­ment of decen­tral­ized apps and exchanges.
What is Ether mining?
Over the past few years, ether min­ing has grown into a multi­bil­lion-dol­lar indus­try. The game involves min­ers com­pet­ing with one anoth­er to be the first to com­plete math­e­mat­i­cal chal­lenges and receive a token reward.
Min­ing pools like Ether­mine com­bined pro­cess­ing capac­i­ty from a num­ber of min­ers before dis­pers­ing the incen­tives among the min­ers to raise the chances of win­ning Ether. The busi­ness typ­i­cal­ly charged a fee for its services.
Investors and envi­ron­men­tal­ists have crit­i­cized most blockchain sys­tems since they con­sume a sig­nif­i­cant amount of ener­gy. Accord­ing to researcher Digi­con­o­mist, well before the soft­ware update, one Ethereum oper­a­tion required as much pow­er as a reg­u­lar US house­hold con­sumes in a week.
What is the new 'merge'?
The cryp­tocur­ren­cy Ethereum has the abil­i­ty to sig­nif­i­cant­ly cut down on both its ener­gy use and the accom­pa­ny­ing cli­mate-relat­ed emis­sions with a com­pli­cat­ed soft­ware upgrade. How­ev­er, "the merge" as a tran­si­tion won't be suf­fi­cient on its own.
The lengthy process known as "The Merge" con­verts the blockchain's proof-of-work (PoW) con­sen­sus method to proof-of-stake (PoS). Due to the decen­tral­ized nature of Ethereum, there is no cen­tral­ized author­i­ty, such as a bank, to approve and ver­i­fy trans­ac­tions between two indi­vid­u­als. As a result, the plat­form employs PoW as its con­sen­sus tech­nique, which involves hav­ing con­sen­sus and trans­ac­tion val­i­da­tion from every net­work par­tic­i­pant. The net­work's users, known as min­ers, car­ry out this validation.
All of the min­ers strive to fig­ure out com­plex math­e­mat­i­cal chal­lenges, and the first to accom­plish this becomes the val­ida­tor, adding the lat­est block to the blockchain. Min­ing is done uti­liz­ing com­put­ers uti­liz­ing hard­ware that uses a sig­nif­i­cant amount of electricity.
The role of a val­ida­tor is uncon­test­ed in PoS, on the oth­er hand. An algo­rithm choos­es a val­ida­tor at ran­dom from a set of indi­vid­u­als who "risk" their coins. As a result, there is no longer a need for miners.
Vita­lik Buterin, the cre­ator of Ethereum, tweet­ed on Thurs­day after­noon, "Hap­py merg­ing to all." The entire cryp­tocur­ren­cy sec­tor hon­ored the occa­sion glob­al­ly. On Twit­ter, the hash­tag #Ethereum­merge was trend­ing. The "Ethereum Main­net Merge View­ing Par­ty" on YouTube attract­ed more than 40,000 viewers.
Why is it termed 'The Merge'?
In 2020, Ethereum unveiled a PoS net­work known as the Bea­con Chain. How­ev­er, it is not yet used to han­dle trans­ac­tions. The Bea­con Chain must be joined with the main­net, or PoW-oper­at­ing net­work, of Ethereum in order to fin­ish mod­i­fy­ing the con­sen­sus method. Thus, the name "The Merge." The Merge is "the idea of switch­ing out an engine from a dri­ving car," accord­ing to a researcher who spoke with Coin­Desk, a glob­al plat­form for cryp­to news.
How will it benefit the environment?
The Ethereum merg­ing might not seem like much, but it might have seri­ous ram­i­fi­ca­tions. Accord­ing to cal­cu­la­tions made by ana­lyst and cre­ator of the Digi­con­o­mist firm, Alex de Vries, the change will save Ethereum approx­i­mate­ly 99% and 99.99% of its present pow­er consumption.
He claimed that a rel­a­tive­ly minor alter­ation to the code would have a sig­nif­i­cant effect on envi­ron­men­tal sus­tain­abil­i­ty. Up to 900 bil­lion cal­cu­la­tions per sec­ond were being per­formed by Ethereum pri­or to the merg­ing, how­ev­er, these cal­cu­la­tions are no longer required.
His esti­ma­tions indi­cat­ed that Ethereum was annu­al­ly respon­si­ble for around 44 mil­lion met­ric tonnes of car­bon diox­ide emis­sions. These will now be sig­nif­i­cant­ly decreased if he is right.