DeFi Project ChangeX Launches Its CHANGE Token On Uniswap, HydraDEX To Strong Investor Interest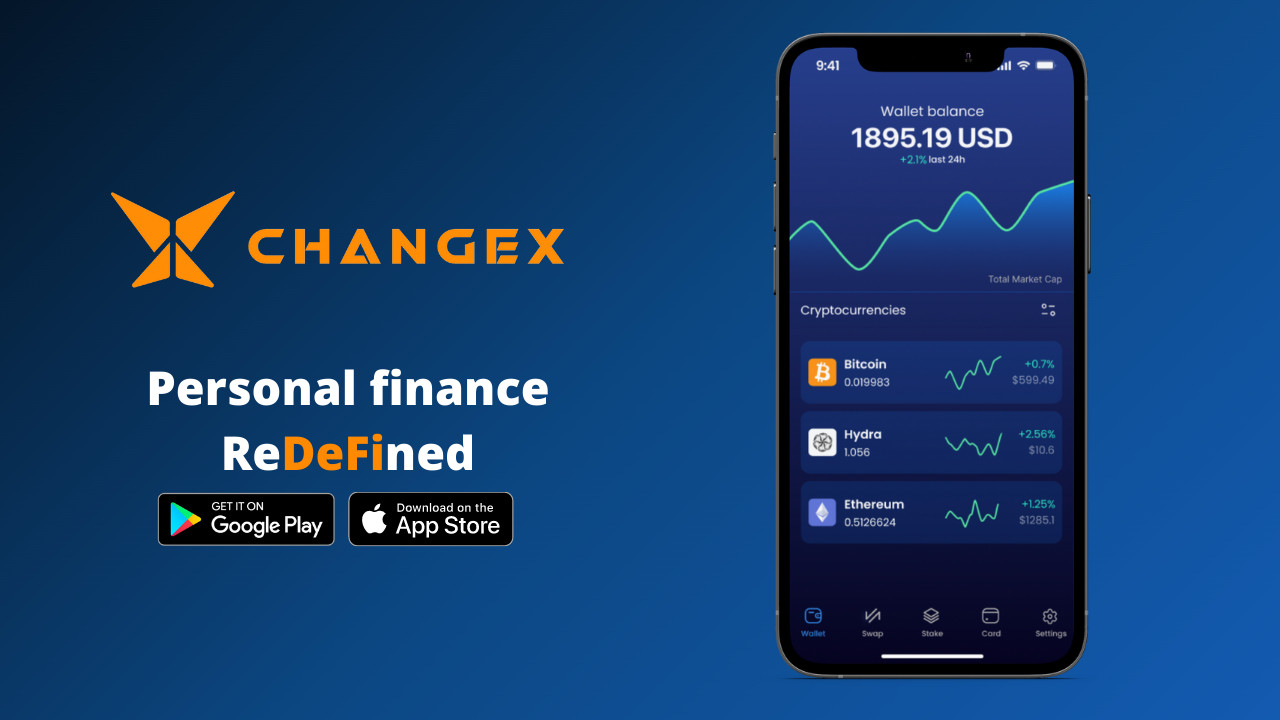 Sofia, Bul­gar­ia, 1st August, 2022, Chainwire
DeFi project ChangeX has suc­cess­ful­ly launched its CHANGE token for trad­ing on HydraDEX and Uniswap to strong investor inter­est, com­pa­ny offi­cials said. The app sup­ports sev­er­al trad­ing pairs in order to offer a broad­er range of pos­si­bil­i­ties to investors, BTC and ETH cross-chain swaps included.
David Abrams: Find Some­thing Intel­li­gent To Do From Time To Time
As I cov­ered in the last part of this series, David Abrams is the best hedge fund man­ag­er you've nev­er heard of. Hav­ing trained under Seth Klar­man at Bau­post in the 1980's, in the ear­ly 1990s, he left to set up his own enter­prise, Abrams Cap­i­tal. Q3 hedge fund let­ters, con­fer­ence … SORRY!
Read More
The CHANGE token launch comes after ChangeX suc­cess­ful­ly com­plet­ed their ICO, defy­ing bear mar­ket sen­ti­ment. The ICO result­ed in close to $2M pro­ceeds which will fund the company's oper­a­tions for at least 24 months, pro­vid­ing a sol­id finan­cial start­ing point despite gloomy mar­ket conditions.
CHANGE was intro­duced to the app on July 19 togeth­er with in-app stak­ing and com­pound­ing of rewards, paid out in CHANGE. The stak­ing APR on release day was in the 500% range with­out includ­ing com­pound­ing of stak­ing rewards, which nat­u­ral­ly made for a four-dig­it yield. The launch was met with strong demand, and in less than 24 hours 13.2 mil­lion tokens were sold on HydraDEX alone, while a total of 11.5 mil­lion were staked. Addi­tion­al­ly, 1,87 mil­lion tokens were sold on Uniswap.
"ChangeX is enter­ing a very excit­ing stage and we're very hap­py with the num­bers. We've got the app up and run­ning, the token is online and we've reached a very impor­tant mile­stone with stak­ing now avail­able.", said ChangeX CEO Niki­for Iliev. "We aimed for a time­ly release accord­ing to our roadmap, and our devel­op­ers have been work­ing round the clock in order to reach dead­lines and pro­vide the beta ver­sion of the app to the com­mu­ni­ty. All this was achieved in less than 6 months, and we're all very proud of it.", added Mr. Iliev.
Both iter­a­tions of the token have surged in the days fol­low­ing the project's launch, dis­re­gard­ing bear­ish mar­ket con­di­tions, which can be an indi­ca­tor of the project's integri­ty and the strength of its community.
"CHANGE and HYDRA are the essen­tial build­ing blocks of the future of ChangeX. All new fea­tures that we plan to add to the project will be built around them. A num­ber of core func­tion­al­i­ties will offer a myr­i­ad of pos­si­bil­i­ties that users can use to their advan­tage", added Co-founder Gary Gueras­si­mov. "All the addi­tions we've planned for the future in our roadmap com­pli­ment each oth­er and cre­ate an all-in-one app ecosys­tem that works on inter­op­er­abil­i­ty and sim­plic­i­ty. The end goal is a smooth and user-friend­ly app that offers unprece­dent­ed ease of access to DeFi, cryp­to, and tra­di­tion­al finance."
Q3 2022 will see del­e­gat­ed HYDRA stak­ing come to ChangeX, grant­i­ng users access to full-blood­ed stak­ing with­out the need to set up a node, but with all the ben­e­fits that nor­mal­ly come with it. The devel­op­er team is also focus­ing on set­ting up the foun­da­tions for ChangeX's open lend­ing mar­ket and flag­ship Lever­aged Stak­ing prod­uct, which will offer mar­gin posi­tions on mul­ti­ple staked assets in the app, ampli­fy­ing yield by a fac­tor of 1.2–2x.
The oth­er big thing for ChangeX is becom­ing an agent of an Elec­tron­ic Mon­ey Insti­tu­tion (EMI) ini­tial­ly, and even­tu­al­ly obtain­ing its own license which will allow the com­pa­ny to issue IBANs to users, paving the way for the release of the ChangeX Cryp­to Deb­it Card. The card will work as stan­dard bank cards do, allow­ing users to spend both cryp­to and fiat from with­in the app.
"If​ we assume that​ Rev­o­lut was a 1st gen­er­a­tion dig­i­tal asset appli­ca­tion, ​and Crypto.com a​ potential​ 2nd gen­er­a­tion appli­ca­tion, then ChangeX is mak­ing an attempt to estab­lish itself as a 3rd gen­er­a­tion appli­ca­tion ​by har­ness­ing the pow­er­ful DeFi prod­ucts and mak­ing them read­i­ly avail­able to retail users", HydraChain Co-founder Niko­la Alexan­drov added, out­lin­ing the vision for ChangeX's future.
The ChangeX app is avail­able on the Google Play Store for Android users and on the App Store for iOS.
About ChangeX

ChangeX is an all-in-one per­son­al finance mobile app that merges tra­di­tion­al finance, cryp­to, and DeFi. ChangeX will offer users a per­son­al bank account, access to mul­ti-chain cryp­to, and high-APR DeFi tools such as Lever­aged Stak­ing, which could dou­ble the rewards on all staked assets. ChangeX's focus falls on pas­sive income and cryp­to empow­er­ment, and the app will allow users to spend any in-app token on any­thing via its ChangeX Cryp­to Deb­it Card. Users will be able to lend their sta­ble­coins, use locked and flex­i­ble stak­ing, buy and pay with fiat, and swap cryp­to on mul­ti­ple chains, with every­thing being acces­si­ble in a few sim­ple clicks.
Fol­low the project on Twit­ter and Telegram for more infor­ma­tion and reg­u­lar updates.
The Team

ChangeX founders Nick Iliev and Gary Gueras­si­mov have a rich his­to­ry in devel­op­ing suc­cess­ful cryp­to and fin­tech prod­ucts, among them xChange.bg – Bulgaria's lead­ing cryp­to exchange. HydraChain and Lock­Trip co-founders Niko­la Alexan­drov and Hris­to Tenchev are also on board, each bring­ing sev­en years of blockchain expe­ri­ence to the project. The project's CTO Mar­tin Kuvandzhiev is one of the core devel­op­ers at Bit­coin Gold – a hard fork of the source Bit­coin code, which brought decen­tral­iza­tion back to retail traders and made min­ing via com­mon GPUs pos­si­ble again.
The Advis­ers

ChangeX's advi­so­ry board fea­tures indus­try experts from some of the biggest names in cryp­to, DeFi, and finance. Soft­Bank Vision Fund's Neil Cun­ha-Gomes, whose cryp­to invest­ments include Con­sen­sys and Ellip­tic, has been work­ing along­side sea­soned experts Dimiter Gur­d­jilov and Ste­fan Ivanov in out­lin­ing the company's strat­e­gy and vision. Dimiter Gur­d­jilov has more than 15 years of invest­ment bank­ing, pri­vate equi­ty and busi­ness devel­op­ment expe­ri­ence from Mer­ril­ll Lynch, JPMor­gan, George Soros' Bed­min­ster Cap­i­tal, NBGI Pri­vate Equi­ty, and Chal­lenger Cap­i­tal Man­age­ment. Ste­fan Ivanov has 25+ years of expe­ri­ence at Citibank, Banque Paribas, and Chal­lenger Cap­i­tal Man­age­ment, and has also served as the CEO of Citibank in Bulgaria.
Contacts
Mar­ket­ing and Com­mu­ni­ca­tions Manager
Dim­i­tar Rahtaliev
ChangeX
dimitar@changex.io
Updat­ed on