Comparison between DeFi vs Conventional Banking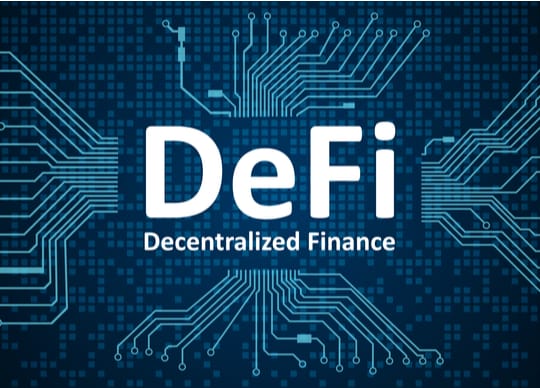 Basics of DeFi
Decen­tral­ized Finance or "DeFi" is an umbrel­la term encom­pass­ing the vision of a finan­cial sys­tem that func­tions with­out any inter­me­di­aries, such as banks, insur­ances, or clear­ing­hous­es, and is oper­at­ed just by the pow­er of smart con­tracts. DeFi appli­ca­tions strive to ful­fil tra­di­tion­al finance ser­vices (also called Cen­tral­ized Finance, or just CeFi) entire­ly per­mis­sion­less, glob­al, and transparent.
DeFi is like­ly to have a sub­stan­tial impact on how banks func­tion in the future and even can shift the struc­ture of the whole finan­cial sys­tem at a macro­eco­nom­ic level.
DeFi challenging traditional finance actors
Since its incep­tion, the vision of a new finan­cial sys­tem has accom­pa­nied the blockchain space, and it's been an aspi­ra­tional dream for the blockchain community.
Past two years, DeFi has grown aston­ish­ing­ly, and bil­lions of USD have gone into ecosys­tem devel­op­ment. In the fol­low­ing, you will see the com­par­i­son with con­ven­tion­al bank­ing sys­tems and an overview of the actors in the DeFi ecosys­tem to pro­vide a clear con­text on how DeFi is reduc­ing the gap over tra­di­tion­al banking.
Conventional Banking vs DeFi — Comparison
A quick look into the tra­di­tion­al bank­ing vs DeFi based pro­to­cols; this data will help you under­stand how DeFi is snowballing.
Ser­vices
Con­ven­tion­al Banking
DeFi
Com­mer­cial Banks
Bor­row­ing and lend­ing are the basic build­ing blocks of an effec­tive finan­cial sys­tem. The main busi­ness of com­mer­cial banks is to receive deposits and give loans to their clients. As hold­ers of funds get an incen­tive to pro­vide liq­uid­i­ty to the mar­kets and, in exchange, earn a return on their oth­er­wise unpro­duc­tive assets.
DeFi pro­to­cols enable for the first time to bor­row or lend mon­ey on a large scale between unknown par­tic­i­pants and with­out any inter­me­di­aries. Those appli­ca­tions bring lenders and bor­row­ers togeth­er and set inter­est rates auto­mat­i­cal­ly fol­low­ing sup­ply and demand.

The recent hype around DeFi appli­ca­tions is due to bor­row­ing and lend­ing pro­to­cols, such as Com­pound. In con­trast to tra­di­tion­al finance, loans in DeFi are secure by over-col­lat­er­al­iza­tion. How­ev­er, com­pa­nies such as Aave are cur­rent­ly work­ing on enabling uncol­lat­er­al­ized loans sim­i­lar­ly to con­ven­tion­al finance.

Invest­ment Banks
The busi­ness mod­el of invest­ment banks usu­al­ly involves the advi­so­ry on finan­cial trans­ac­tions. Also, the cre­ation or trad­ing of com­plex finan­cial prod­ucts and the man­age­ment of assets fall in the realm of invest­ment banks.
DeFi pro­to­cols are already offer­ing sim­i­lar prod­ucts. For instance, Syn­thetix is a deriv­a­tives issuance pro­to­col, enabling the decen­tral­ized cre­ation and trad­ing of deriv­a­tives on assets such as stocks, cur­ren­cies, and com­modi­ties. Also, decen­tral asset man­age­ment for cryp­tocur­ren­cies is evolv­ing. Yearn Finance, for exam­ple, is an autonomous pro­to­col that search­es for the best yields in the DeFi space and invests auto­mat­i­cal­ly for its users.
Exchanges
An exchange func­tion orga­nizes dif­fer­ent assets, such as stocks or for­eign cur­ren­cies, between two or more mar­ket participants.
The cen­tral­ized exchanges (CeFi) like Coin­base or Binance offer to swap a cryp­tocur­ren­cy unit against another.

With the emer­gence of decen­tral­ized exchanges (DEX), hold­ers of cryp­tocur­ren­cies no longer need to leave the cryp­to space to swap their tokens. A promi­nent exam­ple of a DEX is Uniswap, and DEX is com­posed of smart con­tracts that hold liq­uid­i­ty reserves and func­tion accord­ing to defined pric­ing mech­a­nisms. Such auto­mat­ed liq­uid­i­ty pro­to­cols play a cru­cial role in devel­op­ing an inde­pen­dent decen­tral­ized ecosys­tem with­out CeFi intermediaries.

Insur­ance
An essen­tial func­tion of insur­ance is to smooth out risks and bring secu­ri­ty to mar­ket participants
An exam­ple of decen­tral­ized insur­ance is Nexus Mutu­al, which offers insur­ances that cov­er bugs in smart con­tracts. Con­sid­er­ing every­thing is based on smart con­tracts in DeFi, vul­ner­a­bil­i­ties in smart con­tracts are a real risk for DeFi users. Decen­tral­ized insur­ances are still in their infan­cy, but a more sig­nif­i­cant amount and more sophis­ti­cat­ed insur­ance mod­els can emerge in the DeFi space in the future.
Cen­tral Banks
Cen­tral banks car­ry out a nation's mon­e­tary pol­i­cy and con­trol its mon­ey sup­ply, often man­dat­ed with main­tain­ing low infla­tion and steady GDP growth. On a macro basis, cen­tral banks influ­ence inter­est rates and par­tic­i­pate in open mar­ket oper­a­tions to con­trol the cost of bor­row­ing and lend­ing through­out an economy.
Sta­ble­coins are on blockchain pro­to­cols that have the prin­ci­ple of price sta­bil­i­ty inher­ent­ly encod­ed and, thus, ful­fil the func­tion of a reserve cur­ren­cy. The intro­duc­tion of sta­ble­coins set the foun­da­tion of the func­tion­ing decen­tral­ized finan­cial sys­tem, as they enable par­tic­i­pants to engage with each oth­er with­out the under­ly­ing risk of price volatil­i­ty. There are three options for how a cryp­tocur­ren­cy can reach price stability.

1) Sta­ble­coins can reach high degrees of price sta­bil­i­ty by peg­ging a cur­ren­cy to oth­er assets. For exam­ple, for each issued unit of USD Coin, a real US Dol­lar is held in reserve.

2) From a decen­tral­ized finance per­spec­tive, anoth­er inter­est­ing approach is the issuance of sta­ble­coins by using oth­er cryp­tocur­ren­cies as col­lat­er­al. A lead­ing pro­to­col for the DeFi sta­ble­coin ecosys­tem is Mak­er DAO, which issues the DAI cryp­tocur­ren­cy and ensures with its algo­rithm that the val­ue of 1 DAI is hov­er­ing around the val­ue of 1 US Dollar.

3) More exper­i­men­tal approach­es aim to reach price sta­bil­i­ty with­out col­lat­er­als. For instance, the pro­to­col Ample­forth auto­mat­i­cal­ly adjusts the sup­ply of tokens based on the demand.
DeFi will outperform the traditional finance system in the future
There are three rea­sons why DeFi has the poten­tial to out­per­form the con­ven­tion­al finan­cial sys­tem and gain increas­ing atten­tion in sci­en­tif­ic, eco­nom­ic, and pub­lic debates:
Speed of growth: DeFi is a high­ly scal­able and glob­al ecosys­tem. Once DeFi as a whole (or a spe­cif­ic DeFi appli­ca­tion) proves its util­i­ty, expo­nen­tial growth is pos­si­ble. DeFi Pulse mon­i­tors the total val­ue locked (TVL) on smart con­tracts on all rel­e­vant DeFi applications.
Room for growth: Accord­ing to Mes­sari, a cryp­to mar­ket ana­lyt­ics firm, the cap­i­tal­iza­tion of all DeFi appli­ca­tions was just 5% of the total cryp­to mar­ket as of July 2020. In addi­tion to that, we can argue that there is much room for growth only by fur­ther asset redis­tri­b­u­tions with­in just the cryp­to space.
New­mar­ket seg­ments: Accord­ing to The World Bank,7 bil­lion adults do not have access to bank­ing ser­vices. DeFi is per­mis­sion­less, mean­ing that any­one can access those finan­cial ser­vices any­where. In prin­ci­ple, just elec­tric­i­ty, an inter­net con­nec­tion, and smart­phones are suf­fi­cient. DeFi could pro­vide a viable option in regions where bank­ing ser­vices are too expen­sive com­pared to income.
Conclusion: DeFi is here to stay
For the first time in his­to­ry, a finan­cial sys­tem is devel­op­ing with­out inter­me­di­aries at a large scale. So far, DeFi appli­ca­tions can­not com­pete in terms of secu­ri­ty, speed, and ease of use with tra­di­tion­al finance solu­tions yet. But DeFi has pro­duced real, work­ing appli­ca­tions that have already attract­ed bil­lions of cap­i­tal. Those resources will be used to devel­op more com­pet­i­tive and user-friend­ly applications.
About the Author:
Vinoth is a cyber­se­cu­ri­ty pro­fes­sion­al by heart with over two decades of expe­ri­ence in Infor­ma­tion Tech­nol­o­gy and Cyber­se­cu­ri­ty. He is an Aus­tralian Com­put­er Soci­ety (ACS) Senior Cer­ti­fied Pro­fes­sion­al in Cyber­se­cu­ri­ty and holds var­i­ous indus­try-lead­ing cyber­se­cu­ri­ty cre­den­tials. Vinoth loves to write about the lat­est cyber­se­cu­ri­ty hap­pen­ings and blockchain-relat­ed articles.