Where in the World Are Crypto Jobs?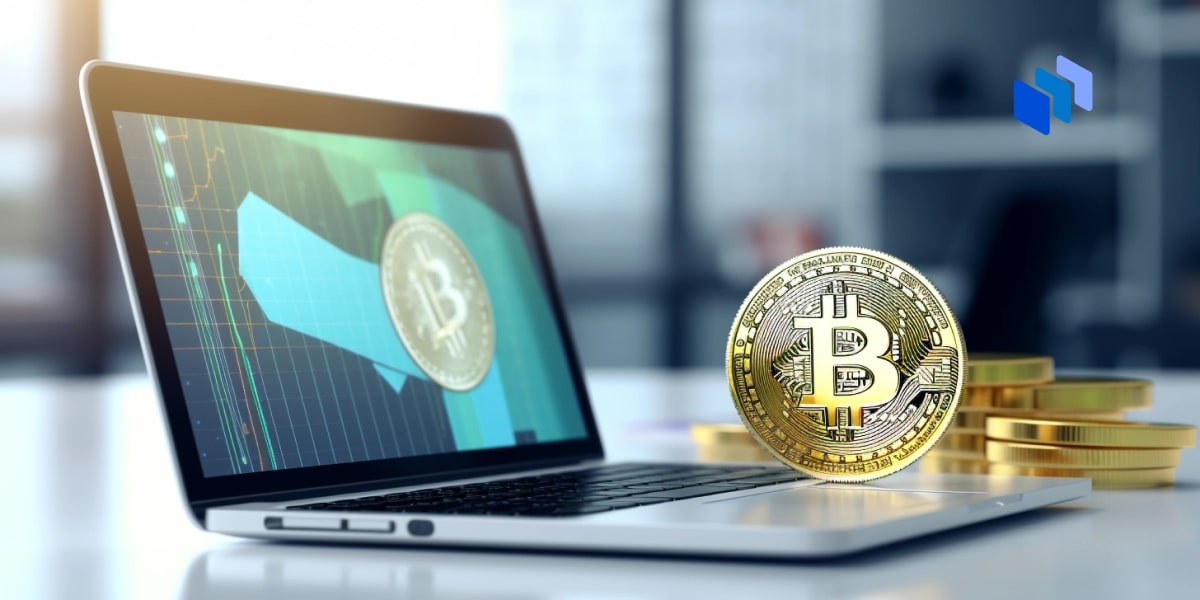 The cryp­tocur­ren­cy world has expe­ri­enced unprece­dent­ed growth and inno­va­tion since the launch of Bit­coin (BTC) in 2009. What began as an obscure dig­i­tal exper­i­ment known only to a small group of enthu­si­asts has now evolved into a thriv­ing glob­al indus­try with count­less cryp­tocur­ren­cies and blockchain-based projects. As it con­tin­ues to expand, it cre­ates a high­ly skilled work­force capa­ble of sus­tain­ing the blockchain tech­nol­o­gy that under­pins it, giv­ing rise to a new and dynam­ic job market.
Which indus­tries and loca­tions are the most like­ly to cre­ate roles in the cryp­tocur­ren­cy sector?
The Global Crypto Job Market
The cryp­tocur­ren­cy indus­try is a glob­al phe­nom­e­non. Projects in devel­op­ment span con­ti­nents, and they require tal­ent to help devel­op, main­tain, and pro­mote them. Cryp­to jobs range from blockchain devel­op­ers and cryp­tocur­ren­cy traders to mar­ket­ing spe­cial­ists and com­pli­ance experts.
Sev­er­al fac­tors are con­tribut­ing to the growth of the cryp­to job market:
Invest­ment and fund­ing. As cryp­tocur­ren­cies become more vis­i­ble to the main­stream, more ven­ture cap­i­tal and insti­tu­tion­al financ­ing are flow­ing into the indus­try, increas­ing job opportunities.
Inno­va­tion. Blockchain tech­nol­o­gy con­tin­ues to evolve, dri­ving demand for devel­op­ers, researchers, and tech­ni­cal experts.
Reg­u­la­to­ry devel­op­ments. More explic­it reg­u­la­to­ry frame­works are emerg­ing in some coun­tries, giv­ing the indus­try a sense of legit­i­ma­cy that helps to attract top talent.
Increased adop­tion. The grow­ing accep­tance of cryp­tocur­ren­cies in var­i­ous sec­tors, includ­ing finance, sup­ply chain man­age­ment, and health­care, is dri­ving the need for professionals.
The decen­tral­ized nature of blockchain tech­nol­o­gy means that employ­ees can work on projects from any­where in the world. This flex­i­bil­i­ty has opened up oppor­tu­ni­ties for indi­vid­u­als in regions with few tech­nol­o­gy com­pa­nies to join the indus­try remotely.
Where Are Most Crypto Jobs Located?
Cryp­tocur­ren­cy jobs are found across the Amer­i­c­as, Europe, Africa and Asia-Pacif­ic. More than half of the jobs in cryp­to — around 55% — are based in North Amer­i­ca and Europe, data from K33 research shows.
How­ev­er, accord­ing to research con­duct­ed by Coin Kick­off, many non-West­ern coun­tries have high pro­por­tions of cryp­tocur­ren­cy roles rel­a­tive to their pop­u­la­tions. The coun­tries with the high­est num­ber of jobs per mil­lion peo­ple range from Geor­gia to Sin­ga­pore, Lebanon, Esto­nia, and Ireland.
Thanks to its cap­i­tal, Tbilisi's bur­geon­ing tech­nol­o­gy hub, Geor­gia has the world's high­est con­cen­tra­tion of cryp­tocur­ren­cy jobs, at 127.1 vacan­cies per mil­lion peo­ple and 3.6 mil­lion residents.
Locat­ed at the cross­roads of East­ern Europe and West­ern Asia, Geor­gia has become a cryp­to-friend­ly nation, with its low elec­tric­i­ty costs enabling it to lead the world in coin min­ing. Binance, the world's largest cryp­tocur­ren­cy exchange, has opened a region­al hub in Geor­gia and plans to add "dozens more jobs by the end of 2023". The coun­try is one of the most inno­v­a­tive in the region, accord­ing to Vladimir Smerkis, Binance's region­al direc­tor, who stat­ed: "For Binance, Geor­gia is an impor­tant point on our map."
Sin­ga­pore has the sec­ond high­est num­ber of cryp­to jobs rel­a­tive to the pop­u­la­tion, with 90.86 vacan­cies per mil­lion peo­ple. Since 2013, the Mon­e­tary Author­i­ty of Sin­ga­pore has close­ly reg­u­lat­ed the indus­try, includ­ing a ban on pro­mot­ing cryp­tocur­ren­cy exchanges. How­ev­er, Inde­pen­dent Reserve data shows that Sin­ga­pore­ans are active cryp­to traders; giv­en its attrac­tive­ness as a low-tax invest­ment hub, it con­tin­ues to com­pete with oth­er Asian finan­cial cen­ters, such as Hong Kong, to attract cryp­to tal­ent. Binance's job open­ings include sev­er­al list­ings for roles in Sin­ga­pore, par­tic­u­lar­ly relat­ed to its Binance Accel­er­a­tor Pro­gram. Binance launched the pro­gram in 2022 for stu­dents and ear­ly career interns to gain their first hands-on expe­ri­ence work­ing in the Web3 industry.
The third high­est pro­por­tion of cryp­to jobs is found in Lebanon, with 73.77 vacan­cies per mil­lion res­i­dents. Cryp­to adop­tion has increased in the coun­try as it has expe­ri­enced an ongo­ing eco­nom­ic cri­sis since 2019 that has seen the bank­ing sys­tem col­lapse, hyper­in­fla­tion run into triple dig­its, and unem­ploy­ment soar. The Lebanese pound has been heav­i­ly deval­ued, plung­ing to a record low against the US dollar.
Lebanese work­ers are find­ing jobs out­side the coun­try that pay in Teth­er or Bit­coin and exchang­ing the dig­i­tal cur­ren­cies for US dol­lars to pay for gro­ceries. Some are min­ing Bit­coin for income.
US Crypto Hotspots
The US ranks 23rd in its pro­por­tion of cryp­to jobs, with 10.04 vacan­cies per mil­lion res­i­dents. The cryp­to crash of 2022 dam­aged job sta­bil­i­ty, par­tic­u­lar­ly in the US, in the wake of the FTX exchange's col­lapse. More than 20,000 jobs were lost in 2022, with lay­offs at major US cryp­to employ­ers like Coin­base con­tin­u­ing into 2023. How­ev­er, Coin Kickoff's research indi­cates that cryp­to job list­ings are still being adver­tised in all 50 states and all major cities across the country.
The state of Wyoming has the most cryp­to jobs per capi­ta, with 693 vacan­cies per mil­lion peo­ple. The state is active­ly seek­ing to attract blockchain-relat­ed busi­ness­es, with state leg­is­la­tors pass­ing a series of laws and tax exemp­tions, and it is rep­re­sent­ed in the Sen­ate by Repub­li­can Cyn­thia Lum­mis, who is known as the most cryp­to-friend­ly sen­a­tor in Congress.
Ver­mont, Alas­ka, and North and South Dako­ta round out the top five states with the high­est num­ber of cryp­to vacancies.
Despite a study by Recap.io list­ing major US cities, includ­ing New York, Los Ange­les, and Chica­go, among the most cryp­to-friend­ly cities in the world, Coin Kickoff's analy­sis shows rel­a­tive­ly low num­bers of jobs per capi­ta. Los Ange­les has around 13.05 jobs per 100,000 peo­ple and New York around 13.97 jobs per 100,000, two of the low­est pro­por­tions of job list­ings of any US city. Yet, the Los Ange­les sub­urb of San Bernardi­no has the high­est pro­por­tion of roles, with 193.24 vacan­cies per 100,000 people.
Two sub­urbs of Dal­las, Texas, are cryp­to vacan­cy hotspots — Frisco, with 185.03 jobs per 100,000 peo­ple, and Gar­land, with 177.65 jobs per 100,000 peo­ple. Texas has become an inter­na­tion­al hub for Bit­coin min­ing, and the state's cryp­to com­mu­ni­ty is bull­ish about the sector's long-term future.
Industries Most Actively Hiring for Crypto Jobs
Blockchain tech­nol­o­gy has the poten­tial to fun­da­men­tal­ly change the way that indus­tries rang­ing from bank­ing to real estate do busi­ness. Some of the world's largest com­pa­nies, includ­ing Microsoft, Pay­Pal, and Star­bucks, accept cryp­tocur­ren­cy payments.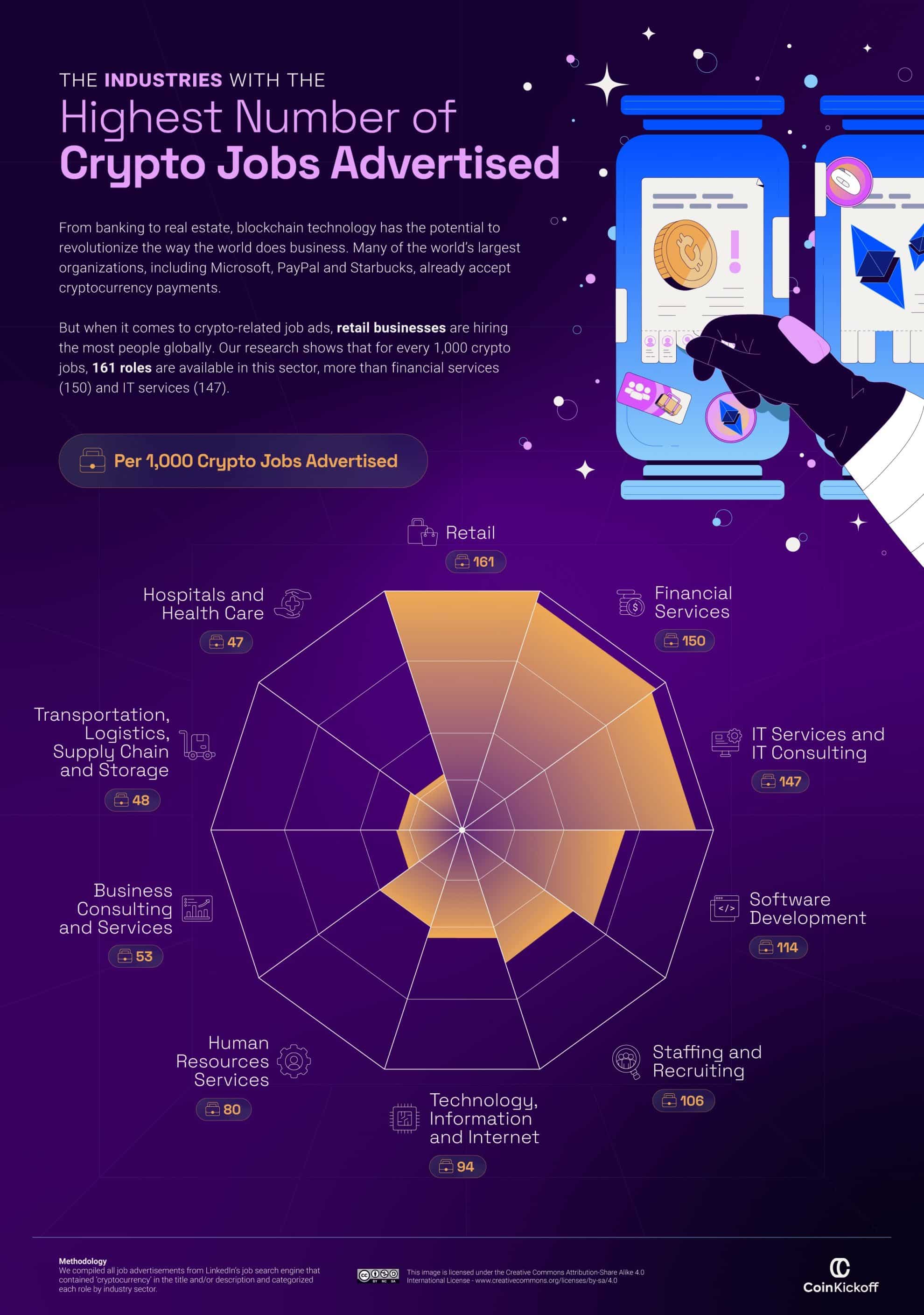 The ben­e­fits of using cryp­tocur­ren­cy to make retail pay­ments have been tout­ed from the begin­ning. After all, the very first Bit­coin trans­ac­tion was the pur­chase of two Papa John's piz­zas back in 2010.
As cryp­tocur­ren­cies become more main­stream, more retail­ers con­sid­er accept­ing them as a pay­ment method. Cryp­to trans­ac­tions are fast and secure, help retail­ers reach a wider audi­ence, and can save on trans­ac­tion fees. Around 93% of mer­chants that accept cryp­tocur­ren­cy as a pay­ment method report­ed a pos­i­tive impact on their cus­tomer met­rics, such as cus­tomer base growth and brand per­cep­tion, accord­ing to a 2021 sur­vey by US con­sult­ing firm Deloitte.
For this rea­son, the retail sec­tor has the most cryp­tocur­ren­cy-relat­ed vacan­cies glob­al­ly, with 161 out of 1,000 jobs adver­tised, even ahead of finan­cial ser­vices with 150 and IT ser­vices with 147 roles.
In the US, cryp­tocur­ren­cy roles are most preva­lent in finan­cial ser­vices, with 156 vacan­cies for every 1,000 list­ings – high­er than retail, which has 155 vacan­cies, and IT ser­vices with 150 listings.
As finan­cial ser­vices evolve, uncer­tain­ty sur­round­ing reg­u­la­tion is a pri­ma­ry con­cern for the cryp­tocur­ren­cy indus­try — par­tic­u­lar­ly in the US, where Con­gress is increas­ing­ly dis­cussing leg­is­la­tion and the Secu­ri­ties and Exchange Com­mis­sion (SEC) has sued blockchain devel­op­er Rip­ple and cryp­to exchanges Binance and Coinbase.
The Bottom Line
The cryp­tocur­ren­cy indus­try has tak­en hold world­wide, with job vacan­cies adver­tised across Asia, Europe, North Amer­i­ca, and Africa. Geo­graph­i­cal bound­aries do not lim­it oppor­tu­ni­ties, thanks to remote work pos­si­bil­i­ties, and loca­tions that encour­age inno­va­tion are attract­ing the most job listings.
Clar­i­ty on cryp­to reg­u­la­tion would help the indus­try thrive, encour­ag­ing inno­va­tion that would gen­er­ate a grow­ing num­ber of jobs across var­i­ous businesses.
Indi­vid­u­als who under­stand the com­plex­i­ties of blockchain devel­op­ment and cryp­tocur­ren­cy mar­kets can excel in careers that have the poten­tial to dis­rupt and reshape industries.