Kinetix Takes DeFi to the Next Level with its Launch on Kava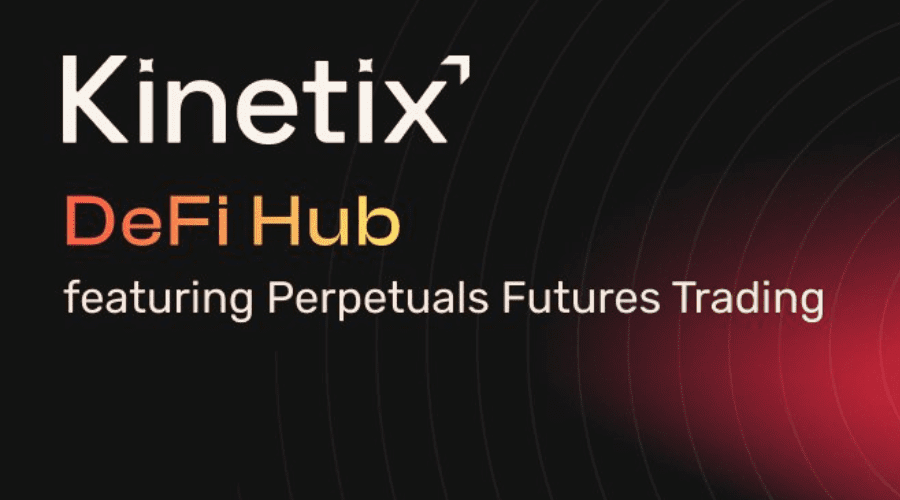 In recent years, the finan­cial land­scape has expe­ri­enced a seis­mic shift, with decen­tral­ized finance (DeFi) emerg­ing at the fore­front of this rev­o­lu­tion. From elim­i­nat­ing inter­me­di­aries to fos­ter­ing glob­al inclu­siv­i­ty, DeFi plat­forms have reimag­ined the way we think about finance. Now, Kinetix is adding anoth­er lay­er to this land­scape with its inno­v­a­tive DeFi plat­form on the Kava Blockchain. How­ev­er, this is not just anoth­er addi­tion to the grow­ing list of plat­forms. Kinetix stands out as a bea­con, rep­re­sent­ing a fusion of user expe­ri­ence, prof­itabil­i­ty, and ground­break­ing innovation.
The Evolution of DeFi
Decen­tral­ized finance rep­re­sents a suite of finan­cial tools and plat­forms oper­at­ing with­out tra­di­tion­al cen­tral­ized inter­me­di­ates such as banks, bro­kers, or exchanges. It's built pre­dom­i­nant­ly on blockchain tech­nol­o­gy, which ensures trans­paren­cy, secu­ri­ty, and accessibility.
As the DeFi ecosys­tem has flour­ished, it's attract­ed immense cap­i­tal inflow, but not with­out chal­lenges. Many plat­forms grap­ple with issues like high trans­ac­tion fees, com­plex user inter­faces, and scal­a­bil­i­ty concerns.
Thus, there's been a grow­ing demand for plat­forms that not only offer lucra­tive returns but also pri­or­i­tize user expe­ri­ence and seam­less func­tion­al­i­ty. Enter Kinetix. By launch­ing on the Kava Blockchain, Kinetix address­es these mar­ket gaps, posi­tion­ing itself as not just anoth­er DeFi project but a trans­for­ma­tive force in the DeFi realm.
Highlighting Kinetix's Distinctive Features
Kinetix's DeFi plat­form stands out in an increas­ing­ly crowd­ed field thanks to a com­bi­na­tion of robust fea­tures tai­lored to the needs of the mod­ern trader.
The inclu­sion of per­pet­u­al con­tracts is among its most notable fea­tures. These con­tracts, which allow for trades with up to 50x lever­age, pro­vide traders with sig­nif­i­cant flex­i­bil­i­ty, enabling them to max­i­mize their poten­tial gains. While high lever­age is always accom­pa­nied by increased risks, it's indica­tive of Kinetix's com­mit­ment to pro­vid­ing advanced trad­ing tools to its users.
But what tru­ly cap­tures atten­tion is the platform's 325% APR from its 50% USDT pool. In an indus­try where returns are often volatile, such a sta­ble and attrac­tive rate is com­mend­able. It reflects Kinetix's inno­v­a­tive strate­gies in liq­uid­i­ty man­age­ment and reward distribution.
Addi­tion­al­ly, Kinetix hasn't lim­it­ed its plat­form to just a hand­ful of assets. The inte­gra­tion of lead­ing Cos­mos assets offers users a broad­er spec­trum of trad­ing pos­si­bil­i­ties. Paired with the lucra­tive LP incen­tives, Kinetix ensures both vari­ety and reward for its user base.
An In-depth Look at the Kinetix Ecosystem
This plat­form stands as a one-stop DeFi hub cater­ing to the Kava community's diverse needs. Here's a clos­er look at what the Kinetix Ecosys­tem brings to the table:
Per­pet­u­al Lever­age:

Expe­ri­ence the thrill and poten­tial rewards of per­pet­u­al futures trad­ing. With Kinetix, users can ven­ture into posi­tions with up to 50x lever­age, allow­ing for sig­nif­i­cant expo­sure with cal­cu­lat­ed risk.
Sup­ply Liq­uid­i­ty:

A decen­tral­ized ecosys­tem thrives on liq­uid­i­ty. By par­tic­i­pat­ing in Kinetix's plat­form, users can earn fees from trades pro­por­tion­al to their liq­uid­i­ty con­tri­bu­tion in the pool.
Stake and Farm:

It's more than just a trad­ing plat­form. Users can deposit their LP tokens and earn addi­tion­al rewards, ampli­fy­ing their yield-gen­er­a­tion strategies.
Swap:

Flex­i­bil­i­ty is key in any DeFi set­ting. With Kinetix, trad­ing com­bi­na­tions of ERC-20 tokens becomes a seam­less process, enhanc­ing user experience.
Ana­lyt­ics:

Informed deci­sions dri­ve suc­cess. Through Kinetix, users can peruse detailed ana­lyt­ics and his­tor­i­cal data, ensur­ing they're always a step ahead in their trad­ing journey.
And more…

But that's not all. Adven­tur­ous users can explore syn­thet­ic assets and oth­er exot­ic deriv­a­tives, broad­en­ing their DeFi horizons.
Kinetix and Kava: A Partnership Carved in DeFi Ambition
When two major play­ers in the DeFi space col­lab­o­rate, it sig­nals a shared vision and mutu­al ambi­tion. And the part­ner­ship between Kinetix and Kava is a tes­ta­ment to this ethos.
Kava, with its estab­lished pres­ence, offers a resilient and proven blockchain infra­struc­ture. In con­trast, Kinetix intro­duces fresh, user-focused DeFi solu­tions that promise to ele­vate the over­all expe­ri­ence for traders.
What binds these two enti­ties togeth­er is their shared goal of deliv­er­ing top-tier DeFi tools. They rec­og­nize that the true poten­tial of decen­tral­ized finance isn't just in the tech­nol­o­gy but in its acces­si­bil­i­ty to a wider audience.
Addi­tion­al­ly, their mutu­al com­mit­ment to decen­tral­iza­tion sets the tone for their endeav­ors. In an age where cen­tral­ized sys­tems often over­shad­ow decen­tral­ized ini­tia­tives, this part­ner­ship aims to strike a bal­ance, ensur­ing that the prin­ci­ples of decen­tral­iza­tion remain at the fore­front of their joint ventures.
Market Reception and Future Potential
Per­haps the most impres­sive part is that Kinetix's emer­gence in the DeFi land­scape has caught the industry's eye. With an impres­sive foot­print expand­ing on plat­forms like Twit­ter, it's evi­dent that their reach isn't just about mar­ket­ing prowess; it's a tes­ta­ment to the project's intrin­sic val­ue and the keen inter­est it has sparked among DeFi aficionados.
The buzz, how­ev­er, isn't lim­it­ed to what Kinetix has already accom­plished. Whis­pers with­in indus­try cir­cles sug­gest an impend­ing launch of a V3 decen­tral­ized exchange (DEX). While details remain under wraps, such plans under­score Kinetix's for­ward-think­ing approach. If these spec­u­la­tions bear fruit, the impli­ca­tions for the Kava-native DeFi envi­ron­ment could be pro­found, posi­tion­ing Kinetix not just as anoth­er play­er but as a poten­tial trendsetter.
Kinetix's Team: A Confluence of Decentralized Finance Expertise
Yet, anoth­er rea­son for this atten­tion is that Kinetix is anchored by a group of indus­try fron­trun­ners, each bring­ing a rich tapes­try of expe­ri­ences and suc­cess­es from pre­vi­ous ven­tures. Their com­bined exper­tise pro­vides Kinetix with a sol­id foun­da­tion and a vision for innovation.
Alexi Atlas – The dri­ving force behind Kinetix
Head of Busi­ness Devel­op­ment for QuickSwap.
Built his foun­da­tion­al knowl­edge as a Web3 Investor and a tra­di­tion­al com­modi­ties trader.
His pas­sion for Kava and the broad­er IBC com­mu­ni­ty inspired him to con­cep­tu­al­ize Kinetix as a holis­tic DeFi hub tai­lored for the Kava ecosystem.
Roc Zacharias – A guid­ing light as an Advisor:
Holds the pres­ti­gious posi­tion of CEO at Lunar Dig­i­tal Assets.
Co-found­ed Quick­Swap, mark­ing his foot­print as an inte­gral play­er in cre­at­ing the largest DEX on Polygon.
Sameep Sing­ha­nia – Tech­no­log­i­cal brain pow­er as an Advisor:
Played a piv­otal role as Co-Founder and Lead Devel­op­er of QuickSwap.
An ear­ly bird devel­op­er on Poly­gon POS, indi­cat­ing his deep dive into tech­ni­cal intri­ca­cies from the get-go.
Wrapping Up
The bot­tom line is that Kinetix's intro­duc­tion on the Kava Blockchain sig­ni­fies more than just anoth­er DeFi plat­form. It's a tes­ta­ment to inno­va­tion dri­ven by a team with a proven track record. Through unmatched fea­tures and strate­gic col­lab­o­ra­tions, Kinetix is poised to shape the future of decen­tral­ized finance, blend­ing user expe­ri­ence and prof­itabil­i­ty seam­less­ly. In a rapid­ly evolv­ing DeFi land­scape, Kinetix emerges as a trailblazer.