Why Elizabeth Warren's Anti-Crypto Army Is Gaining Momentum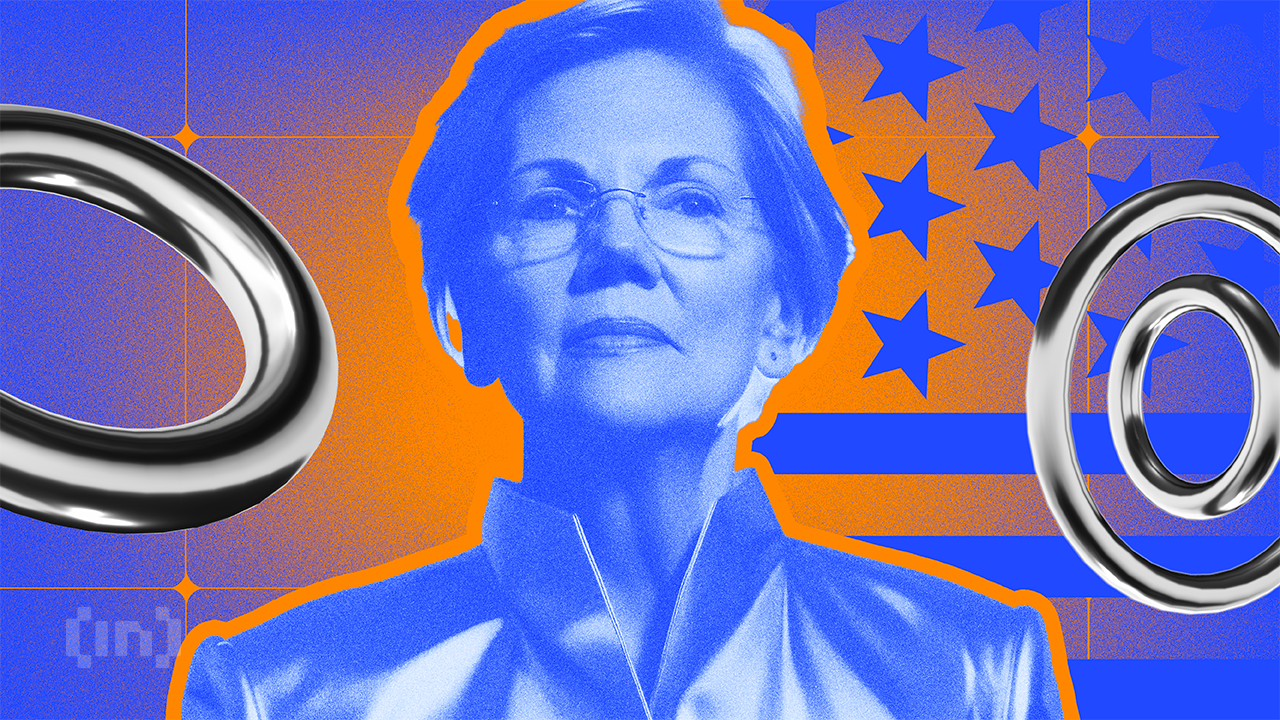 As cryp­tocur­ren­cies gain trac­tion in the glob­al finan­cial envi­ron­ment, an under­cur­rent of leg­isla­tive appre­hen­sion brews in the Unit­ed States. Sen­a­tor Eliz­a­beth Warren's cam­paign to address mal­prac­tices in the cryp­to indus­try has gar­nered a broad­er base of bipar­ti­san support.
Nine more sen­a­tors have aligned with Warren's pro­posed Dig­i­tal Asset Anti-Mon­ey Laun­der­ing Act, which Sen­a­tor Roger Mar­shall (R‑Kan.) co-sponsors.
Elizabeth Warren's Anti-Crypto Army
The new addi­tions to Warren's coali­tion include a mix of mod­er­ate and pro­gres­sive mem­bers. There­fore hint­ing at a uni­fied con­cern that tran­scends par­ty lines.
Sen­a­tors Gary Peters (D‑Mich.) and Dick Durbin (D‑Ill.), both chair­ing key Sen­ate com­mit­tees — Home­land Secu­ri­ty and Judi­cia­ry, respec­tive­ly — fea­ture promi­nent­ly in this list. The inclu­sion of Sen­a­tors Tina Smith (D‑Minn.), Angus King (I‑Maine), Jeanne Sha­heen (D‑N.H.), Bob Casey (D‑Pa.), Richard Blu­men­thal (D‑Conn.), Michael Ben­net (D‑Colo.), and Cather­ine Cortez Mas­to (D‑Nev.) only serves to under­score the grav­i­ty with which the Sen­ate views the cryp­to indus­try.
"Our expand­ing coali­tion shows that Con­gress is ready to take action – our bipar­ti­san bill is the tough­est pro­pos­al on the table crack­ing down on crypto's illic­it use and giv­ing reg­u­la­tors more tools in their tool­box," War­ren said.
Read more: What Could Eliz­a­beth Warren's Sen­ate Reelec­tion Bid Mean for the Cryp­to Industry?
This surge of sup­port echoes a grow­ing unease about the illic­it appli­ca­tions of cryp­to. With Capi­tol Hill's atten­tion increas­ing­ly zoom­ing in on the market's vul­ner­a­bil­i­ties, such as mon­ey laun­der­ing and tax eva­sion, the nar­ra­tive presents a stark chal­lenge for the market.
"Our bipar­ti­san bill would help fight back against ter­ror­ist orga­ni­za­tions and rogue state actors, such as Rus­sia and North Korea, who use cryp­to to bankroll illic­it activ­i­ties and require cryp­tocur­ren­cy plat­forms to abide by the same anti-mon­ey-laun­der­ing rules that banks fol­low," Manchin added.
Warren's leg­isla­tive move also seeks to bridge an alarm­ing "cryp­to tax gap." By her esti­ma­tion, a lack of strin­gent poli­cies in the cryp­to mar­ket threat­ens to deprive the US Trea­sury and the Inter­nal Rev­enue Ser­vice of rough­ly $1.5 bil­lion in tax rev­enue for the upcom­ing finan­cial year.
The pro­posed Dig­i­tal Asset Anti-Mon­ey Laun­der­ing Act is com­pre­hen­sive. War­ren aims to reg­u­late non­cus­to­di­al dig­i­tal wal­lets and aug­ment the Bank Secre­cy Act's scope. She also wants to intro­duce strin­gent Anti-Mon­ey Laundering/Combating the Financ­ing of Ter­ror­ism com­pli­ance checks and craft addi­tion­al legal deter­rents against the mis­use of dig­i­tal currencies.
Read more: Sta­ble­coin Reg­u­la­tions Around the World
The act has gar­nered endorse­ments from rep­utable orga­ni­za­tions, includ­ing Trans­paren­cy Inter­na­tion­al US, Glob­al Finan­cial Integri­ty, and the Nation­al Con­sumers League. This sug­gests that Warren's endeav­ors res­onate with­in the con­fines of the Sen­ate and with those acute­ly aware of finan­cial intricacies.
Other Senators Called for Transparency
Yet, it is not just War­ren sound­ing the alarm. Sen­a­tor Sher­rod Brown (D‑Ohio), Chair of the Sen­ate Bank­ing Com­mit­tee, recent­ly urged reg­u­la­tors to har­ness their exist­ing pow­ers over cryp­to.
"As Con­gress reviews cryp­to leg­is­la­tion, I ask that your agen­cies assess their author­i­ties and eval­u­ate how we can build on our exist­ing dis­clo­sure guardrails to effec­tive­ly tar­get the defi­cien­cies we have observed in dig­i­tal asset tokens and dig­i­tal asset plat­forms," Brown wrote.
Brown empha­sized the need for enhanced trans­paren­cy and sought to shield investors from poten­tial risks. His asser­tion — that the cryp­to indus­try will not self-reg­u­late — echoes a broad­er sen­ti­ment demand­ing rig­or­ous leg­isla­tive oversight.
"Cryp­to firms have tak­en no mean­ing­ful steps to improve their trans­paren­cy, leav­ing cus­tomers vul­ner­a­ble. We can­not set­tle for a sta­tus quo in which Amer­i­cans lack the basic, com­pre­hen­sive trans­paren­cy they would receive in any oth­er mar­ket in which they choose to invest," Brown added.
Read more: Cryp­to Reg­u­la­tion: What Are the Ben­e­fits and Drawbacks?
While the trans­for­ma­tive poten­tial of cryp­to can­not be down­played, US law­mak­ers are becom­ing increas­ing­ly wary of the shad­ows accom­pa­ny­ing it. Eliz­a­beth Warren's anti-cryp­to coali­tion high­lights that leg­isla­tive scruti­ny and demands for trans­paren­cy will sig­nif­i­cant­ly shape the future.
Disclaimer
In adher­ence to the Trust Project guide­lines, BeIn­Cryp­to is com­mit­ted to unbi­ased, trans­par­ent report­ing. This news arti­cle aims to pro­vide accu­rate, time­ly infor­ma­tion. How­ev­er, read­ers are advised to ver­i­fy facts inde­pen­dent­ly and con­sult with a pro­fes­sion­al before mak­ing any deci­sions based on this content.