Record-breaking increase in Bitcoin hash rate boosts network difficulty
Quick Take
Bitcoin's net­work wit­nessed a remark­able event on Fri­day, as the hash rate surged to a peak of over 500 exa­hash­es per sec­ond (eh/s) from the pre­vi­ous day's fig­ure of 400 eh/s.
This uncom­mon increase con­sti­tutes the sin­gle largest one-day aug­men­ta­tion in hash rate that the Bit­coin net­work has ever expe­ri­enced. This upswing in hash rate typ­i­cal­ly observed using a 7/14-day Sim­ple Mov­ing Aver­age (SMA), result­ed in a con­se­quen­tial increase in net­work dif­fi­cul­ty by over 5%.
This adjust­ment ranks as the sixth largest with­in the cur­rent year, sig­ni­fy­ing a robust net­work envi­ron­ment and pos­si­bly indi­cat­ing increased min­er participation.
This sig­nif­i­cant surge in Bitcoin's hash rate and the sub­se­quent increase in net­work dif­fi­cul­ty under­scores the dynam­ic and con­tin­u­al­ly evolv­ing nature of the cryptocurrency's under­ly­ing tech­nol­o­gy. It is essen­tial to keep mon­i­tor­ing these met­rics, as they pro­vide valu­able insights into the over­all health and secu­ri­ty of the Bit­coin network.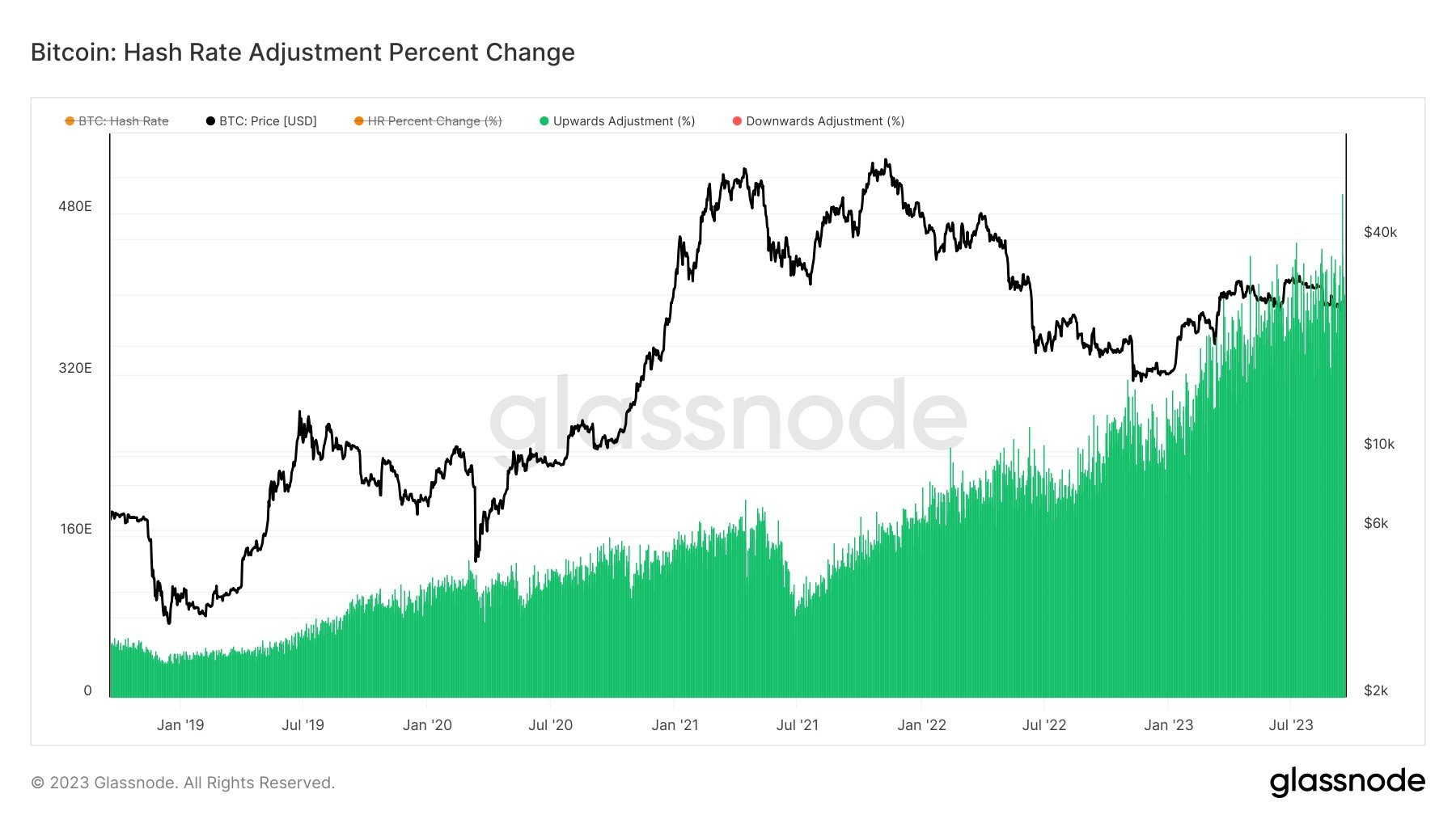 The post Record-break­ing increase in Bit­coin hash rate boosts net­work dif­fi­cul­ty appeared first on Cryp­toSlate.