How NFL Rivals is driving synergetic IAP monetization through its NFT sales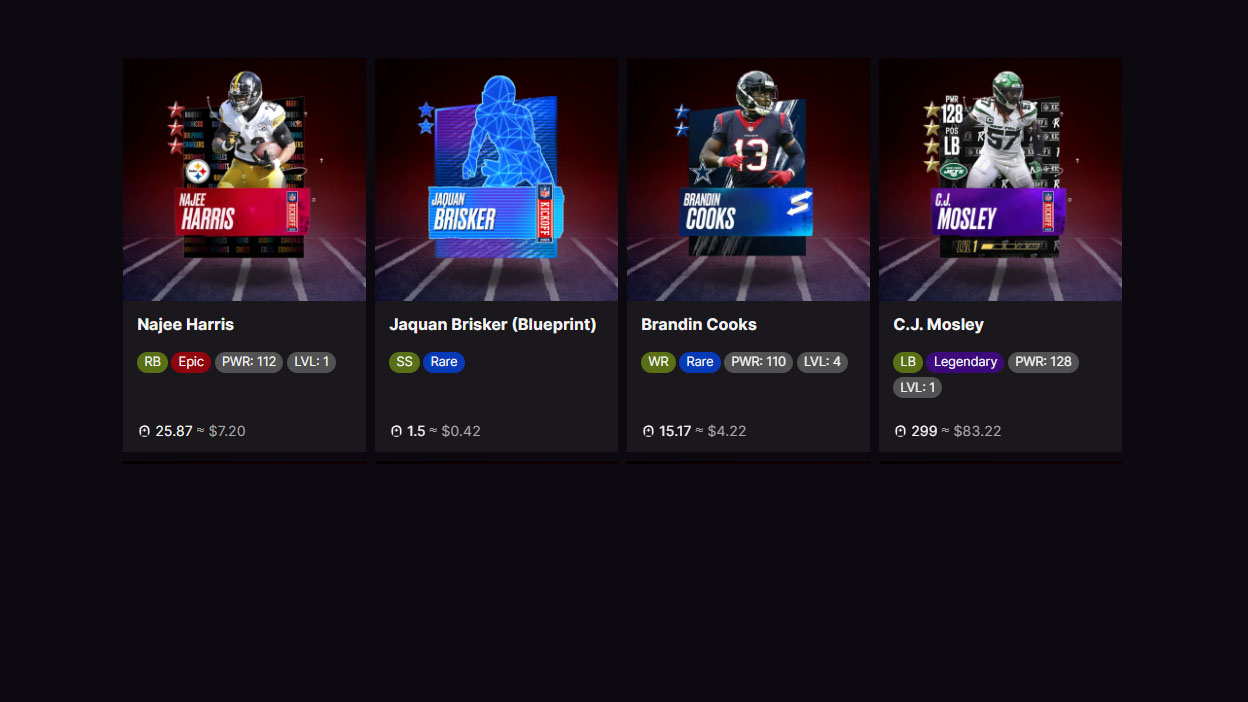 Sign up to our Sub­stack, fol­low us on Twit­ter and con­nect with us on Linkedin.
Whether it was Abra­ham Lin­coln or Win­ston Churchill (or nei­ther) who defined suc­cess as going from fail­ure to fail­ure with­out los­ing enthu­si­asm, doesn't real­ly mat­ter. Despite cur­rent cryp­to sen­ti­ment, enthu­si­asm there is in abun­dance, and now the first signs of suc­cess too. I'm talk­ing to Myth­i­cal Games' CEO John Lin­den about one of the fastest-grow­ing web3 games NFL Rivals.
Short­ly fol­low­ing the announce­ment that Myth­i­cal is work­ing on a new mobile ver­sion of its PC-based game Blankos Block Par­ty, while also launch­ing car col­lect­ing mobile title Nitro Nation World Tour, and with the lat­est NFL sea­son recent­ly kick­ing off, we thought there was no bet­ter time to catch up with Linden.
BlockchainGamer.biz: Let's start off by talk­ing about NFL Rivals. The data we have is that it's had over 2 mil­lion down­loads and more than $1 mil­lion in NFT trad­ing vol­ume. Are there any offi­cial updates to those num­bers and more gen­er­al­ly how hap­py are you with the growth of NFL Rivals so far?
Lin­den: We're very proud of the game. Play­ers seem to real­ly like it and it's a lot of fun to play.
I think we've blend­ed the web3 con­cepts pret­ty nat­u­ral­ly into the game. We're sit­ting at a 4.7 star rat­ing on iOS, so it's working.
The two stats I'm real­ly proud of is one, that play­ers are play­ing the game and they're rat­ing it high, and two, that we're get­ting increas­ing sup­port from Apple and Google. They're let­ting us exper­i­ment more and more.
We've been talk­ing to them for a long time now, they've been very hes­i­tant because they just didn't under­stand, but now we're show­ing what web3 does, and how to inte­grate it properly.
Our in-game mar­ket­place is the new sub­stan­tial fea­ture, which blends in nice­ly with the gam­ing expe­ri­ence, but it's still pret­ty lim­it­ed. We don't have our whole mar­ket­place or sell­ing in the game yet, but we're work­ing on those details with Apple.
For exam­ple, we usu­al­ly run an A/B test, part­ly to help game devel­op­ers see what impact some­thing has. When we launched the in-game mar­ket­place we had a small con­trol group to receive data from. One of the big con­cerns we had was, if we're let­ting peo­ple buy from oth­er play­ers, are we mak­ing less money?
What we saw was no sig­nif­i­cant can­ni­bal­i­sa­tion of rev­enue from the pri­ma­ry mar­ket, which of course Apple liked. They want to see growth in games rather than rev­enue mov­ing around.
We also saw about a 50% increase in sec­ondary trans­ac­tion vol­ume from just the mar­ket­place fea­ture alone, and we're see­ing an over­all 20% more trans­ac­tions hap­pen­ing already.
We use machine learn­ing to pre­dict what might be use­ful for some­one to buy, and we sug­gest three play­ers that would improve their line-up, that can be bought from oth­er play­ers try­ing to sell their cards. We do this with var­i­ous pric­ing degrees, so if you're a brand new play­er who's nev­er bought any­thing you're not going to see $1,000 dol­lar sug­ges­tions, the myth­i­cal cards, you're going to see cheap­er cards.
What's amaz­ing is that 50% of peo­ple that have bought in the in-game mar­ket­place go on to buy a pack of cards lat­er, and that's huge for game devel­op­ers. It kind of becomes a gateway.
One of the big con­cerns we had was, if we're let­ting peo­ple buy from oth­er play­ers, are we mak­ing less money?

John Lin­den
It's been cool to see that the first trans­ac­tion play­ers have in the game is buy­ing from anoth­er play­er and then they come back want­i­ng to improve their team and buy some more.
So in a way, you're edu­cat­ing the app stores. Do you find that some of their resis­tance is sim­ply down to a lack of knowl­edge about blockchain games and NFT integration?
I think it's down to two things. One, they don't know. It's not been their focus and there's not a lot of peo­ple doing it yet. On the oth­er side, there's been a lot of shady stuff in web3, bad actors and I think that's kept them very hesitant.
We're work­ing very close­ly with them, which allows us to be more trust­ed. Once we're able to show that trust and show that these things are work­ing, we pro­vide them with a lot of data and that helps them to open it up to oth­er people.
Now Blankos is next, announc­ing recent­ly that it's launch­ing on mobile. Can you tell us more?
I love to talk about Blankos. It's our baby, it was our first game and it's just such a fun and vibrant world.
Ini­tial­ly we want­ed to go mobile, but Apple and Google weren't real­ly ready for it so we went for PC. That was great, we went on Epic Games Store and oth­er places, but we did struggle.
The main rea­son is the cost of PC acqui­si­tion. It's real­ly expen­sive. What then hap­pened is that the com­mu­ni­ty lev­elled off. We got to about 1.3 mil­lion play­er accounts and the game was actu­al­ly doing quite well but we couldn't get any new play­ers onboard. So that's unfor­tu­nate, but we haven't giv­en up on the game. We just announced briefly, but we'll show a lot more soon, of Blankos Mobile.
Because of NFL Rivals and Nitro Nation, now Apple and Google are like, hey, let's do it. In fact, we might have one more plat­form too that wants Blankos, but we're not ready to announce that yet.
In terms of the game, the game­play will be dif­fer­ent but like a blockchain-backed game the char­ac­ters and acces­sories will come across. It'll still be the quirky Blankos behav­iour and all the fun stuff. We want to make sure we empow­er our exist­ing com­mu­ni­ty as they're mov­ing to the new game, but hope­ful­ly we can also add tens of mil­lions of new play­ers on mobile. Mobile is way cheap­er, look­ing at NFL and Nitro Nation I think it's about 5–10% the cost of a PC install.
One thing I want to empha­sise is that we're not giv­ing up on PC, it's kind of a shift to the new game with the old assets com­ing in, and then we'll re-release that game on PC. Although it won't hap­pen on day one.
With NFL Rivals and Nitro Nation already on mobile, and now the announce­ment of Blankos Mobile, do you think the issue of mass mar­ket dis­tri­b­u­tion blockchain games have strug­gled with is solved, or are there still hurdles?
Well, pub­licly we now have Epic, Google and Apple that are let­ting this hap­pen, and I know a few of the con­soles are open to it too. Steam has some reg­u­la­to­ry issues with their cred­it sys­tem, I under­stand they're just con­ser­v­a­tive, and that's fine. That's their choice.
But I'd say there are about sev­en main plat­forms across PC, mobile and con­sole, and I think we'll prob­a­bly see five out of sev­en open up quick­ly, and maybe all of them down the road.
Because of NFL Rivals and Nitro Nation, Apple and Google are like, hey, let's do it.

John Lin­den
But some of them are still very con­cerned about the con­cept of web3. Like non-cus­to­di­al accounts which blockchain and cryp­to peo­ple love, it's a lit­tle risky. You don't want to lose your pri­vate key and sud­den­ly lose Mario or Zel­da, that's real­ly bad for gam­ing. So we have gone a bit more con­ser­v­a­tive with cus­to­di­al accounts. I'd like to even­tu­al­ly have it non-cus­to­di­al, but we're try­ing to play nice.
Also, it's tough. The idea that every time you have to do some­thing you have to go back and approve on Meta­Mask and pay a fee. That needs more tech­ni­cal advance­ments, maybe just a pop-up SDK or some­thing. I do think even­tu­al­ly you'll be able to sign your own trans­ac­tions, but we're not quite there yet.
In terms of play­er sen­ti­ment, do you think that's chang­ing too or is that a more long-term process?
I think it's a bit seman­tic. I don't think play­ers have actu­al­ly been that upset about the con­cept of dig­i­tal own­er­ship, I think they're upset about some of the prac­tices we're doing in web3, par­tic­u­lar­ly around mon­ey grabs. Gamers don't real­ly care about that.
So they nev­er had a prob­lem with own­er­ship, they had a prob­lem with what became known as NFTs and blockchain. I think we got­ta move them back by show­ing them what it can do in the game. That it's not about an invest­ment, but about the game.
And I think we're show­ing that with NFL Rivals. We've got over 2 mil­lion play­ers and I think we'll prob­a­bly add anoth­er mil­lion play­ers a month, see­ing the trend we're on right now. We'll prob­a­bly see 4–5‑6 mil­lion play­ers of that game before long, and nobody's real­ly com­plain­ing because they don't view it as an NFT game, they view it as dig­i­tal ownership.
What's the deal with Mythos Chain mov­ing to Polka­dot?
We've been look­ing at what works for us, and we've exper­i­ment­ed a few times. One thing we talked to Polka­dot about are their prin­ci­ples. What I like a lot about them is that they don't real­ly mar­ket them­selves that much, and they've done a lot of great stuff. There are two groups: on one hand there's Poly­gon and the likes, which are all about mar­ket­ing, and there are groups like Polka­dot, which are about how to move this tech­nol­o­gy for­ward. They think through a lot of that, of gov­er­nance, of safe­ty, of cre­at­ing iden­ti­ty, and I'm all for that. But there are a cou­ple of chal­lenges we're work­ing through with them.
In terms of on-chain trans­ac­tion vol­ume, Mythos is five times big­ger than Ethereum [Ed – in terms of onchain trans­ac­tions, not trad­ing vol­ume]. As we're mov­ing to a new chain we have to make sure we can han­dle it. We're not done yet, we want to be a hun­dred times that.
As we're adding more games, we've got about 4–5 more games we're work­ing on that we haven't announced yet, we want to make sure we can sup­port a hun­dred, even a thou­sand times, that trans­ac­tion vol­ume over the next few years.
I do like Polka­dot – it's a com­mu­ni­ty of builders rather than a com­mu­ni­ty of money-makers.
Final­ly, what's the plan for your third game, Nitro Nation World Tour, and its offi­cial launch? It's cur­rent­ly in soft launch, right?
I'll call it beta. There are some miss­ing fea­tures, some work to be done, there are def­i­nite­ly some bugs, but we're work­ing through that, and I'd say we're not too far off.
You'll see a real­ly big update com­ing soon and we'll be launch­ing short­ly after. We've got our sea­son plan, with sea­son one and sea­son two already ready to go. New cars are going to launch along with those and we've got a col­lab­o­ra­tion to announce as well.
Stay up-to-date with Myth­i­cal Games via its web­site.