Sen. Brown pushes for 'consistent, comprehensive' crypto disclosures in letter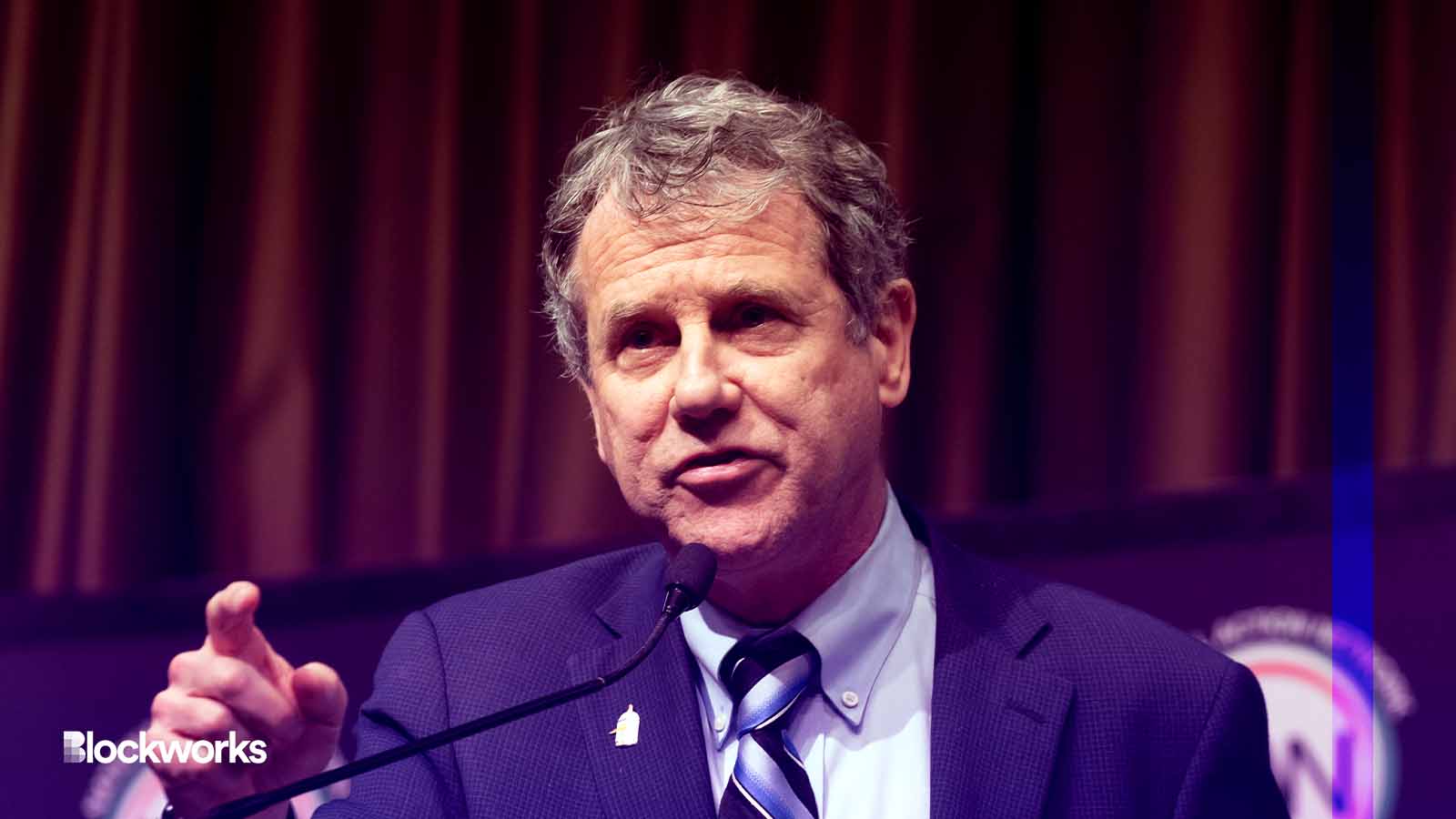 Sen­a­tor Sher­rod Brown, D‑OH, is con­cerned about the "trou­bling lack of cus­tomer-fac­ing" dis­clo­sures in crypto.
The leg­is­la­tor wrote a let­ter addressed to Trea­sury Sec­re­tary Janet Yellen, Secu­ri­ties and Exchange Com­mis­sion Chair Gary Gensler, and Com­mod­i­ty Futures Trad­ing Com­mis­sion Chair Ros­tin Behnam.
"I urge you to use exist­ing tools to strength­en trans­paren­cy and hold bad actors account­able," he wrote.
Brown hopes that, by address­ing the Trea­sury, CFTC and SEC, the US can "build on our exist­ing dis­clo­sure guardrails to effec­tive­ly tar­get the defi­cien­cies we have observed in dig­i­tal asset tokens and dig­i­tal asset plat­forms." He's also request­ed that the agen­cies work hand-in-hand with Con­gress as leg­is­la­tors push cryp­to-focused leg­is­la­tion forward.
"Some of my col­leagues in Con­gress have pro­posed mere­ly apply­ing lim­it­ed dis­clo­sure require­ments to dig­i­tal asset tokens. This would be a pro­found mis­take. We can­not water down the high stan­dards that have pro­tect­ed investors and sup­port­ed busi­ness­es for decades," Brown said.
Brown specif­i­cal­ly push­es for "con­sis­tent, com­pre­hen­sive, and accu­rate dis­clo­sures in cryp­to markets."
He cites the fail­ures of FTX and Cel­sius as spe­cif­ic fail­ures, say­ing that despite the two col­laps­es, "cryp­to firms have tak­en no mean­ing­ful steps to improve their trans­paren­cy, leav­ing cus­tomers vulnerable."
The let­ter from Brown comes as Con­gress heads back to Wash­ing­ton to vote on mul­ti­ple cryp­to bills. One such bill, the Finan­cial Inno­va­tion and Tech­nol­o­gy for the 21st Cen­tu­ry Act, has bipar­ti­san sup­port and seeks to estab­lish joint rule­mak­ing pow­ers between the CFTC and the SEC.
As Block­works pre­vi­ous­ly report­ed, it would also clar­i­fy how dig­i­tal assets are clas­si­fied, specif­i­cal­ly stat­ing that an invest­ment con­tract does not nec­es­sar­i­ly make a token a secu­ri­ty, with the bill's co-spon­sors pub­lish­ing a fact sheet that push­es for most tokens to be clas­si­fied as tokens rather than securities.
---
Get the day's top cryp­to news and insights deliv­ered to your email every evening. Sub­scribe to Block­works' free newslet­ter now.
Want alpha sent direct­ly to your inbox? Get degen trade ideas, gov­er­nance updates, token per­for­mance, can't‑miss tweets and more from Block­works Research's Dai­ly Debrief.
Can't wait? Get our news the fastest way pos­si­ble. Join us on Telegram and fol­low us on Google News.