Polygon (MATIC) Investors Cash Out, Adding Downward Pressure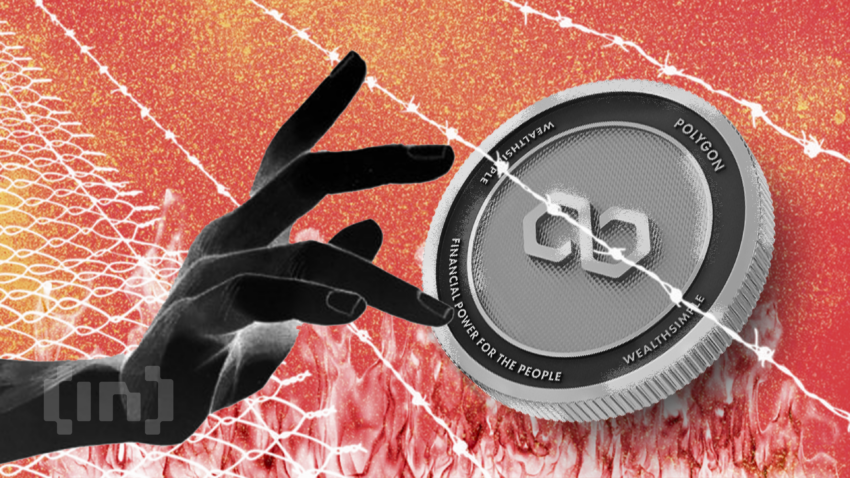 Poly­gon (MATIC) price entered a free fall after the Unit­ed States Secu­ri­ties and Exchange Com­mis­sion (SEC) list­ed it among the ten cryp­tos iden­ti­fied as secu­ri­ties. Where will prices find sup­port with investors now in pan­ic mode?
MATIC price dropped 15% as the recent SEC court fil­ing against Binance spread neg­a­tive sen­ti­ment across the mar­kets. After an ini­tial sell-off on Mon­day, pan­ick­ing investors are now with­draw­ing their tokens from var­i­ous DeFi smart con­tracts. Will the new­ly unstaked tokens flood the mar­ket and trig­ger more sell-offs in the com­ing days?
Investors Are Withdrawing Tokens from Smart Contracts
After test­ing the $0.90 mile­stone last week, Polygon's (MATIC) price has been in free fall since Mon­day. Yet, the sell­ing pres­sure could increase over the com­ing days.
An in-depth analy­sis of the under­ly­ing Poly­gon on-chain data shows that con­cerned investors have been unstak­ing their MATIC tokens at an unprece­dent­ed rate.
Between May 29 and June 8, MATIC Sup­ply in Smart Con­tracts dropped from 64.9% to 63.7%. This means that 111.5 mil­lion MATIC tokens (1.2% of the total cir­cu­lat­ing sup­ply) have been unstaked over the past week.
The Sup­ply in Smart Con­tracts met­ric tracks the per­cent­age of a cryp­tocur­ren­cies' total cir­cu­lat­ing sup­ply that hold­ers have locked up across var­i­ous DeFi pro­to­cols. When investors unstake a large num­ber of tokens with­in a short peri­od, it could cause a sud­den increase in the vol­ume of tokens avail­able to be trad­ed on exchanges.
At cur­rent prices of $0.78, the recent­ly unstaked tokens are worth approx­i­mate­ly $87 mil­lion. If a sig­nif­i­cant per­cent­age of these tokens are pumped into the mar­ket, MATIC hold­ers can expect fur­ther price down­swings in the com­ing days.
Long-term Holders are Losing Confidence
Fur­ther­more, the sharp rise in Age Con­sumed sug­gests low con­fi­dence among long-term investors in the Poly­gon ecosys­tem. Accord­ing to on-chain data, long-term investors have been increas­ing­ly sell­ing off their coins over the past week.
Age Con­sumed eval­u­ates the trad­ing activ­i­ty of Long-term investors by track­ing the num­ber of recent­ly sold coins mul­ti­plied by the num­ber of days since they were last moved. MATIC Age Con­sumed spiked 2,400% from 38.2 mil­lion to 950.9 mil­lion between June 2 and June 8.
When Age Con­sumed spikes con­sid­er­ably, as seen above, it sig­nals that long-term hold­ers are sell­ing off large amounts of coins. This could spook poten­tial new investors to become bear­ish about MATIC's future price prospects.
In con­clu­sion, the new­ly unstaked tokens poten­tial­ly flood­ing the mar­ket and the low con­fi­dence among Polygon's long-term investors are crit­i­cal bear­ish fac­tors. This sug­gests that MATIC's price will like­ly drop fur­ther in the com­ing days.
MATIC Price Prediction: Bears Can Push for a $0.65 Retest
The bear­ish mood among the long-term investors sug­gests that MATIC's price will like­ly drop toward $0.65. But, accord­ing to IntoTheBlock's In/Out of the Mon­ey Price (IOMAP), Poly­gon will like­ly expe­ri­ence ini­tial sup­port around $0.76.
At that zone, there's a demand wall mount­ed by 8,800 address­es that bought 606.5 mil­lion MATIC at an aver­age price of $0.76.
But if that sup­port caves as expect­ed, then MATIC price could drop as low as $0.65.
Still, the bulls can negate this pes­simistic nar­ra­tive if MATIC's price man­ages to break above $0.80. But as seen above, some of the 18,160 investors that pur­chased 183.4 mil­lion coins around $0.80 could resist.
Only if that resis­tance lev­el fails to hold, MATIC can push the ral­ly as far as $0.89.
Disclaimer
In line with the Trust Project guide­lines, this price analy­sis arti­cle is for infor­ma­tion­al pur­pos­es only and should not be con­sid­ered finan­cial or invest­ment advice. BeIn­Cryp­to is com­mit­ted to accu­rate, unbi­ased report­ing, but mar­ket con­di­tions are sub­ject to change with­out notice. Always con­duct your own research and con­sult with a pro­fes­sion­al before mak­ing any finan­cial decisions.