Shiba Inu (SHIB) Gains New Demand: Will it Drive Price Upward?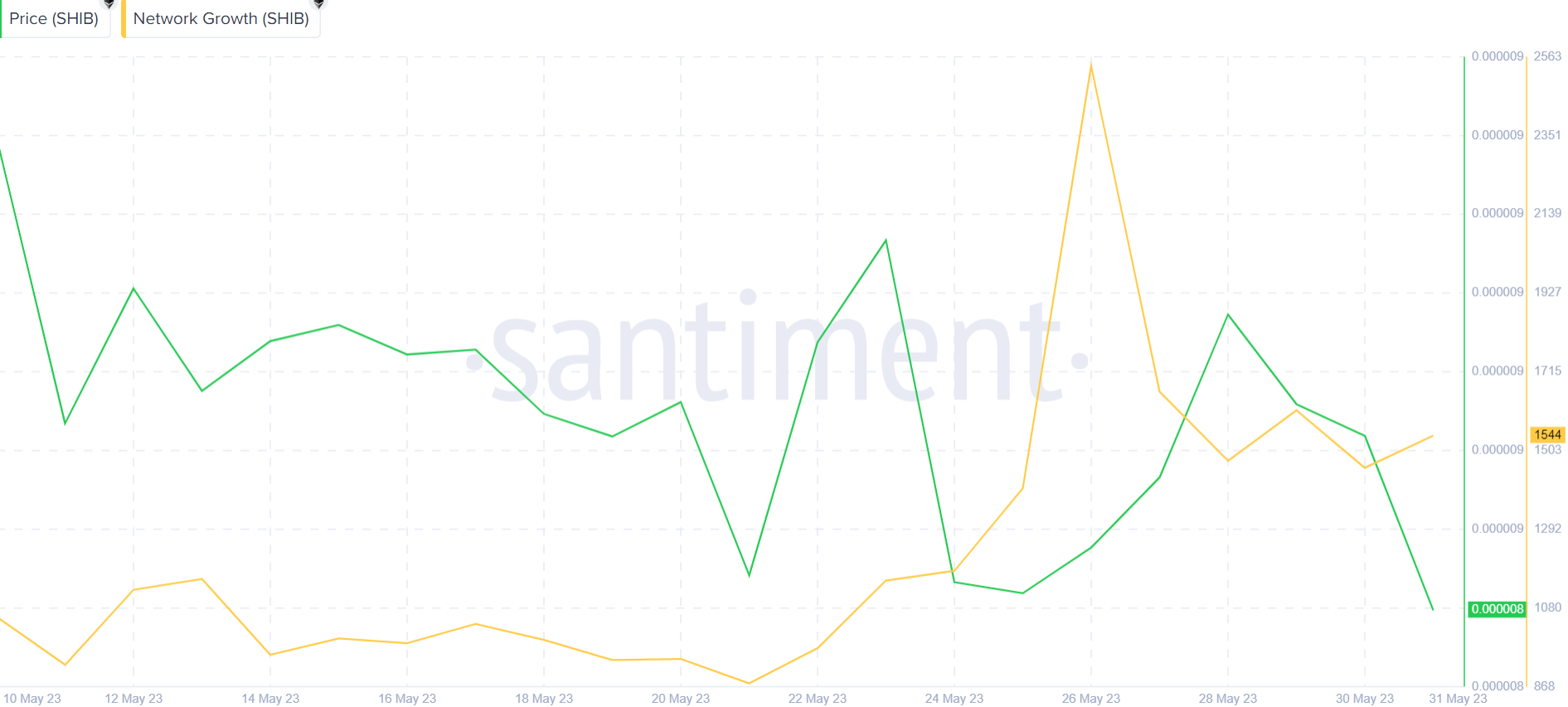 Shi­ba Inu (INU) price had an under­whelm­ing per­for­mance in May 2023. On-chain data shows that SHIB has been attract­ing new demand in recent weeks. Could this trans­late into sig­nif­i­cant price gains for SHIB?
Investors are again switch­ing atten­tion to Shi­ba Inu (SHIB) in recent weeks. This is a pos­i­tive devel­op­ment after SHIB lost sig­nif­i­cant mar­ket share to new­ly-emerged meme­coins like PEPE and DOGELON Mars in ear­ly May.
The recent Shi­ba Inu cold wal­let launch appears to have reju­ve­nat­ed the SHIB net­work growth. How could this impact the price in the com­ing days?
Shiba Inu is Attracting New Users
In the build-up to the cold wal­let launch on May 29, Shi­ba Inu wit­nessed a spike in Net­work Growth. Near­ly a week lat­er, the SHIB net­work is still attract­ing new users.
On May 26, Shi­ba Inu Net­work Growth spiked to 2,538 new address­es. And since then, it has main­tained an aver­age of 1,500 new address­es cre­at­ed daily.
This rep­re­sents a 71% increase in the new-user acqui­si­tion rate com­pared to the fig­ures record­ed on May 21.
Net­work Growth eval­u­ates the rate at which a blockchain net­work attracts new users by sum­ming up the num­ber of new wal­let address­es cre­at­ed daily.
When new users flock to a net­work, a bull­ish sig­nal indi­cates the project is gain­ing mar­ket share. Giv­en how PEPE and oth­er meme­coins that made waves in May are now los­ing trac­tion, investors are switch­ing atten­tion to SHIB and oth­er resilient meme tokens.
If this trend endures, it is only a mat­ter of time before the SHIB price breaks above the $0.000009 resistance.
SHIB Is Attracting New Demand
In fur­ther con­fir­ma­tion of the bull­ish out­look, the order books of exchanges sug­gest that the Shi­ba Inu has been attract­ing new demand in recent weeks.
The Exchange on-chain Mar­ket depth chart shows an aggre­gate of the total buy/sell orders placed by SHIB hold­ers across dif­fer­ent cryp­to exchanges.
Cur­rent­ly, SHIB hold­ers have placed orders to pur­chase 1.1 tril­lion SHIB tokens. Mean­while, sell­ers have placed just 1 tril­lion tokens up for sale.
Com­pe­ti­tion increas­es when demand exceeds the sup­ply avail­able on exchanges, putting some upward pres­sure on the price. Cur­rent­ly, there is a sup­ply short­age of 1 bil­lion SHIB. This means Shi­ba Inu's price will like­ly rise as buy­ers begin to compete.
In con­clu­sion, the sup­ply short­age and increase in new users join­ing the net­work could soon trig­ger more price gains.
SHIB Price Prediction: Bulls Targetting $0.000011
Con­sid­er­ing the cur­rent pos­i­tive mar­ket sen­ti­ment, SHIB is like­ly to reach $0.000011 in the com­ing weeks. But, accord­ing to IntoThe­Block's Exchange On-chain Mar­ket Depth, SHIB must beat the $0.000009 resis­tance before hold­ers can be con­fi­dent of the bull­ish reversal.
In that zone, 42,540 investors that pur­chased 8.06 tril­lion SHIB at the max­i­mum price of $0.000009 could stop the ral­ly. But if the bull­ish sce­nario plays out, the SHIB price will like­ly ral­ly toward $0.000011.
Still, Shi­ba Inu could slip into a bear­ish trend if the price drops below the $0.000008 sup­port zone. But the buy-wall mount­ed by 42,540 investors that bought 8.03 tril­lion SHIB at the min­i­mum price of $0.000008 will like­ly pre­vent the drop.
Although unlike­ly, if that sup­port zone can­not hold, SHIB price could drop fur­ther toward $0.0000075.
The post Shi­ba Inu (SHIB) Gains New Demand: Will it Dri­ve Price Upward? appeared first on BeIn­Cryp­to.