XRP Price Pump to $1? Cheap Penny Crypto Under $1 Alternatives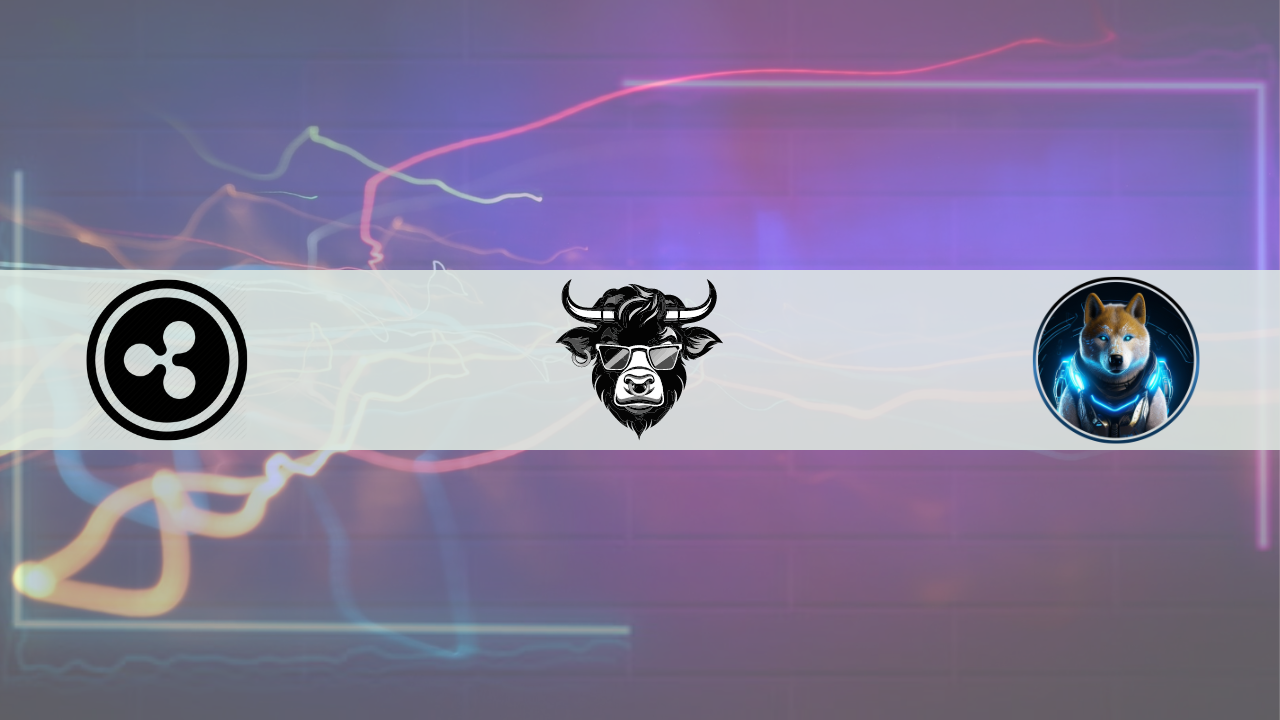 It's been an excel­lent few weeks for XRP hold­ers, with the token's val­ue soar­ing over 12% since May 11.
This bull­ish momen­tum shows no signs of slow­ing, with many in the invest­ment com­mu­ni­ty won­der­ing whether XRP can make it to the fabled $1 level.
At the same time, sev­er­al pen­ny cryp­to alter­na­tives are mak­ing head­way in the mar­ket – offer­ing com­pelling oppor­tu­ni­ties for those seek­ing the next poten­tial break­out star.
XRP's Recent Price Surge Adds Optimism That $1 Can Be Reached
After a sol­id run-up over the past fort­night, the XRP price is cur­rent­ly hov­er­ing around the $0.462 level.
Price has now bro­ken above the 20-day and 50-day EMAs – a bull­ish sig­nal often pre­ced­ing a rapid upwards surge.
Adding more con­flu­ence is that XRP's price is cre­at­ing a bull flag pat­tern on the dai­ly time­frame. Again, this pat­tern often appears right before a break­out to the upside, which will be music to the ears of XRP bulls.
Data from Coin­Glass also reveals that the Long/Short (24h) ratio stands at 1.0538 for XRP deriv­a­tives. This indi­cates that there are now more long than short posi­tions in the mar­ket – sug­gest­ing that investor sen­ti­ment remains positive.
Adding to the mix, the open inter­est fig­ures are ris­ing across all major exchanges, evi­denc­ing the grow­ing mar­ket inter­est in XRP.
Much of the recent pos­i­tiv­i­ty around the token stems from the lat­est updates regard­ing the SEC's case against Rip­ple – the par­ent com­pa­ny of XRP.
James K. Filan, a for­mer defense lawyer, tweet­ed on May 16 that a judge had denied the SEC's motion to seal a state­ment from its for­mer chair­man, William Hinman.
This state­ment, giv­en back in 2018, saw Hin­man claim that Ethereum (ETH) was not a secu­ri­ty.
Now that this state­ment is avail­able for Rip­ple to use in its defense, many believe the tide is turn­ing in the cryp­to firms' favor since there's clear evi­dence that a for­mer SEC offi­cial didn't think Ethereum was a security.
It remains to be seen how this will impact Ripple's ongo­ing bat­tle with the SEC – but if things play out pos­i­tive­ly, there's a chance that the XRP price will grow in val­ue and push toward the $1 level.
While XRP con­tin­ues to per­form impres­sive­ly in the cryp­to mar­ket, it's not the only con­tender worth pay­ing atten­tion to.
One emerg­ing pen­ny cryp­to, Wall Street Memes ($WSM), is mak­ing sig­nif­i­cant strides – despite only launch­ing its pre­sale on May 25.
With­in hours of the presale's launch, more than $100,000 in invest­ment flowed in from eager investors – with the tremen­dous hype being dri­ven by the project's clear link to the famous "Wall­Street­Bets" subreddit.
The $WSM token lever­ages the achieve­ments of the Wall St Bulls NFT col­lec­tion, which was intro­duced in 2021 and quick­ly sold out in just 32 min­utes due to over­whelm­ing investor interest.
This extra­or­di­nary demand led to the for­ma­tion of a thriv­ing com­mu­ni­ty of over one mil­lion supporters
Now that the NFT mar­ket is bounc­ing back, the team behind the col­lec­tion is remain­ing active and set to make its mark on the world of Bit­coin Ordi­nals by launch­ing a brand-new col­lec­tion on Mag­ic Eden.
Nat­u­ral­ly, the grow­ing buzz around the Bit­coin Ordi­nals drop has prompt­ed mas­sive sup­port for the release of the $WSM token – with the offi­cial Dis­cord serv­er see­ing an enor­mous influx of new members.
As a com­mu­ni­ty-focused project, with more than 400,000 social media fol­low­ers, Wall Street Memes will reserve 50% of the total $WSM sup­ply for pre­sale investors.
The remain­ing 50% will be used for com­mu­ni­ty rewards and CEX/DEX liq­uid­i­ty – high­light­ing that the devel­op­ment team is in this for the long haul.
Ear­ly investors can now pur­chase $WSM tokens through the pre­sale for just $0.025 – the low­est price they'll ever be offered – with tokens to cost $0.0337 in the final stage.
Vis­it Wall Street Memes Presale
Presale Sensation AiDoge Turns Heads & Raises $14.3 Million
Wall Street Memes isn't the only cryp­to grab­bing investors' atten­tion – AiDoge ($AI) is also start­ing to make head­way as a poten­tial alter­na­tive to XRP.
Despite being less known, this new entrant to the mar­ket has already start­ed turn­ing heads, rais­ing a remark­able $14.3 mil­lion through its pre­sale phase in just four weeks.
More­over, AiDoge's Telegram com­mu­ni­ty has swelled to near­ly 19,000 peo­ple over the past few weeks, high­light­ing the grow­ing inter­est in the project.
This inter­est is dri­ven by AiDoge's pio­neer­ing com­bi­na­tion of a meme coin style and arti­fi­cial intel­li­gence (AI) tech­nol­o­gy – a blend that hasn't yet been seen in the cryp­to market.
As not­ed in AiDoge's whitepa­per, the project's flag­ship fea­ture will be its cus­tom-designed meme gen­er­a­tor, where­by users can cre­ate hilar­i­ous memes in sec­onds using text-based prompts.
Users can also earn $AI, AiDoge's native token, by upload­ing their cre­at­ed memes to the 'pub­lic wall'. Oth­er users will then vote on the uploaded memes, with the most pop­u­lar receiv­ing $AI dis­tri­b­u­tions each month.
With AiDoge now in the final stage of its pre­sale, investors have less than five days left to secure $AI tokens before they list on major exchanges – an event sure to catch the market's attention.
Revolutionary yPredict Analytics Suite Empowers Traders & Raises $1.7 Million
Final­ly, anoth­er cheap XRP alter­na­tive that's been gain­ing trac­tion in recent weeks is yPre­dict ($YPRED).
yPre­dict is a cut­ting-edge cryp­to ana­lyt­ics suite with many tools and ser­vices designed to help traders make bet­ter deci­sions in the market.
This Poly­gon-based plat­form will pro­vide AI-pow­ered trad­ing sig­nals, real-time sen­ti­ment analy­sis, auto­mat­ic chart pat­tern recog­ni­tion, advanced tech­ni­cal indi­ca­tors, and oth­er high-val­ue features.
On top of that, yPre­dict will also have its own trad­ing ter­mi­nal, with users able to place trades direct­ly from the chart.
How­ev­er, as not­ed in yPredict's whitepa­per, the fea­ture that's cap­tur­ing the market's atten­tion is the yPre­dict Marketplace.
This fea­ture will allow users to 'sub­scribe' to state-of-the-art price pre­dic­tion mod­els devel­oped by the top 1% of AI experts. Sub­scrip­tion fees will be paid in $YPRED, yPredict's native token.
This fea­ture has got com­mu­ni­ty mem­bers pumped since mod­els like these are usu­al­ly reserved sole­ly for insti­tu­tion­al traders.
yPredict's pre­sale has now raised over $1.75 mil­lion in fund­ing, with ear­ly-bird investors still able to acquire $YPRED tokens at a dis­count rel­a­tive to the intend­ed CEX list­ing price.
Disclaimer
This arti­cle is spon­sored con­tent and does not rep­re­sent the views or opin­ions of BeIn­Cryp­to. While we adhere to the Trust Project guide­lines for unbi­ased and trans­par­ent report­ing, this con­tent is cre­at­ed by a third par­ty and is intend­ed for pro­mo­tion­al pur­pos­es. Read­ers are advised to ver­i­fy infor­ma­tion inde­pen­dent­ly and con­sult with a pro­fes­sion­al before mak­ing deci­sions based on this spon­sored content.