Finder Crypto Trading Platform Awards Australia 2023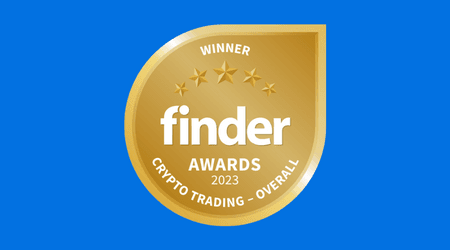 This award recog­nis­es cryp­to plat­forms that offer a diverse range of prod­ucts beyond the stan­dard trad­ing expe­ri­ence, such as NFTs, earn­ing rewards and deb­it cards.
Binance is com­mit­ted to inno­va­tion and push­ing the bound­aries of what cryp­to plat­forms can offer; if there is such a thing as a cryp­to super app, this is it.
Coin­base recent­ly launched in the Aus­tralian mar­ket and brings with it an impres­sive range of fea­tures includ­ing its well-known "learn­ing rewards" program.
Krak­en's fea­ture set pre­vi­ous­ly focused on expe­ri­enced traders, but new­er addi­tions such as earn­ing and NFTs appeal to more users than ever before.
---
Best crypto trading platform – advanced trading
This award takes into account advanced trad­ing fea­tures such as order types and chart­ing tools as well as reg­u­la­to­ry com­pli­ance, liq­uid­i­ty and fees.
Binance has an advanced spot mar­ket with deep liq­uid­i­ty and is one of the only exchanges licensed to pro­vide deriv­a­tives to Aus­tralian whole­sale clients.
Krak­en's Pro inter­face pro­vides Aus­tralians with up to 5x lever­age across 140+ trad­ing pairs, with rich chart­ing tools and advanced order types.
Coin­base has brought its "Advanced Trade" fea­ture down under, giv­ing traders easy access to one of the most liq­uid cryp­to mar­kets in the world.
Awards criteria
Here's how our expert ana­lysts assessed Aus­tralian cryp­to trad­ing plat­forms to pick the 2023 winner.
Selec­tion criteria
We con­duct­ed an exten­sive review of the cryp­tocur­ren­cy mar­ket in Aus­tralia in late 2022.
We attempt­ed to include all of the plat­forms that are reg­is­tered to oper­ate in Aus­tralia, pro­vid­ed they met the require­ments set by the Aus­tralian Trans­ac­tion Reports and Analy­sis Cen­tre (AUSTRAC) to serve Aus­tralian res­i­dents. We then refined this list by apply­ing Find­er's due dili­gence procedures.
The result was 25 cryp­tocur­ren­cy exchanges and bro­kers who were then mea­sured across 61 indi­vid­ual criteria.
The award for "Best Cryp­to Trad­ing Plat­form – Over­all" was giv­en to the prod­uct that had the high­est over­all score across all 61 criteria.
All oth­er cat­e­gories were assessed using dif­fer­ent com­bi­na­tions of cri­te­ria and weight­ings which depend­ed on the cat­e­go­ry. For instance, the Val­ue award upweight­ed scores based on fee data, and omit­ted cri­te­ria relat­ing to advanced trad­ing products.
For more details on the spe­cif­ic weight­ings used in each cat­e­go­ry, read our full method­ol­o­gy.
2022 winners
2023 marks the sec­ond con­sec­u­tive year of Find­er's Cryp­to Trad­ing Plat­form Awards.
The 2023 pro­gram builds on our pre­vi­ous analy­sis, tak­ing into con­sid­er­a­tion even more data points and eval­u­at­ing a larg­er num­ber of platforms.
Take a look at the 2022 Find­er Cryp­to Exchange Award win­ners.
Dis­claimer: Cryp­tocur­ren­cies are spec­u­la­tive, com­plex and involve sig­nif­i­cant risks – they are high­ly volatile and sen­si­tive to sec­ondary activ­i­ty. Per­for­mance is unpre­dictable and past per­for­mance is no guar­an­tee of future per­for­mance. Con­sid­er your own cir­cum­stances, and obtain your own advice, before rely­ing on this infor­ma­tion. You should also ver­i­fy the nature of any prod­uct or ser­vice (includ­ing its legal sta­tus and rel­e­vant reg­u­la­to­ry require­ments) and con­sult the rel­e­vant Reg­u­la­tors' web­sites before mak­ing any deci­sion. Find­er, or the author, may have hold­ings in the cryp­tocur­ren­cies discussed.