Biggest year ever for crypto hacking — with North Korea the suspected culprit | Science & Tech News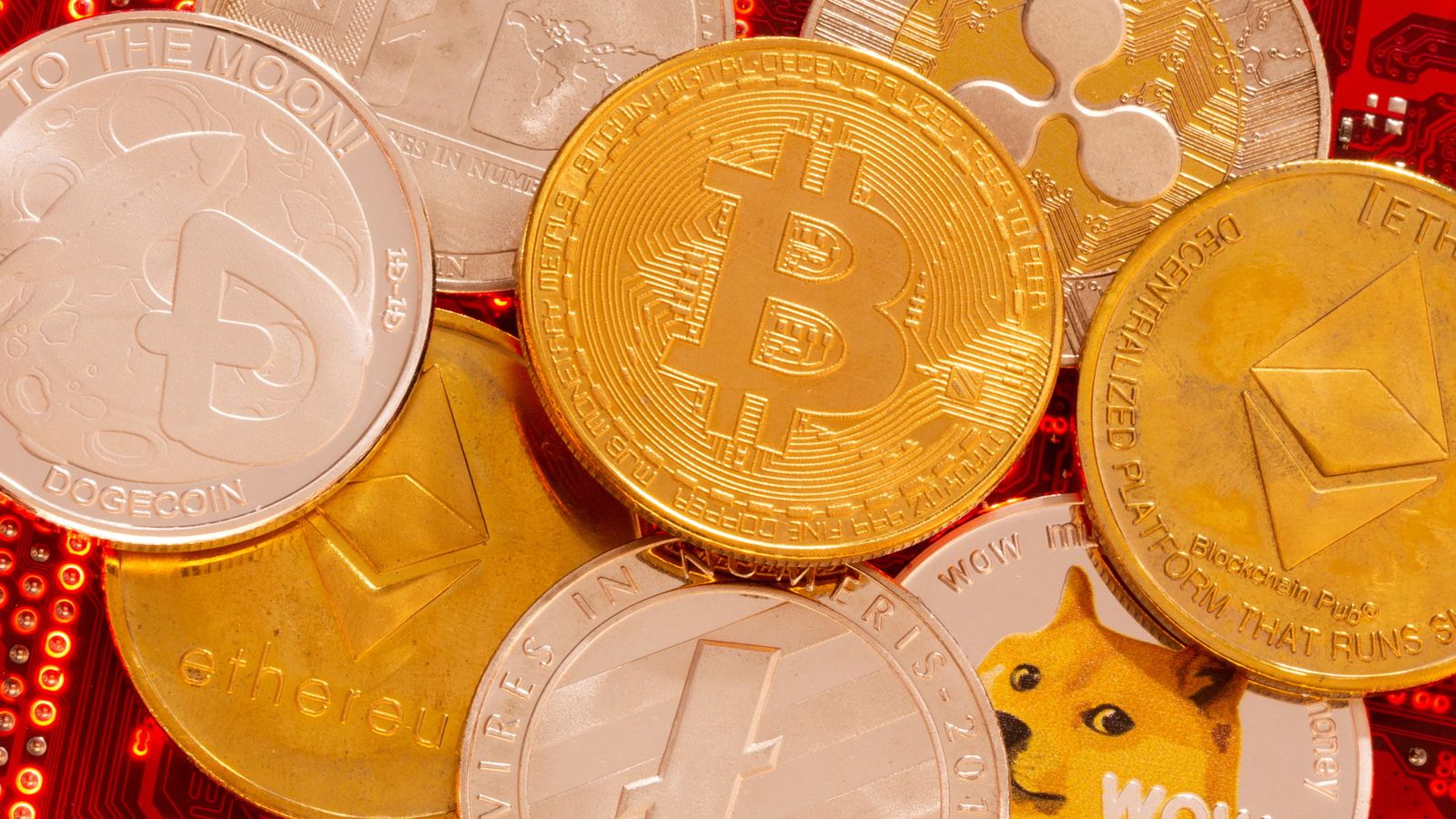 2022 was the biggest year ever for cryp­tocur­ren­cy hack­ing, with more than £3.2bn stolen world­wide, accord­ing to new research.
Octo­ber alone saw £629m tak­en — the most record­ed in a sin­gle month.
It helped the over­all year dwarf 2021's pre­vi­ous high of £2.7bn, although the total num­ber of hacks fell slightly.
The annu­al report by Chainal­y­sis, a blockchain analy­sis firm which sees its data used by gov­ern­ments, banks, and busi­ness­es world­wide, says the activ­i­ty was large­ly dri­ven by hack­ers based in North Korea.
Kim Jong Un's regime has repeat­ed­ly been accused of hack­ing cryp­tocur­ren­cies to make mon­ey and evade inter­na­tion­al sanc­tions, even using stolen dig­i­tal assets to fund its mis­sile pro­gramme.
In 2022, Chainal­y­sis says hack­ers asso­ci­at­ed with Pyongyang — notably crim­i­nal syn­di­cate Lazarus Group — stole an esti­mat­ed £1.4bn in cryp­tocur­ren­cy assets, break­ing their own record.
Researchers have pre­vi­ous­ly linked the group to the regime, though it is not known whether it is part of the gov­ern­men­t's own oper­a­tions or an exter­nal hire.
The amount of cryp­to thought to have been stolen huge­ly out­weighs North Kore­a's total annu­al exports, which lat­est fig­ures from the Obser­va­to­ry of Eco­nom­ic Com­plex­i­ty put at £115m for 2020.
"It isn't a stretch to say that cryp­tocur­ren­cy hack­ing is a siz­able chunk of the nation's econ­o­my," said Chainalysis.
What is the main aim of cryptocurrency?

Where was the mon­ey stolen from?
The biggest vic­tims of cryp­to hacks in 2022 were with­in decen­tralised finance pro­to­cols, which is essen­tial­ly when investors cut out the mid­dle man — like a bank or exchange — and trans­fer funds direct­ly between dig­i­tal wallets.
It's becom­ing increas­ing­ly pop­u­lar as it's con­sid­ered more trans­par­ent, which peo­ple are plac­ing more val­ue in fol­low­ing the col­lapse of major cryp­to plat­form FTX.
But accord­ing to Chainal­y­sis, these so-called DeFi pro­to­cols made up 82.1% of cryp­to stolen by hack­ers in 2022, totalling more than £2.5bn.
David Schwed, of blockchain secu­ri­ty com­pa­ny Hal­born, said DeFi devel­op­ers should not be afraid of look­ing to tra­di­tion­al cen­tralised sys­tems for inspi­ra­tion in mak­ing them­selves safer to use.
"You don't need to move as slow as a bank, but you can bor­row from what banks do," he said.
Read more:
Cryp­to 'too dan­ger­ous' not to reg­u­late
British investor los­es £1m in FTX collapse
'Reg­u­late cryp­to before sys­temic problem'

UK's 'encour­ag­ing' reg­u­la­tion plans
The report comes as the UK gov­ern­ment unveils pro­pos­als to reg­u­late cryp­to, as the mar­ket seeks to regain the con­fi­dence of investors spooked by an excep­tion­al­ly volatile period.
Under the plans, which would bring the indus­try more in line with tra­di­tion­al finan­cial sys­tems, cryp­to plat­forms would become respon­si­ble for defin­ing the demands that a cur­ren­cy must meet before being admit­ted for trading.
Exchanges will also be held account­able for safe­ly facil­i­tat­ing trans­ac­tions and keep­ing cus­tomer assets safe.
Jor­dan Wain, UK pub­lic pol­i­cy lead at Chainal­y­sis, told Sky News the reg­u­la­tion was welcome.
"It is encour­ag­ing to see the promi­nent thread of con­sumer pro­tec­tion run­ning through these plans, which evi­dence a clear intent to tack­le poten­tial­ly abu­sive behav­iours," he said.
But he warned that tougher rules must not harm the indus­try's "poten­tial for inno­va­tion and growth".
The pro­pos­als, which come less than a year after Rishi Sunak said he want­ed the UK to become a "glob­al cryp­to asset hub", will go out for con­sul­ta­tion before com­ing into force.