Toby Hicks' and Lisa Wade's Australian crypto firm DigitalX dumps Binance as broker after FTX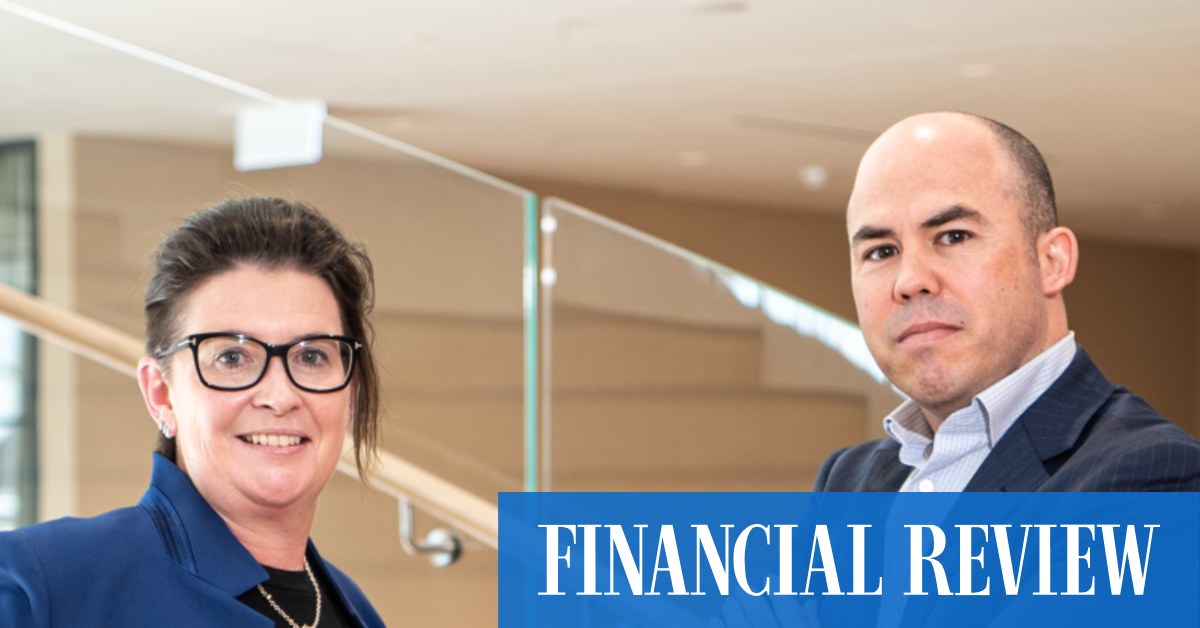 "This fall­out [from FTX] has cre­at­ed a lot of uncer­tain­ty out there … It's made me very cau­tious. How bad is it going to get?"
Dig­i­talX chief exec­u­tive Lisa Wade respond­ed that she shared their con­cern about the short-term mar­ket out­look, warn­ing that more "bad news" could emerge as oth­er cryp­tocur­ren­cy busi­ness­es and net­works became affected.
"What is going on with FTX has mas­sive­ly increased volatil­i­ty in the mar­ket," she told the AGM. "There could be a lit­tle more con­ta­gion. We can't con­trol that but what we can do is be the peo­ple that under­stand it the most and watch it the closest."
Ms Wade, a for­mer head of dig­i­tal inno­va­tion at Nation­al Aus­tralia Bank who joined the small-cap cryp­to firm in Jan­u­ary, said she had made deci­sions in recent weeks to elim­i­nate "counter-par­ty risks" that could threat­en the secu­ri­ty of cryp­to assets held in DigitalX's funds or on its bal­ance sheet.
"We don't keep mon­ey on exchanges [any more]," she said. "We were stak­ing on Binance in the fund pre­vi­ous to the FTX fall­out, but we have stopped doing that due to the volatil­i­ty. We analysed every­one in the mar­ket and the only way we could see a safe way of [stak­ing] was to do it ourselves."
Ms Wade said the com­pa­ny had devel­oped its own "stak­ing nodes" into the ethereum net­work, built on Google infra­struc­ture, and was increas­ing­ly using offline "cold wal­let" hard­ware devices to store clients' and its own cryp­to assets. "The only time our mon­ey is ever on exchange is to trans­act," she said. "That is done very quick­ly and then the mon­ey goes straight back into our cold wallet."
The rev­e­la­tion comes as scruti­ny mounts on the busi­ness mod­el of cryp­to exchanges or "hot wal­lets", which often mon­e­tise their cus­tomers' assets in com­plex ways (with or with­out their con­sent) and are vul­ner­a­ble to cybercrime.
Binance, the world's largest cryp­to exchange – which in Aus­tralia is run by for­mer Dig­i­talX chief exec­u­tive Leigh Tra­vers – was a pri­ma­ry com­peti­tor of FTX's and instru­men­tal in its down­fall. Binance founder Chang­peng Zhao (CZ) was an ear­ly investor in FTX and its native token FTT, but blew the whis­tle this month on alleged mis­ap­pro­pri­ate use of funds at his rival.
After lob­bing a sur­prise non-bind­ing takeover bid for FTX on Novem­ber 9, Binance gained access to FTX's finan­cials and sub­se­quent­ly walked away, with CZ tweet­ing that FTX's prob­lems were "beyond our con­trol or abil­i­ty to help". FTX filed for bank­rupt­cy in the US two days later.
It is under­stood DigitalX's deci­sion to dump Binance was part of an effort to lim­it expo­sure to exchanges, rather than spe­cif­ic con­cerns about that company.
Dig­i­talX chair­man Toby Hicks, a Perth-based lawyer, told the AGM he was putting his per­son­al rep­u­ta­tion at risk by being involved in the con­tro­ver­sial cryp­to indus­try because he believed in the "oppor­tu­ni­ty the tech­nol­o­gy presents".
"We are not gam­blers," he said. "We are not gam­blers with our share­hold­ers' mon­ey and we are not gam­blers when it comes to spec­u­la­tive cryp­to assets or dig­i­tal tokens. That is why … we have built a strong research-focused team that has enabled us to avoid issues that have con­front­ed others."
Ms Wade told the Aus­tralian Finan­cial Review Super & Wealth Sum­mit ear­li­er this month that Dig­i­talX had sold its units in FTX's FTT token when rumours of its finan­cial mis­deeds began to emerge.
All five of the company's AGM res­o­lu­tions were car­ried, includ­ing Mr Hicks' re-elec­tion, albeit with a 26 per cent protest vote against the adop­tion of an employ­ee share incen­tive plan.
Dig­i­talX shares closed flat on Thurs­day at 2.7¢ a share. They have lost 77 per cent of their val­ue in the past 12 months as cryp­to mar­kets plum­met­ed from their all-time highs in Novem­ber last year.