5 Best Gaming NFT deals that make Gaming super exciting!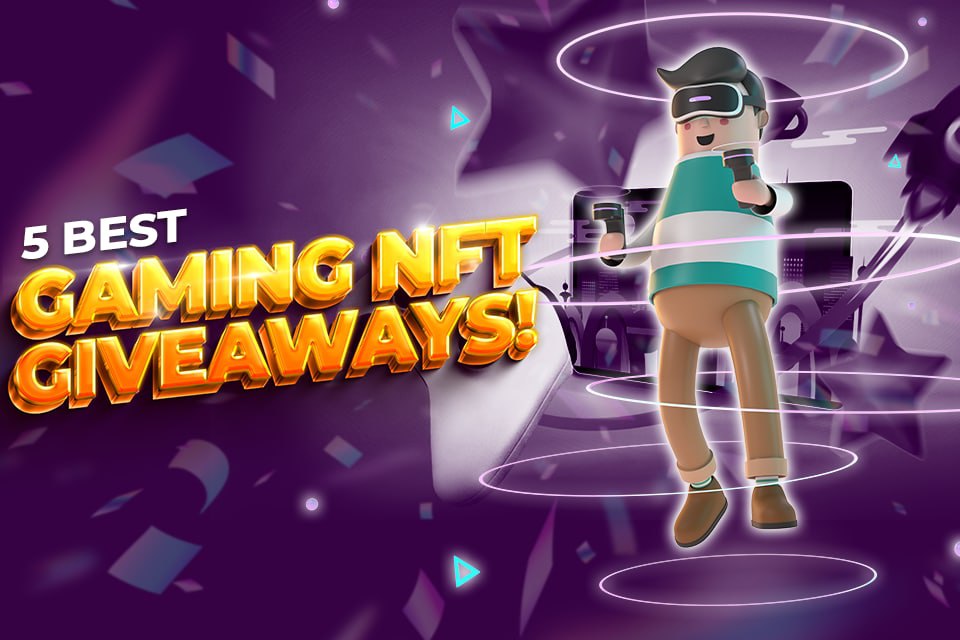 The non-tra­di­tion­al gam­ing indus­try is in charge of the busi­ness mod­el that may be an excit­ing inno­va­tion for play­ers and devel­op­ers. This is because pub­lish­ers are begin­ning to build more of their games to be played on the blockchain, which is also a part of reg­u­lat­ing the economy.
The char­ac­ter­is­tics of NFT gam­ing are not pre­cise­ly iden­ti­cal to those of con­ven­tion­al gam­ing since NFT gam­ing leads the way with fea­tures sim­i­lar to tra­di­tion­al gam­ing and oth­er sub­stan­tial ben­e­fits that tra­di­tion­al gam­ing can absolute­ly not catch up with.
Hence, there is a sub­stan­tial increase in both the demand for and the vari­ety of NFT gam­ing projects in which we can par­tic­i­pate. To get the most out of your pas­sion for online gam­ing, you can take advan­tage of the many pop­u­lar NFT gam­ing plat­forms avail­able today and par­tic­i­pate in the pop­u­lar games and NFT giveaways/prizes offered by these platforms.
Does that sound excit­ing? Let's look at some top NFT gam­ing plat­forms and their top NFT give­aways, shall we?
Best Gaming NFT Giveaways in 2022:
IndiGG
IndiGG is build­ing the world's largest Web3 gam­ing DAO cen­tered in India. They're onboard­ing the 500M+ gamers of India to the Web3 gam­ing ecosys­tem and enabling earn­ings for the DAO mem­bers. They have part­nered with the best gam­ing stu­dios and devel­op­ers glob­al­ly, there­by increas­ing their suc­cess prob­a­bil­i­ty by cre­at­ing rel­e­vant micro-communities.
Recent­ly, IndiGG launched one of its biggest NFT give­aways with ev.io, a gun­play FPS game. This give­away pro­vid­ed 300 NFTs and actu­al mon­ey for the gamers to claim. Ev.io has gained pop­u­lar­i­ty as one of the best Web 3.0 FPS games in the ecosys­tem. It is a mul­ti­play­er FPS game set in a futur­is­tic are­na. The game stress­es mobil­i­ty and gun­play with abil­i­ties like tele­por­ta­tion and triple jump. Ev.io is also free to play, but if play­ers want to earn rewards, cre­at­ing an account and using NFTs is required. This game-first approach has already attract­ed a lot of play­ers to the game. The team engages in many activ­i­ties which are quite refresh­ing in the blockchain gam­ing space includ­ing their easy onboard­ing process which has been its highlight.
Lucky Block
Lucky Block is a brand-new and for­ward-think­ing ecosys­tem for cryp­tocur­ren­cy games that allows token hold­ers to win week­ly rewards. Every gam­ing result is sup­port­ed by blockchain and inno­v­a­tive con­tract tech­nol­o­gy, guar­an­tee­ing total ran­dom­ness and fair­ness through­out the process. Because of this, Lucky Block has quick­ly risen to become one of the most rep­utable cryp­to lot­tery plat­forms for 2022.
Lucky Block has devel­oped sev­er­al one-of-a-kinds NFT col­lec­tions, in addi­tion to the LBLOCK token that the project uses, and is one of the cryp­to assets that has per­formed the best this year. You will be qual­i­fied for var­i­ous valu­able priv­i­leges if you hold a Lucky Block NFT. A Lam­borgh­i­ni is the most desir­able of the prizes now up for grabs. Hold­ing a Plat­inum Rollers Club NFT allows you to increase your chances of win­ning the reward.
Battle Infinity
Bat­tle Infin­i­ty is anoth­er excel­lent option for con­sid­er­a­tion when it comes to the NFT gifts that are being offered this year. Bat­tle Infinity's ecosys­tem com­pris­es six dif­fer­ent com­po­nents, each of which gives users the oppor­tu­ni­ty to earn prizes or engage with oth­er play­ers. The IBAT Pre­mier League is the cen­ter­piece of Bat­tle Infin­i­ty. This league is a fan­ta­sy sports com­pe­ti­tion that is made pos­si­ble by the use of NFTs. Users can estab­lish sports teams inside this league, and their points are award­ed depend­ing on the actu­al per­for­mance of their players.
Those play­ers who accu­mu­late the most points will advance in the IBAT Pre­mier League rank­ings and be eli­gi­ble for prizes paid out in IBAT.
Through its offi­cial Telegram chan­nel, Bat­tle Infin­i­ty held a one-of-a-kind NFT give­away event. Users who com­plet­ed var­i­ous chal­lenges relat­ing to Bat­tle Infinity's social media plat­forms were each award­ed a share of $3,000 in prize money.
MECH.GAME
MECH.GAME is a play-to-earn game that focus­es on live com­bats with char­ac­ters includ­ing Goliath, Pathfind­er, Stalk­er, and Mav­er­ick. Play­ers have the oppor­tu­ni­ty to win rewards by playing.
MECH.GAME is doing a mas­sive give­away con­sist­ing of sev­er­al dif­fer­ent prize types to increase the size of its play­er base. This con­tains 2 ETH, which is equiv­a­lent to a lit­tle less than $6,000 in val­ue at the time of this writ­ing. In addi­tion to this, MECH.GAME is run­ning a con­test in which the win­ner will receive 10 NFTs for free.
IndiGG
Yes, we're back with IndiGG. Being a pop­u­lar and con­stant­ly grow­ing plat­form, the large-scale NFT give­aways arranged by this plat­form aren't lim­it­ed. Hence, we can't com­plete this list with­out men­tion­ing anoth­er one of the biggest NFT give­aways held by this platform.
In col­lab­o­ra­tion with anoth­er excit­ing and addict­ing game, Cas­tle Crush, IndiGG is giv­ing away 650 NFTs to those who reg­is­ter and claim them to aug­ment fur­ther earn­ing oppor­tu­ni­ties. They have also opened a plat­form for every­one to dis­cuss any issues relat­ed to this and fur­ther build their game.
As the NFT gam­ing plat­forms are grow­ing, so are the reward­ing earn­ing oppor­tu­ni­ties through these plat­forms, whether in the form of NFTs or real mon­ey. So if you are also a gamer, now is the best time for you to step right into the NFT gam­ing world and make the most of its ben­e­fits. Hap­py Gaming!
Dis­claimer: Block­man­i­ty is a news por­tal and does not pro­vide any finan­cial advice. Block­man­i­ty's role is to inform the cryp­tocur­ren­cy and blockchain com­mu­ni­ty about what's going on in this space. Please do your own due dili­gence before mak­ing any invest­ment. Block­man­i­ty won't be respon­si­ble for any loss of funds.
Get the lat­est news on Blockchain only on Blockmanity.com. Sub­scribe to us on Google news and do fol­low us on Twit­ter @Blockmanity
Did you like the news you just read? Please leave a feed­back to help us serve you better
---