World Economic Forum launches coalition to use web3, blockchain for positive climate action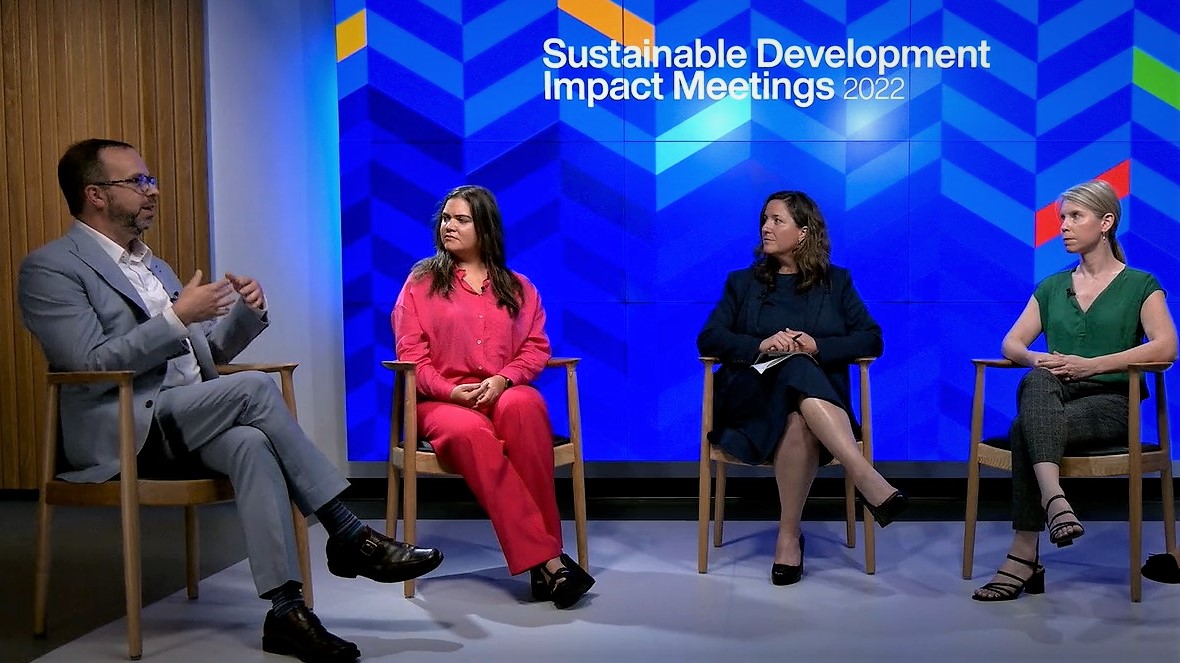 The World Eco­nom­ic Forum is launch­ing a new pub­lic-pri­vate part­ner­ship to lever­age web3 tech­nolo­gies to bet­ter sup­port pos­i­tive cli­mate out­comes as aware­ness over blockchain tech­nolo­gies' impact on the envi­ron­ment picks up steam.
The Switzer­land-based non-gov­ern­ment orga­ni­za­tion on Wednes­day announced the Cryp­to Sus­tain­abil­i­ty Coali­tion, con­sist­ing of 30 part­ners with­in the inter­sec­tion of sus­tain­able devel­op­ment and web3, cryp­to, and blockchain tech­nolo­gies, dur­ing a pan­el held in the U.S.
The coali­tion plans to sup­port research and devel­op­ment, share best prac­tices, and influ­ence reg­u­la­tion and includes inter­dis­ci­pli­nary mem­bers span­ning from the blockchain plat­form Solana, to sus­tain­abil­i­ty focused non­prof­its such as Cli­mate Col­lec­tive, to the Uni­ver­si­ty of Lisbon.
Cryp­to tech­nol­o­gy recent­ly made strides in sus­tain­abil­i­ty, with the Ethereum Merge, reduc­ing the sec­ond-largest blockchain's ener­gy con­sump­tion. How­ev­er, the indus­try as a whole remains ener­gy inten­sive. Bit­coin, the largest cryp­to cur­ren­cy by mar­ket cap­i­tal­iza­tion, has an annu­al­ized car­bon foot­print that match­es that of the coun­try Greece, and its ener­gy con­sump­tion is com­pa­ra­ble to that of the Unit­ed Arab Emi­rates, accord­ing to the Digi­con­o­mist Bit­coin Ener­gy Con­sump­tion Index.
"The objec­tives and the ways that the cryp­to indus­try needs to decar­bonize are quite com­plex," said Amy West­er­velt, region­al direc­tor of the Amer­i­c­as at Ener­gy Web, dur­ing the online con­fer­ence. Ener­gy Web builds decar­boniza­tion-focused open source, decen­tral­ized oper­at­ing sys­tems. "I think we need col­lab­o­ra­tion from estab­lished NGOs, from cli­mate sci­en­tists, util­i­ties, and from those indus­tries that are on the ground, so that we make sure that these real­ly inno­v­a­tive and unique tools that we have are applied in the right direc­tion," West­er­velt added.
When less is better
A pri­ma­ry func­tion of the coali­tion will be to ana­lyze the cryp­to industry's con­sump­tion of ener­gy, and mate­ri­als, to bet­ter under­stand its impact on cli­mate and nature. How­ev­er, the group also plans to proac­tive­ly inves­ti­gate ways in which web3 could help coun­tries achieve low­er car­bon emis­sion targets.
Blockchain tech­nolo­gies, in par­tic­u­lar, are well suit­ed as a home for car­bon cred­it mar­kets, accord­ing to Josh Knauer, cofounder of ReSeed Car­bon Assets and cochair of the coalition's work­ing group on car­bon cred­its. Reseed Car­bon Assets is a com­pa­ny that sells what it calls "ReSeed Car­bon Pro­tec­tion Cred­its" that are dig­i­tal tokens point­ing to blocks of farm lands where an esti­mat­ed met­ric ton of car­bon is being stored in veg­e­ta­tion and soil.
Using satel­lite imagery and arti­fi­cial intel­li­gence, the pur­chas­er of a car­bon pro­tec­tion cred­it can ensure their own­er­ship of the stored and pro­tect­ed car­bon, with price fluc­tu­at­ing on a free and decen­tral­ized mar­ket, accord­ing to the company's website.
Knauer adds that the blockchain is inclu­sive and spreads acces­si­bil­i­ty of car­bon mar­kets to even the world's small­est farm­ers, for­est stew­ards, and Indige­nous com­mu­ni­ties. "This tech­nol­o­gy can help in cre­at­ing coor­di­na­tion, trans­paren­cy, and effi­cien­cy in sys­tems, and can pro­vide more insight and trace­abil­i­ty when it comes to action, com­mit­ments, and invest­ments," he said, adding it helps ensure that the farm­ers them­selves are fair­ly com­pen­sat­ed and ben­e­fit as the price for car­bon increases.
Green­er cryp­to mining
In addi­tion, the Cryp­to Sus­tain­abil­i­ty Coali­tion seeks to sup­port more effi­cient cryp­tocur­ren­cy min­ing prac­tices as the indus­try con­sumes mas­sive amounts of ener­gy to per­form trans­ac­tions. Miner's decen­tral­ized and flex­i­ble nature, how­ev­er, could allow them to only run dur­ing off-peak ener­gy times, when less of the elec­tri­cal grid's pow­er is con­sumed by oth­er sources, accord­ing Lucia Gal­lar­do, Founder & chief exec­u­tive offi­cer (CEO) of EmergeFrance.
Addi­tion­al­ly, the heat waste from cryp­to min­ing machines could be recy­cled and offer a new busi­ness mod­el for util­i­ties and investors look­ing to devel­op renew­able ener­gy micro­grids, said Gal­lar­do. Emerge­France has worked with clients look­ing to recy­cle the heat that emanates from cryp­to min­ing, turn­ing it to a source to heat and run water sys­tems for pub­lic facil­i­ties, she added.
Oth­er key part­ners of the coali­tion include infor­ma­tion tech­nol­o­gy com­pa­ny Accen­ture, Rip­ple Labs, Inc., the com­pa­ny which devel­ops the Rip­ple pay­ment pro­to­col and exchange net­work, and the envi­ron­men­tal orga­ni­za­tion Rain­for­est Part­ner­ship. The coali­tion will work as part of the Cryp­to Impact and Sus­tain­abil­i­ty Accel­er­a­tor (CISA), a grant-fund­ed ini­tia­tive launched by the World Eco­nom­ic Forum at the start of this year to sup­port knowl­edge of envi­ron­men­tal, social and gov­er­nance (ESG) impacts of cryp­to technologies.
"We need open stan­dards, we need to open pro­to­cols, we need excel­lent debate, and exchange, that is what the sci­en­tif­ic method is all about, that's what we're here to pur­sue," said Knauer, adding "then we need larg­er insti­tu­tions like the World Eco­nom­ic Forum, like Roy­al Bank, like com­mer­cial banks, like oth­er oth­er investors to come in and help this these solu­tions to scale."