Ian Balina calls SEC charges frivolous, vows to fight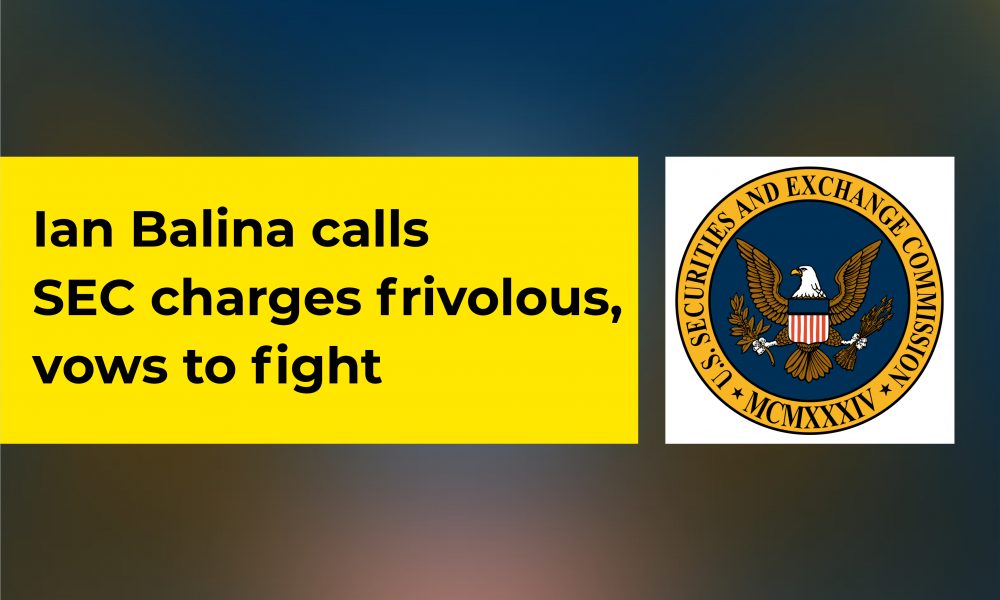 The Secu­ri­ties and Exchange Com­mis­sion has released an order ask­ing Spark­ster Ltd. and its CEO, Saj­jad Daya to pay $35 mil­lion to harmed investors of its 2018 ICO issued.
The Cay­man Islands-based soft­ware com­pa­ny released an unreg­is­tered 2018 ini­tial coin offer­ing (ICO) and raised about $30 mil­lion from 4,000 investors between April and July of the same year.
Accord­ing to the Spark­ster team, the mon­ey was meant for the devel­op­ment of the "no-code" soft­ware plat­form for chil­dren. The team also assured investors of the increase in val­ue of the token over time.
Apart from Spark­ster, Ian Bali­na was also charged by the SEC. Ian Bali­na was report­ed to have bridged laws by pro­mot­ing unreg­is­tered crypto.
Social media promotion and recipient of bonus from sales
Accord­ing to the SEC's order, Bali­na bought $5 mil­lion worth of SPRK tokens and pro­mot­ed the project on social media includ­ing YouTube, and Telegram in 2018.
He was also accused of not dis­clos­ing the bonus Spark­ster promised him as well as sell­ing the faulty tokens to 50 indi­vid­u­als he orga­nized as an invest­ing pool. While Spark­ster is tak­ing imme­di­ate steps, Bali­na seems to oppose the charges against him.
Excit­ed to take this fight public.

This friv­o­lous SEC charge sets a bad prece­dent for the entire cryp­to industry.

If invest­ing in a pri­vate sale with a dis­count is a crime, the entire cryp­to VC space is in trouble.

Turned down set­tle­ment so they have to prove them­selves. 💯 pic.twitter.com/lVaqnnsLgT

— Ian Bali­na (@DiaryofaMadeMan) Sep­tem­ber 19, 2022
On the break­down of the pay­ment, Spark­ster will pay $30 mil­lion in dis­gorge­ment, $4.6 mil­lion in pre­judge­ment inter­est, and $500,000 as civ­il penal­ty. Daya will also pay a $250,000 civ­il penal­ty and will not par­tic­i­pate in any cryp­to offer­ings for the next five years.
As part of the company's agree­ment to make amends, Spark­ster has decid­ed to destroy all tokens left. They also plan to remove the SPRK token from all trad­ing plat­forms while pub­lish­ing the SEC's order on its website.
Car­olyn M. Welsh­hans, Asso­ciate Direc­tor of the SEC's Divi­sion of Enforce­ment said that the orders by the SEC are meant to pro­tect investors as well as hold pro­mot­ers of cryp­to assets account­able for any failure.
Read also;
US SEC Okays First ETF; To Launch on the 18th