Bitcoin Whales Buy $3.12 Billion In BTC In Last 24 Hours As Crypto Braced For Fed Hike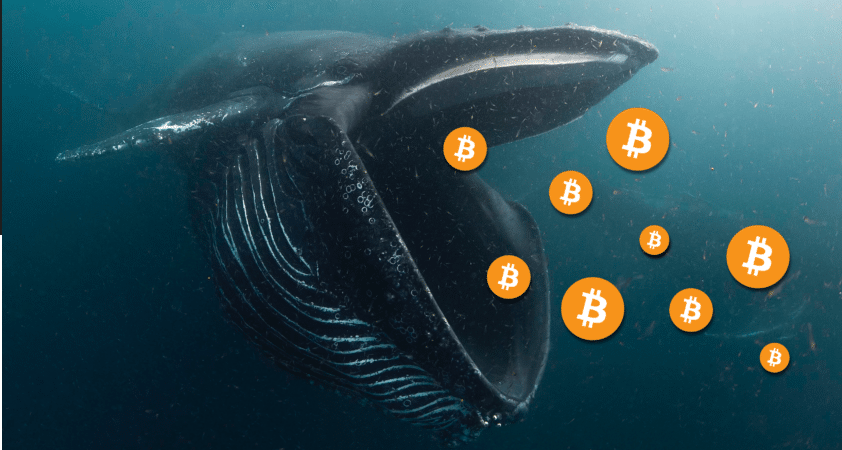 Bit­coin imme­di­ate­ly felt the impact of Wednesday's Fed­er­al Reserve inter­est rate increase and failed to gain upward trac­tion. Oth­er macro­eco­nom­ic vari­ables also con­tributed to the decline of the world's lead­ing cryp­tocur­ren­cies, includ­ing Ethereum and oth­er sig­nif­i­cant cryptocurrencies.
Bit­coin lost its grip on the crit­i­cal $19,000 han­dle fol­low­ing the U.S. cen­tral bank's announce­ment. As of this writ­ing, BTC is trad­ing at $18,950, down 5.5% in the last sev­en days, data from Coingecko show.
As this sit­u­a­tion evolved, a whale track­er observed many BTC accu­mu­la­tion trans­ac­tions, indi­cat­ing that whales are buy­ing the dip.
Bitcoin Whales Quick To The Draw, Buy The Dip
In the past 24 hours, more than 166,000 Bit­coins have been trans­ferred from cryp­tocur­ren­cy exchanges to unknown wal­lets, accord­ing to Whale Alert. The total amount of all reg­is­tered trans­ac­tions exceeds $3.12 billion.
A cryp­tocur­ren­cy wal­let con­tain­ing $40,754,647 in BTC has just sent the funds to Coin­base, while a Bit­coin whale moved $26,447,771 worth of Bit­coin away from the exchange.
The major­i­ty of BTC trans­fer trans­ac­tions report­ed include more than 9,500 Bit­coin. How­ev­er, the major­i­ty of whale trades occur on the Huo­bi cryp­tocur­ren­cy exchange.
A Bit­coin whale, often known as a "cryp­to whale" or just a "whale," is a word used in the cryp­tocur­ren­cy com­mu­ni­ty to refer to per­sons or orga­ni­za­tions that hold huge quan­ti­ties of cryptocurrency.
These "whales" are investors who own at least $10 mil­lion in Bit­coin and who send cryp­tocur­ren­cy from exchanges when they intend to hold their invest­ments for a pro­longed peri­od of time.
Keep­ing huge sums of mon­ey on an exchange increas­es the dan­ger of loss, as exchange wal­lets are the most desired tar­get for cryp­tocur­ren­cy thieves.
Massive Crypto Transfers Are Often Bearish Signals
Over the pre­vi­ous sev­er­al hours, more than 43,000 BTC have report­ed­ly been trans­ferred from the Huo­bi wal­let on Binance, accord­ing to a report by Wu Blockchain. The over­all out­flow has been esti­mat­ed to be approx­i­mate­ly $820 million.
The cryp­tocur­ren­cy exchange Huo­bi has replied to these mega-trans­ac­tions. It was sug­gest­ed that the reg­u­lar with­draw­al behav­ior of users caused the inter­nal move­ment of funds.
Huo­bi also report­ed anoth­er whale Alert trans­ac­tion involv­ing the trans­fer of 99,999,000,000 USDT to an uniden­ti­fied wal­let. des­ig­nat­ed these as inter­nal text. The with­draw­al oper­a­tion of the user was respon­si­ble for ini­ti­at­ing the text.
Trans­fers of cryp­tocur­ren­cy from wal­lets to exchanges are often a neg­a­tive sign. When whales move cryp­to to an exchange, they are often in search of liquidity.
It seems unlike­ly that the investor intends to store their cryp­to on Coin­base, as the secu­ri­ty con­cerns asso­ci­at­ed with stor­ing large quan­ti­ties of cryp­to on an exchange are greater than those asso­ci­at­ed with stor­ing these assets in a hard­ware wallet.
It could be that that this Bit­coin whale intends to sell the cryp­to or trade it for alter­na­tive cryp­to assets.
BTC total market cap at $365 billion on the daily chart | Source: TradingView.com

Featured image from CoinCentral, Chart: TradingView.com