AIM Summit Hosts Former U.S. Treasury Secretary to Discuss hGlobal Economy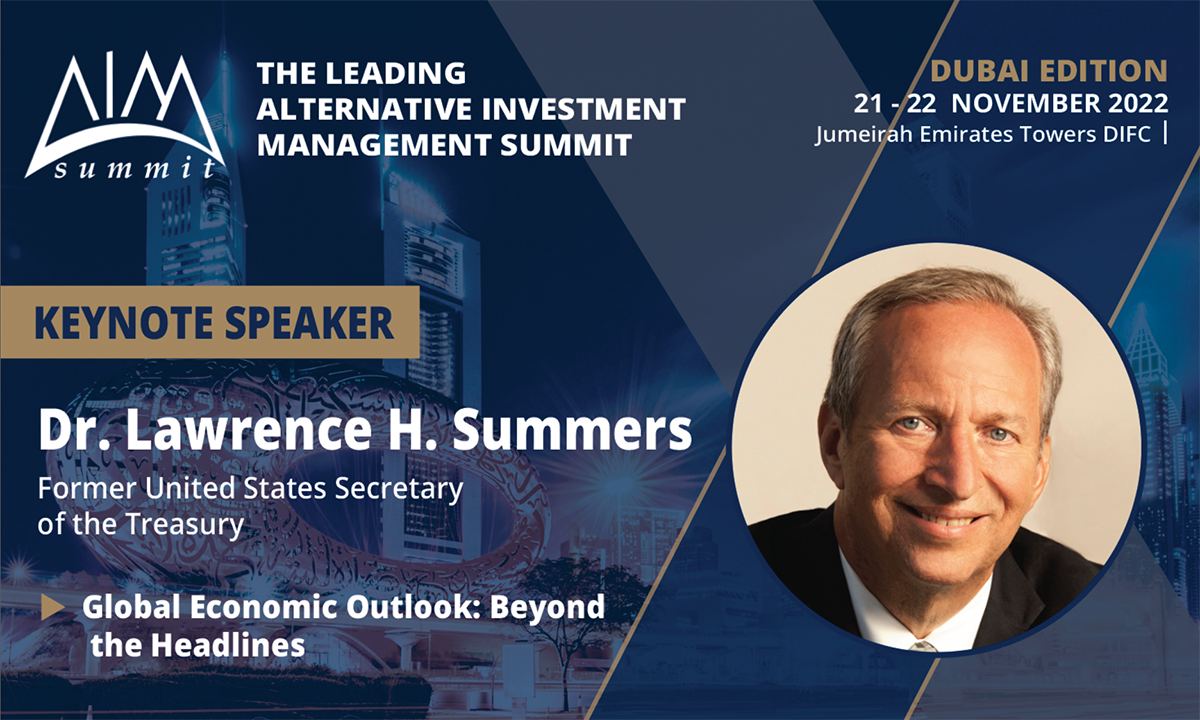 Econ­o­mist Lawrence H. Sum­mers has been the lead­ing voice in the nation­al debate on infla­tion.
Whatare the risks ahead once infla­tion is tamed?
Will slow-growth and sec­u­lar stag­na­tion re-emerge?
Lawrence H. Sum­mers, the renowned Amer­i­can econ­o­mist who served as the 71st Unit­ed States Sec­re­tary of Trea­sury from 1999–2001 under Bill Clin­ton, as well as the Direc­tor of the Nation­al Eco­nom­ic Coun­cil from 2009 to 2010 under Barack Oba­ma, will be offer­ing his insights into the glob­al econ­o­my and finan­cial mar­kets dur­ing the 13th edi­tion of AIM Sum­mit being held on Novem­ber 21–22, 2022 in Dubai UAE.
AIM Sum­mit is the region's lead­ing forum for pro­vid­ing insights on invest­ment devel­op­ments and glob­al mar­ket con­di­tions. This year, spe­cial empha­sis is placed on the cur­rent glob­al econ­o­my, infla­tion, stagfla­tion, and reces­sion. Sum­mers will pro­vide his view on why the U.S. will like­ly be head­ed into a reces­sion with­in the next two years. Sum­mers will dis­cuss how glob­al­iza­tion, trade, and tech­nol­o­gy will play a piv­otal role in the future of the glob­al economy.
In 2021, Sum­mers repeat­ed­ly called out the poten­tial for infla­tion in the U.S. while the U.S. Fed­er­al Reserve and many econ­o­mists viewed ris­ing prices as transitory.
Com­ment­ing on his par­tic­i­pa­tion at AIM Sum­mit, Sum­mers states, "Investors in alter­na­tive assets must nav­i­gate a chal­leng­ing macro­eco­nom­ic envi­ron­ment today and antic­i­pate how it will impact their port­fo­lios tomor­row. At the AIM Sum­mit in Dubai, I will address some of the most press­ing ques­tions investors should be ask­ing – will the Fed's new­found hawk­ish­ness lead to a painful reces­sion, or will they engi­neer a soft landing?"
"Will we return to the post-2009 era of sec­u­lar stag­na­tion, or a new par­a­digm? Will prog­nos­ti­ca­tions of China's econ­o­my over­tak­ing America's prove sim­i­lar to those of Rus­sia and Japan, which look ridicu­lous today?"
Raha Mora­di, Chief Exec­u­tive Offi­cer of AIM Sum­mit stat­ed, "We are hon­ored as orga­niz­ers of AIM Sum­mit to wel­come a well-renowned econ­o­mist and top U.S. rank­ing offi­cial such as Lawrence H. Summers.
His views on U.S. and glob­al infla­tion, reces­sion, and world poli­cies will offer our audi­ence valu­able infor­ma­tion that will ben­e­fit their poli­cies and strate­gies mov­ing for­ward. Investors and pol­i­cy­mak­ers alike across the GCC and MENA region are invit­ed to join us as we hearSummers'predictive insights."
The AIM Sum­mit gath­ers and con­nects investors with­in hedge funds, pri­vate equi­ty, ven­ture cap­i­tal, dig­i­tal assets, and Fin­Tech with glob­al indus­try lead­ers. This year the Sum­mit will cov­er top­ics per­tain­ing to port­fo­lio con­struc­tion, emerg­ing mar­kets, fron­tier mar­kets, pri­vate cred­it, hedge funds, the future of dig­i­tal assets, NFTs, meta­verse, cryp­to min­ing, ESG, impact invest­ing, and Web 3.
Audi­ences will also hearSummers'views on cryp­to and Blockchain.
For more infor­ma­tion, vis­it the offi­cial event web­site.
For spon­sor­ship and speak­ing oppor­tu­ni­ties, con­tact [email pro­tect­ed]
About AIM Summit – "Connecting people, Connecting ideas, Connecting markets"
AIM Sum­mit began over sev­en years ago with a mis­sion of con­nect­ing peo­ple, con­nect­ing ideas, and con­nect­ing mar­kets in alter­na­tive invest­ments. AIM Sum­mit is the lead­ing alter­na­tive invest­ment man­age­ment sum­mit cov­er­ing hedge funds, pri­vate equi­ty, ven­ture cap­i­tal, dig­i­tal assets, and pri­vate debt – bring­ing togeth­er the best minds in the alter­na­tive invest­ment indus­try with the largest allocators.
AIM Sum­mit is a plat­form for dis­cus­sions on invest­ment devel­op­ments, glob­al mar­ket con­di­tions, lat­est trends and acts as a net­work­ing forum for future busi­ness oppor­tu­ni­ties. The only con­fer­ence of its nature and mag­ni­tude orga­nized and orches­trat­ed by the indus­try in an inti­mate set­up to induce real dis­cus­sions on the best prac­tices and know-how.
Disclaimer
All the infor­ma­tion con­tained on our web­site is pub­lished in good faith and for gen­er­al infor­ma­tion pur­pos­es only. Any action the read­er takes upon the infor­ma­tion found on our web­site is strict­ly at their own risk.