Terra chief faces arrest as S. Korea ramps up global manhunt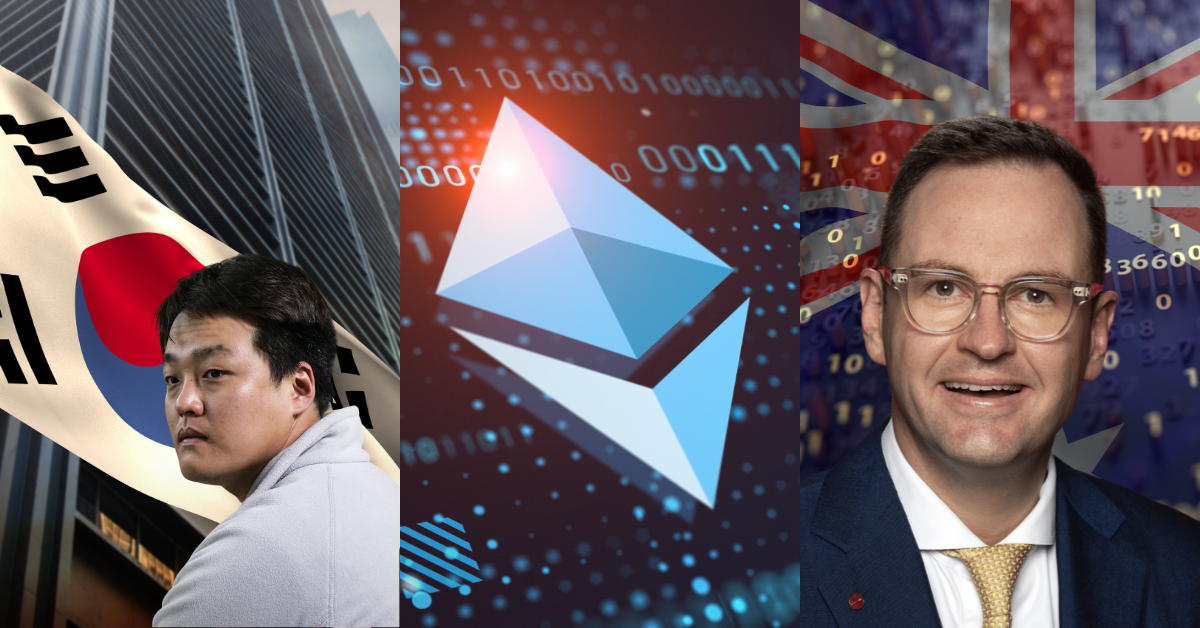 In this issue
Do Kwon: Where­abouts unknown
The Merge: A high, then a hangover
e‑CNY: Can­ber­ra calling
---
1. Cash me if you can
By the num­bers: Where is Do Kwon? — over 5,000% increase in Google search volume.
Wher­ev­er Ter­raform Labs Chief Exec­u­tive Kwon Do-hyung — bet­ter known as Do Kwon — is cur­rent­ly locat­ed, he faces the risk of being deemed an ille­gal alien, as South Korea has start­ed the process of can­cel­ing his pass­port. Pros­e­cu­tors in Seoul have report­ed­ly asked Inter­pol to issue a red notice — an inter­na­tion­al request for law enforce­ment agen­cies in Interpol's 195 mem­ber nations to arrest and detain a sus­pect in a crim­i­nal case — for Kwon.
South Kore­an author­i­ties issued an arrest war­rant for Kwon, the cre­ator of the col­lapsed algo­rith­mic sta­ble­coin UST and its sis­ter Luna coin (now renamed Luna Clas­sic), for alleged vio­la­tions of domes­tic cap­i­tal mar­kets laws. Five oth­er peo­ple are also on the want­ed list along­side Kwon, accord­ing to Bloomberg.
South Korea has been prob­ing Kwon and Ter­raform Labs for sus­pect­ed fraud fol­low­ing the multi­bil­lion-dol­lar col­lapse of the Ter­ra ecosys­tem in May. Many investors lost large sums of mon­ey from Terra's implo­sion, and some saw their life sav­ings disappear.
Terra's death spi­ral trig­gered a series of insol­ven­cies and bank­rupt­cies in the cryp­to indus­try as coin prices plum­met­ed, lop­ping more than a tril­lion dol­lars off the over­all cryp­to mar­ket cap.
Kwon was wide­ly believed to be in Sin­ga­pore, and a video inter­view released last month appeared to con­firm his location.
But over the week­end, Sin­ga­pore police said Kwon was not cur­rent­ly in the city-state.
"I am not 'on the run' or any­thing sim­i­lar — for any gov­ern­ment agency that has shown inter­est to com­mu­ni­cate, we are in full coop­er­a­tion and we don't have any­thing to hide," Kwon said on Twit­ter while defend­ing his pri­va­cy. South Kore­an pros­e­cu­tors dis­pute Kwon's claims.
A Ter­raform Labs spokesper­son declined to com­ment on the charges Kwon faces, and Kwon has not respond­ed to Forkast's requests for comment.
---
2. Merge, no surge
By the num­bers: The Merge Ethereum — over 5,000% increase in Google search volume.
The cryp­to indus­try cel­e­brat­ed the suc­cess of Ethereum's Merge last week as the net­work com­plet­ed its tran­si­tion to a proof-of-stake (PoS) con­sen­sus mech­a­nism and phased out its ener­gy-inten­sive proof-of-work (PoW) system.
This week start­ed with a major headache for the cryp­to mar­ket, with Ethereum falling below US$1,300 on Mon­day for the first time since July. The token was trad­ing at US$1,330 as of mid-week Asia time.
Bit­coin also dipped below US$18,500, its low­est lev­el since June. BTC has since crept up to US$18,900.
Ethereum forks, dri­ven by min­ers to pre­serve their PoW way of doing busi­ness, have also faced tech­ni­cal issues at launch, with coins that have sprung up, such as Ethereum­Fair, hav­ing lost as much as 88% of their val­ue since the Merge.
Oth­er lead­ing alt­coins that use PoS, such as Car­dano, Solana and Polka­dot, were among the biggest losers at the begin­ning of the week.
Cryp­to investors are tread­ing water this week as the U.S. Fed­er­al Reserve is expect­ed to announce anoth­er 75 basis point inter­est rate increase dur­ing the wee hours on Thurs­day in Asia, or Wednes­day after­noon in the U.S.
CME Group mar­ket ana­lysts ini­tial­ly pre­dict­ed a 40% chance that the Fed would opt for a more dras­tic full 1% hike after August infla­tion data exceed­ed expec­ta­tions. The ana­lysts have since low­ered that fore­cast to 18%.
Fed Chair Jerome Pow­ell has pledged to bring U.S. infla­tion back down to 2%. Econ­o­mists expect the cen­tral bank to raise inter­est rates to 4% with­in the year to tame spi­ral­ing inflation.
---
3. Aussie rules
Aus­tralian Sen­a­tor Andrew Bragg — one of the nation's most cryp­to-lit­er­ate law­mak­ers — has a bill in the works to mon­i­tor Chi­nese banks oper­at­ing Down Under and their future use of China's cen­tral bank dig­i­tal cur­ren­cy (CBDC), which he claims could be a threat to Australia's nation­al secu­ri­ty.
The dig­i­tal yuan, known offi­cial­ly as e‑CNY, is the most advanced CBDC project oper­at­ing in a major econ­o­my. While the Unit­ed States has been hes­i­tat­ing on the issuance of a dig­i­tal dol­lar, tri­als of Beijing's CBDC — which has been in devel­op­ment for over sev­en years — have expand­ed to 23 Chi­nese cities and regions.
"[E‑CNY] cur­ren­cy, if it became wide­spread in the Pacif­ic, or even with­in Aus­tralia, would give the Chi­nese state enor­mous pow­er — eco­nom­ic and strate­gic pow­er that it doesn't have today," Bragg said on local radio this week. "So, I think we need to be pre­pared for that. We need to know more about this dig­i­tal cur­ren­cy, so the [pro­posed Dig­i­tal Assets (Mar­kets Reg­u­la­tion) Bill] estab­lish­es report­ing require­ments in that regard."
The Aussie cryp­to advo­cate said he plans to intro­duce the Dig­i­tal Assets Bill dur­ing parliament's next sit­ting at the end of the month.
Chi­na is Australia's largest trad­ing part­ner, but the rela­tion­ship between the two nations has soured as Bei­jing imposed bans and sanc­tions on Aus­tralian exports in response to Canberra's call for an inde­pen­dent probe into the ori­gins of Covid-19.
China's grow­ing influ­ence in the Asia-Pacif­ic region has also been a cause for con­cern in Can­ber­ra. Ear­li­er this year, Chi­na signed a secu­ri­ty pact with the Solomon Islands that would allow Bei­jing to estab­lish a mil­i­tary base in the coun­try, which neigh­bors Australia.