Blockchain Economy Dubai Summit Is Just Around the Corner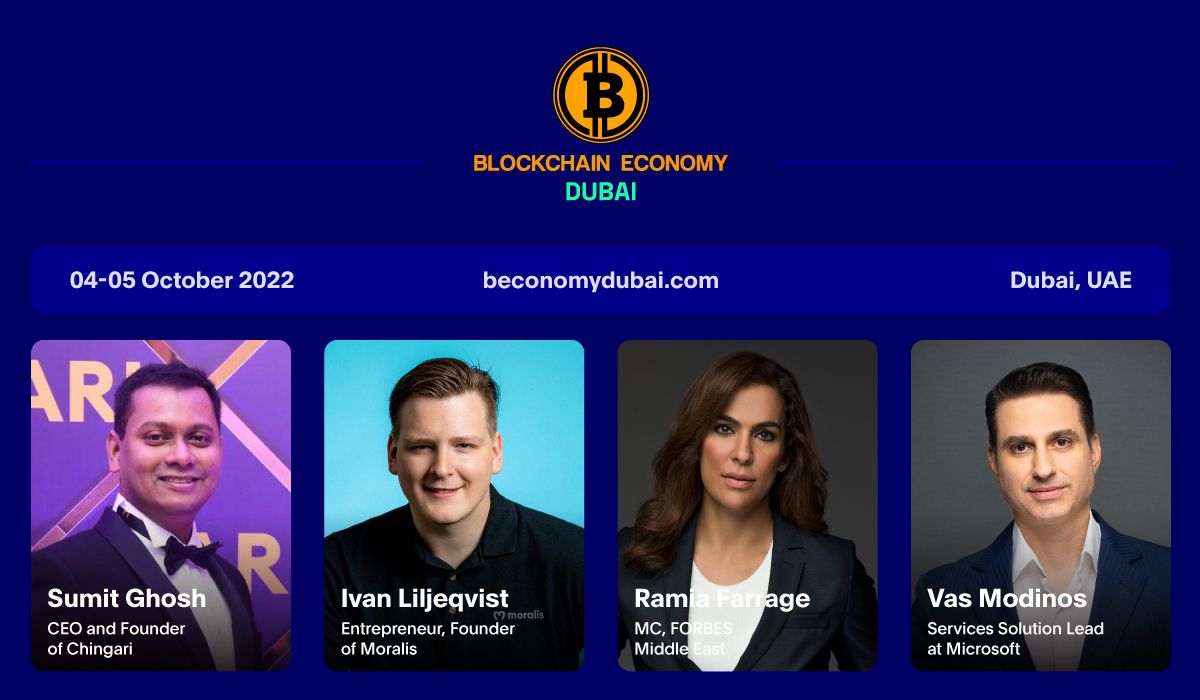 Excite­ment for the world's most glob­al blockchain & cryp­to con­fer­ence is at its peak as Blockchain Econ­o­my Dubai Sum­mit date is approaching.
Blockchain Econ­o­my Events are attend­ed by famous TV&Film Stars, Pop-Stars, Min­istries and indus­try lead­ers such as Blockchain.com, MicroS­trat­e­gy, KuCoin, Crypto.com, BITMAIN, Ledger, Krak­en, Gate.io, Bit­Mex, OKX and many more since its very first 2019 edition.
Summit's upcom­ing 5‑th edi­tion will be proud­ly host­ed in Dubai, the largest cryp­to hub of the World. The event is set to be held on Octo­ber 4–5, 2022 in the pres­ti­gious Le Meri­di­en Dubai Hotel & Con­fer­ence Centre.
Accord­ing to the announce­ment that was made on this high­ly antic­i­pat­ed conference's Twit­ter account, atten­dees from 63+ coun­tries are already head­ed to Dubai for the Most Glob­al Blockchain Con­fer­ence of the World.
The Event pro­vides unpar­al­leled net­work­ing oppor­tu­ni­ties to its par­tic­i­pants, as it is gath­er­ing in not only cryp­to com­pa­nies, but gov­ern­ment offi­cials, insti­tu­tion­al investors, and also indus­try giants such as Microsoft, Meta, Deloitte, AWS (Ama­zon Web Ser­vices) and many more.
While part of the atten­dees will have a chance to lis­ten to the mind-blow­ing pan­el dis­cus­sions and keynote ses­sions about Bit­coin adop­tion, pro­fes­sion­al trad­ing tech­niques, invest­ment strate­gies, build­ing on web 3.0, De-Fi, Meta­verse, NFTs, usage and imple­men­ta­tion of Blockchain tech­nol­o­gy in var­i­ous indus­tries and many oth­er key top­ics on the Main Con­fer­ence Stage, oth­ers can vis­it the par­tic­i­pat­ing com­pa­nies' booths, expe­ri­ence the var­i­ous enter­tain­ment activ­i­ties, explore the NFT Art Gallery and build new part­ner­ships in exten­sive net­work­ing areas.
Influ­en­tial names such as:
Vas Modi­nos – Solu­tion Lead at Microsoft
Sum­it Gosh – Founder and CEO of Chin­gari (Chin­gari is lead­ing web 3.0 pow­ered social app with more than 107mln downloads)
Ale­na Afana­se­va – Co-Founder and CEO of BeInCrypto
Ivan Lil­je­qvist, a.k.a. Ivan on Tech – Founder of Moralis, Entre­pre­neur and Soft­ware Developer
Adri­an Zduńczyk, a.k.a. Cryp­to Birb – Char­tered Mar­ket Tech­ni­cian, Founder of The Birb Nest
Matthew Gra­ham – CEO of Sino Glob­al Capital
Mohamed Issa – Region­al Man­ag­er at Chainalysis
are among the speak­ers of the con­fer­ence. The con­fer­ence will be host­ed by Ramia Far­rage, Senior Pro­duc­er and Pre­sen­ter from Forbes.
As Uphold's Chief Plat­form Offi­cer and award-win­ning com­pli­ance offi­cer with over 18 years of expe­ri­ence Oon­agh Van den Berg says "Blockchain Econ­o­my Events bring cryp­to con­fer­ences to the next level".
And this time, Blockchain Econ­o­my Dubai Sum­mit par­tic­i­pants will have a chance to meet Famous Titan the Robot and expe­ri­ence per­for­mances by this com­bi­na­tion of man, inge­nious ani­ma­tron­ics, engi­neer­ing and advanced elec­tron­ics. Giant 8ft Titan Robot is the semi-final­ist on "Britain's Got a Tal­ent 2022", and will come alive to Blockchain Econ­o­my Dubai Sum­mit for breath­tak­ing spec­tac­u­lar shows.
Blockchain Econ­o­my Summit's doors are open to all major play­ers in fin­tech indus­try and new star­tups to dis­cov­er the oppor­tu­ni­ties pro­vid­ed by the sanc­tion-free "par­adise" Dubai to reshape the finan­cial future com­ing togeth­er under one roof.
"Dubai has a great poten­tial in terms of reg­u­lat­ing cryp­to plat­forms, cryp­to assets and its usage. This is pre­cise­ly why we want to attract glob­al play­ers and new star­tups to Dubai." says Event's Project Man­ag­er Servi Aman.
The expect­ed atten­dance for the 5‑th edi­tion of Blockchain Econ­o­my Sum­mit is 3,000 from more than 60 coun­tries. Fur­ther infor­ma­tion is avail­able on the sum­mit web­site.
Click here to Spon­sor the Event and reserve a booth.
Tick­ets are avail­able here.
Event info:
Name: Blockchain Econ­o­my Dubai Summit
Date: Octo­ber 4–5, 2022
Venue: Le Meri­di­en Dubai Hotel & Con­fer­ence Cen­tre, Dubai, UAEOffi­cial Event Hash­tag: #BEDubai2022
Disclaimer
All the infor­ma­tion con­tained on our web­site is pub­lished in good faith and for gen­er­al infor­ma­tion pur­pos­es only. Any action the read­er takes upon the infor­ma­tion found on our web­site is strict­ly at their own risk.