Ethereum (ETH) & Solana (SOL) Become Most Staked Crypto Assets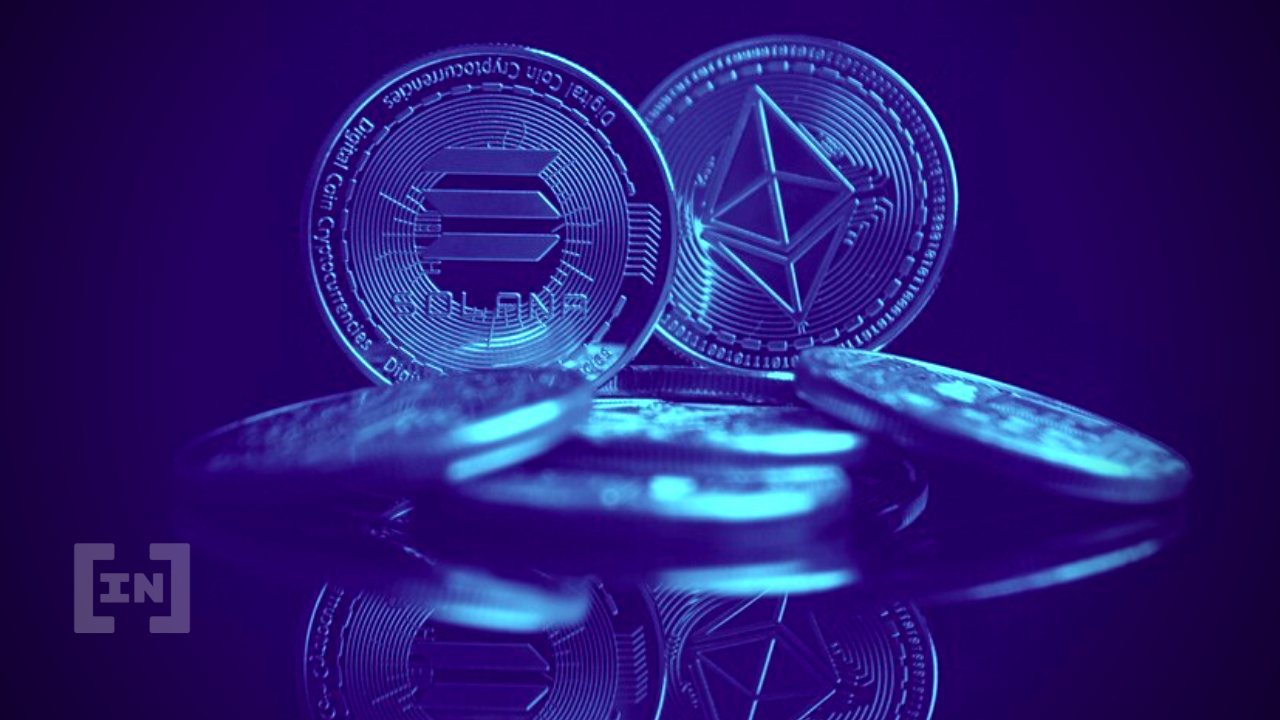 The mar­ket cap­i­tal­iza­tion of all staked cryp­to assets reach­es almost $95 bil­lion, with ETH and SOL lead­ing the pack.
Ethereum (ETH) takes the tro­phy for the most staked cryp­to asset fol­low­ing the suc­cess­ful Merge of the Bea­con Chain con­sen­sus lay­er with the Ethereum exe­cu­tion lay­er on Sep. 15, 2022, data from StakingRewards.com shows.
The net­work with the sec­ond-high­est stak­ing trans­ac­tion mar­ket cap is Solana, with $12.7 bil­lion. Hot on its heels is Car­dano with over $11 bil­lion, Binance Smart Chain with over $5 bil­lion, and Avalanche with about $4.6 bil­lion in locked assets. Round­ing off the top ten blockchains are Polka­dot, Cos­mos Hub, Tron, Poly­gon, and Near Pro­to­col. Of the top ten staked cryp­tocur­ren­cies by mar­ket cap, Cos­mos (ATOM) offers the high­est yield of 17.89%.
Stak­ing, the process of lock­ing up cryp­to for an extend­ed peri­od to earn rewards, is also a way for trans­ac­tion val­ida­tors to jos­tle for a chance to add a new block to the blockchain. A deter­min­is­tic algo­rithm selects a node that has staked the most cryp­to to val­i­date transactions.
In con­trast, min­ing involves com­pet­ing for a chance to add a new block of trans­ac­tions to the blockchain using an ener­gy-inten­sive com­pu­ta­tion­al process that has drawn con­cern from many quar­ters, includ­ing the Biden administration.
Stak­ing was intro­duced by blockchain devel­op­er Sun­ny King and Scott Nadal in a 2012 paper as an answer to bitcoin's high ener­gy consumption.
Ethereum leads staking as it seeks to become 'sound money'
At press time, Ethereum, the world's sec­ond-largest cryp­tocur­ren­cy by mar­ket cap, had 14,545,424 ETH staked, with 430,080 val­ida­tors and an annu­al yield of 4.1% per annum. Accord­ing to ana­lyt­ics firm Nansen, most of the ETH cur­rent­ly staked is not prof­itable at cur­rent Ethereum prices. At press time, Ethereum was trad­ing at $1,360.79, accord­ing to Coingecko.
The recent migra­tion of Ethereum from proof-of-work to proof-of-stake intro­duced a change in the issuance pat­tern of the cryp­tocur­ren­cy and the pos­si­bil­i­ty of the cryp­tocur­ren­cy acquir­ing the sta­tus of "sound mon­ey" through the intro­duc­tion of a sup­ply cap.
Since the Merge, 3,095.12 ETH has been inject­ed into the cir­cu­lat­ing sup­ply. An accom­pa­ny­ing "fee burn" mech­a­nism con­trols the sup­ply by remov­ing ETH from cir­cu­la­tion. Fee burn was intro­duced in Ethereum Improve­ment Pro­pos­al 1559 in Aug. 2021.
With­draw­ing staked ETH to reap inter­est will not be pos­si­ble until after the Shang­hai upgrade in ear­ly 2023. To become a val­ida­tor on the Ethereum net­work before the Merge required stak­ing 32 ETH. Stak­ing pools also allowed aspir­ing val­ida­tors to enter the race by con­tribut­ing as lit­tle as 0.01 ETH.
Accord­ing to the U.S. Secu­ri­ties and Exchange Com­mis­sion chair­man, the migra­tion of Ethereum to a proof-of-stake blockchain could mean that the coin pass­es the Howey Test, the prin­ci­pal test used to deem whether an asset is a secu­ri­ty.
Multiple staking methods offered
Most cryp­tocur­ren­cies that can be staked offer var­i­ous ways to earn stak­ing rewards. Ethereum offers solo stak­ing or run­ning your own val­ida­tor node. Stak­ing as a ser­vice removes the bur­den of run­ning a val­ida­tor node but allows a par­tic­i­pant to reap the rewards. Using stak­ing pools is anoth­er option, where stak­ers are issued a so-called ERC-20 liq­uid­i­ty token rep­re­sent­ing their staked ETH.
Solana, the sec­ond largest staked cryp­tocur­ren­cy by mar­ket cap, offers del­e­gat­ed proof-of-stake, where tokens are del­e­gat­ed to val­ida­tors run­ning nodes.
For Be[In]Crypto's lat­est Bit­coin (BTC) analy­sis, click here.
Disclaimer
All the infor­ma­tion con­tained on our web­site is pub­lished in good faith and for gen­er­al infor­ma­tion pur­pos­es only. Any action the read­er takes upon the infor­ma­tion found on our web­site is strict­ly at their own risk.