Blockchain-Based Connectivity and Banking Platform 3air Heads For Token Launch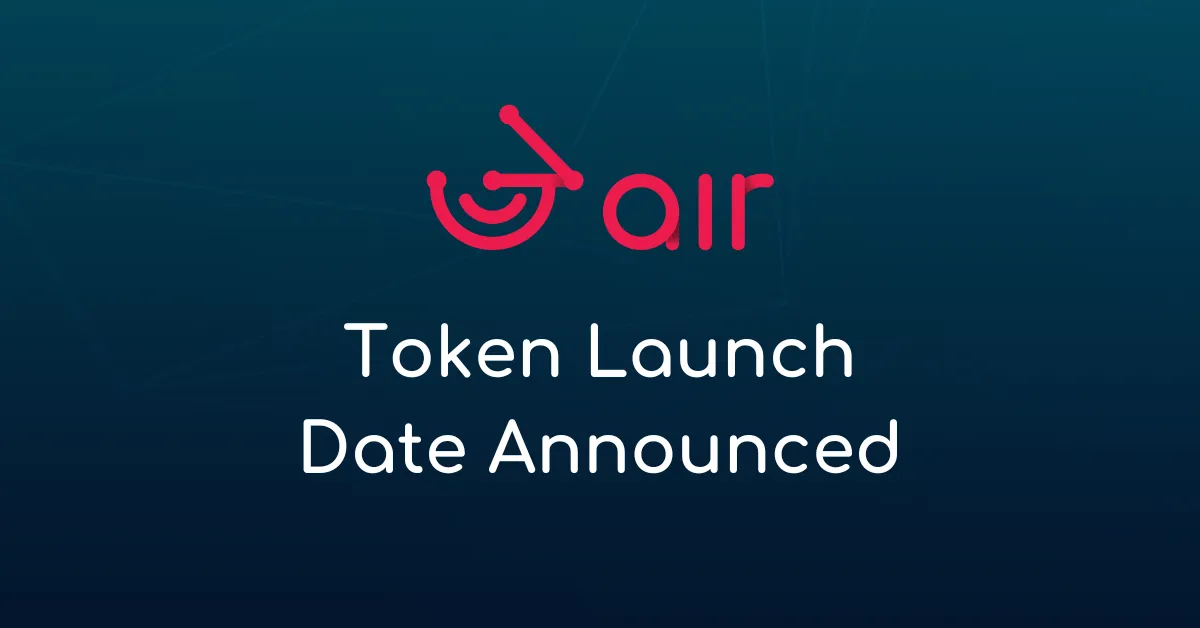 3air, the ​​blockchain-based plat­form bring­ing easy access to high-speed broad­band Inter­net, dig­i­tal ser­vices, iden­ti­ty man­age­ment, pay­ments, and cred­it line build­ing to under­served regions, announced the offi­cial launch of its token for Sep­tem­ber 22, 2022.
The launch date was announced by CEO San­di Bitenc and mem­bers of the 3air team on a live AMA and streamed on the company's YouTube chan­nel.
"The 3air token will be used on our plat­form and all of its ser­vices," said Bitenc. "It will be list­ed on exchanges and will be trade­able with oth­er cryptocurrencies."
Accord­ing to the team, sev­er­al launch­pads, list­ing exchanges, and part­ner­ships will be announced lead­ing up to the launch date. Notable part­ners of 3air already include CV VC, SKALE Net­work, K3 Tele­com, and the Africa Cham­ber of Dig­i­tal Com­merce, among others.
With many part­ner­ships under its belt to sup­port the company's ambi­tious plans, the launch of the token sig­ni­fies an impor­tant step in 3air's mis­sion to pro­vide acces­si­ble, afford­able, and equi­table dig­i­tal ser­vices to the world.
"The 3air token will pow­er our entire ecosys­tem," said Bitenc. "It is an impor­tant part of our mis­sion to pro­vide easy access to essen­tial dig­i­tal ser­vices for those who need it the most," said Bitenc. "We're excit­ed to final­ly be able to launch it and get one step clos­er to giv­ing peo­ple in devel­op­ing coun­tries a way to par­tic­i­pate in the glob­al dig­i­tal economy."
The company's esti­mat­ed mar­ket size with­in the first years of its launch rep­re­sents over 200 mil­lion peo­ple who cur­rent­ly don't have access to high-speed internet.
To find out more about 3air's token launch and how to join the com­mu­ni­ty ahead of the launch, vis­it https://3air.io/.
About 3air
3air brings mil­lions of users online and into the world of blockchain and DeFi with its blockchain-based inter­net plat­form. It uses pro­pri­etary tech­nol­o­gy to build broad­band infra­struc­ture where it does not exist and enables access to the 3air blockchain plat­form that offers DeFi, bank­ing, and sev­er­al income-gen­er­at­ing and reward mech­a­nisms to users.
For more infor­ma­tion about 3air:
Web­site | Deck | Whitepa­per | Twit­ter | Insta­gram | YouTube | Tik­Tok | Telegram | Dis­cord
Disclaimer
All the infor­ma­tion con­tained on our web­site is pub­lished in good faith and for gen­er­al infor­ma­tion pur­pos­es only. Any action the read­er takes upon the infor­ma­tion found on our web­site is strict­ly at their own risk.