Calls for policing NFTs gain ground as frauds rise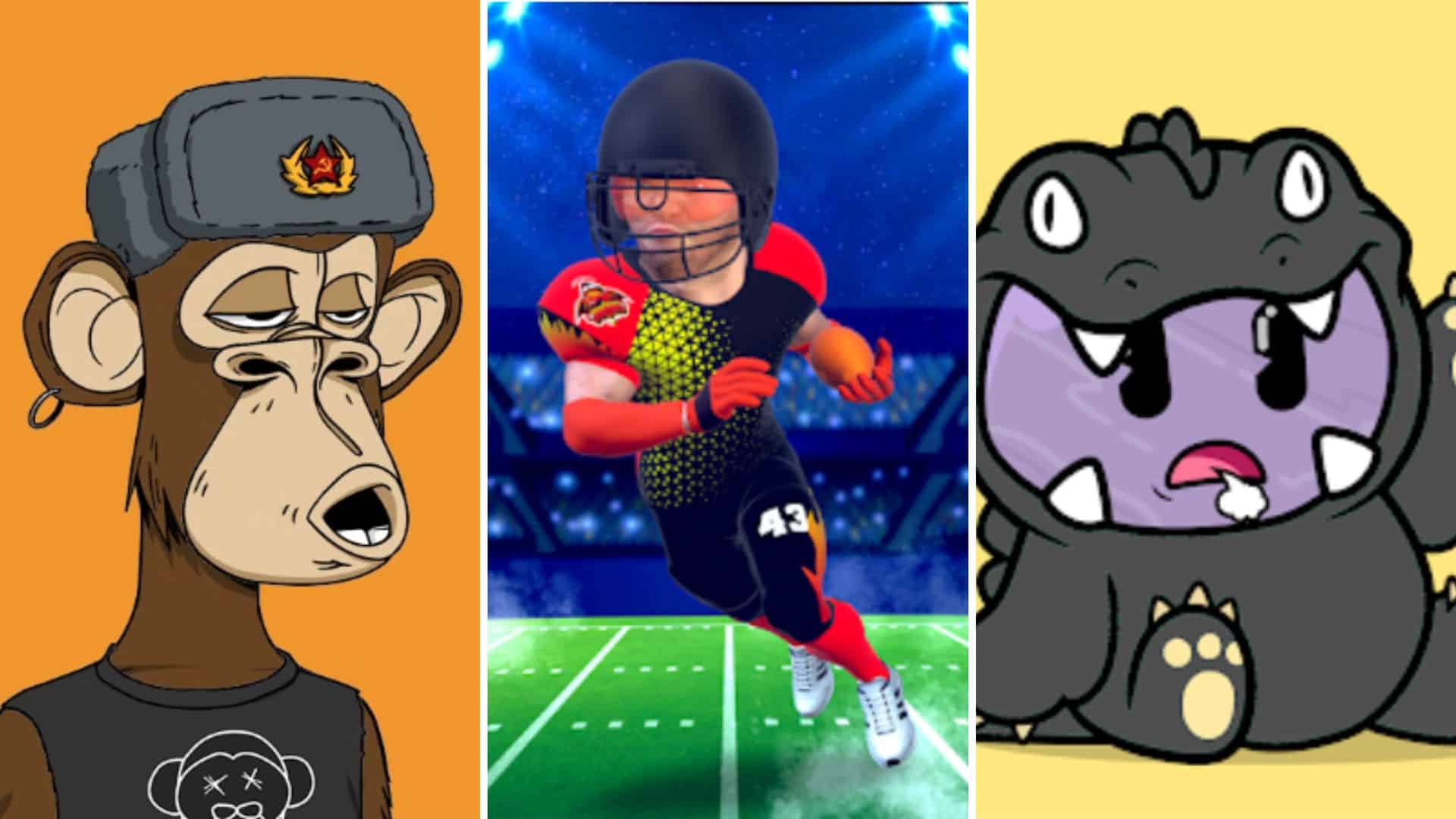 In a world of uncer­tain­ty, non-fun­gi­ble tokens (NFTs) were sup­posed to bring in a sem­blance of sta­bil­i­ty by guar­an­tee­ing uniqueness.
The tokens' abil­i­ty to immutably rep­re­sent dig­i­tal work, vir­tu­al real estate or even mer­chan­dise in a video game or the meta­verse has piqued inter­est among afi­ciona­dos and traders look­ing to flip NFTs for profit.
The total NFT mar­ket as tracked by Cryp­toSlam has grown expo­nen­tial­ly from a lit­tle more than US$54 mil­lion in month­ly sales in Jan­u­ary 2021 to US$3 bil­lion in May 2022.
The glob­al NFT mar­ket size is expect­ed to grow by US$147 bil­lion from 2021 to 2026 at a com­pound­ed annu­al growth rate of 35.3%, accord­ing to Tech­Navio, a unit of Infini­ti Research Ltd.
About 43% of the growth will come from the Asia Pacif­ic region with Sin­ga­pore, Chi­na, and the Philip­pines emerg­ing as key mar­kets, the U.K.-based mar­ket research firm said.
But as inter­est in the indus­try has surged, so have the bad actors.
The Wild West
In a high-pro­file insid­er trad­ing case in ear­ly June, the U.S. Depart­ment of Jus­tice (DOJ) charged a for­mer employ­ee of the NFT mar­ket­place OpenSea with wire fraud and mon­ey laun­der­ing for alleged­ly using insid­er infor­ma­tion to trade NFTs.
Nate Chas­tain alleged­ly exploit­ed inside knowl­edge regard­ing which NFTs were to be fea­tured on the platform's home­page, help­ing often to net two to five times their orig­i­nal val­ue. To dis­guise his actions, Chas­tain alleged­ly used mul­ti­ple anony­mous wal­lets and OpenSea accounts.
"NFTs might be new, but this type of crim­i­nal scheme is not," said U.S. Attor­ney Dami­an Williams in a press release issued by the DOJ at the time. "Today's charges demon­strate the com­mit­ment of this office to stamp­ing out insid­er trad­ing — whether it occurs on the stock mar­ket or the blockchain."
Ear­li­er in March, Ethan Vinh Nguyen and Andre Mar­cus Quid­daoen Lla­cu­na, two 20-year-old cre­ators behind an alleged US$1 mil­lion NFT scam, were charged with con­spir­a­cy to com­mit wire fraud and mon­ey laundering.
They were alleged­ly behind the oper­a­tion of the Frosties NFT col­lec­tion, siphon­ing off funds after investors poured over US$1 mil­lion into the car­toon ice cream dig­i­tal collectibles.
The two were also alleged­ly prepar­ing to launch the sale of a sec­ond set of NFTs adver­tised as "Embers," which was like­ly to gen­er­ate about US$1.5 mil­lion in proceeds.
Even big-name investors can be caught up in the mix; Hol­ly­wood fun­ny­man Seth Green recent­ly lost four NFTs in a phish­ing scam.
Green has since recov­ered one of the tokens by pay­ing rough­ly US$300,000 in Ethereum for the high­ly prized Bored Ape Yacht Club (BAYC) #8398. Green need­ed to fork out so much to recov­er the token as it is the star of an upcom­ing sit­com, whose future was in doubt while Green was no longer the own­er of the token.
BAYC cofounder Gor­don Goner recent­ly crit­i­cized Dis­cord, a plat­form pop­u­lar with many Web 3.0 com­mu­ni­ties, after the BAYC com­mu­ni­ty was hacked in ear­ly May.
Goner said that the plat­form "isn't work­ing for Web3 com­mu­ni­ties" after users lost rough­ly 200 ETH in a hack in ear­ly May. Once scam­mers gained access to the serv­er, they sent seem­ing­ly authen­tic links for com­mu­ni­ty mem­bers to fol­low, unaware they were con­nect­ing their wal­lets — and their assets — to the scammers.
Even seem­ing­ly legit­i­mate, high-pro­file NFT col­lec­tions are not immune to rug pulls.
Twit­ter cryp­to sleuth ZachXBT recent­ly report­ed on the US$1.4 mil­lion rug pull from the team behind the "Play­ers Only" NFT project, which promised exclu­sive access to mer­chan­dise from a group of pro­fes­sion­al ath­letes who launched the project in Novem­ber 2021.
After numer­ous reports of mer­chan­dise not appear­ing and can­celed Zoom meet­ings, the founders have recent­ly walked away from the project, cit­ing a lack of inter­est in the project but pock­et­ing the funds that were made along the way.
"In many ways, the cryp­to space is going through a cri­sis," With­ers Khat­tar­Wong LLP's Shaun Leong told Forkast. "We are tran­si­tion­ing from a pre­dom­i­nant­ly unreg­u­lat­ed, 'buy­ers beware' frame­work to a legal frame­work where dig­i­tal assets are prop­er­ly cat­e­go­rized [and] where the legal con­se­quences are made very trans­par­ent," he said.
"In many ways, the cryp­to space is going through a crisis."

– Shaun Leong, Khat­tar­Wong LLP
Read more: Hold onto your cryp­to bags, the reg­u­la­tors are coming
Leong said the step up in leg­is­la­tion in the wake of the Ter­ra-LUNA cri­sis harkens back to reg­u­la­to­ry action in the wake of the Glob­al Finan­cial Cri­sis in 2008.
"It's time to clean up," as fraud in the indus­try has gone on long enough, Yehu­da Petsch­er, a strate­gist at NFT data aggre­ga­tor Cryp­toSlam, told Forkast. "I was always hop­ing that the space would be able to police itself and we wouldn't need lawyers involved in reg­u­la­tions and all of those things," he said. "But we do; we real­ly do."
"I was always hop­ing that the space would be able to police itself and we wouldn't need lawyers involved in reg­u­la­tions and all of those things."

– Yehu­da Petsch­er, CryptoSlam
Despite the steep rise in the num­ber of crimes in NFTs and cryp­to, fraud as a per­cent­age of over­all trans­ac­tions dwarfs tra­di­tion­al finance.
Crimes based on cryp­tocur­ren­cies touched a fresh all-time high in 2021, with illic­it address­es receiv­ing US$14 bil­lion over the course of the year, up from US$7.8 bil­lion in 2020, accord­ing to the "The 2022 Cryp­to Crime Report" by Chainal­y­sis. Total trans­ac­tion vol­ume across all cryp­tocur­ren­cies tracked by the blockchain data plat­form grew to US$15.8 tril­lion in 2021, up 567% from 2020.
How­ev­er, trans­ac­tions involv­ing illic­it address­es rep­re­sent­ed just 0.2% of cryp­tocur­ren­cy trans­ac­tion vol­ume in 2021 despite the val­ue of such trans­ac­tions reach­ing its high­est lev­el ever, Chainal­y­sis said.
In com­par­i­son, the Unit­ed Nations Office on Drugs and Crime (UNODC) esti­mat­ed that crim­i­nal pro­ceeds amount­ed to 3.6% of glob­al GDP, with 2.7% of eco­nom­ic out­put world­wide being laundered.
Call the Sheriff
The stark dif­fer­ences in per­cent­ages notwith­stand­ing, the high-pro­file nature of cryp­to and NFTs has drawn the atten­tion of regulators.
​​"We already have very robust con­sumer pro­tec­tion laws pro­hibit­ing mis­lead­ing and decep­tive con­duct and uncon­scionable con­duct dur­ing the oper­a­tion of a busi­ness," said Michael Baci­na, a dig­i­tal law spe­cial­ist and part­ner at Aus­tralian com­mer­cial law firm Piper­Al­der­man. "And there's no rea­son why those shouldn't apply and be enforced in rela­tion to NFTs as well."
That rea­son­ing was evi­dent when a high court in Sin­ga­pore placed an injunc­tion, enforce­able glob­al­ly, against the trad­ing of a BAYC, worth an esti­mat­ed US$500,000, mark­ing one of the first real-world tests for the lim­its of judi­cial reach over a most­ly decen­tral­ized industry.
Read more: Gov­ern­ments push­ing for CBD­Cs smell blood in Ter­ra Classic's struggles
In anoth­er case, the High Court of Jus­tice in Lon­don ruled that NFTs are "prop­er­ty" although the art­work it rep­re­sent­ed did not enjoy the same priv­i­lege. A few days ear­li­er, a court in Chi­na ruled that NFTs car­ry the same rights as property.
Adju­di­ca­tion in such cas­es are made all the more com­plex, With­ers KhattarWong's Leong says, due to two fac­tors: oper­at­ing across inter­na­tion­al juris­dic­tions, and the strong ethos of pri­va­cy with­in the cryp­to com­mu­ni­ty which can obscure user's identity.
Read more: Sin­ga­pore court's block­ing of NFT trans­fer tests legal oversight
A key chal­lenge for courts and reg­u­la­tors is enforce­ment in an indus­try which is decen­tral­ized by nature.
Blockchain enthu­si­asts advo­cate that orga­ni­za­tions and indi­vid­ual behav­ior must be gov­erned by soft­ware "code" rather than law or a phi­los­o­phy of "Code is Law."
But that argu­ment was test­ed when the decen­tral­ized autonomous orga­ni­za­tion (DAO) behind Solend, a Solana-based lend­ing pro­to­col, over­turned a gov­er­nance vote on Sun­day that would have allowed it to take con­trol of a wal­let at risk of liquidation.
"You are going to have laws around how [DAOs] are estab­lished, what sort of legal frame­work they exist with­in, audits of code [etc]," Sen­a­tor Andrew Bragg, one of Australia's lead­ing voic­es in cryp­tocur­ren­cy reg­u­la­tion, told Forkast in an inter­view. "Those sorts of things can­not be self-reg­u­lat­ed, I'm afraid. Sor­ry about that."
Bragg's com­ments come as gov­ern­ments, reg­u­la­tors and courts increas­ing­ly use their pow­er to extend their geo­graph­i­cal reach.
In a hark back to the days when the U.S. attor­ney for the South­ern Dis­trict of New York enforced a glob­al reach, an order by the U.S. Dis­trict Court for the South­ern Dis­trict of New York was upheld, enabling the Secu­ri­ties and Exchange Com­mis­sion to move ahead with its inves­ti­ga­tion against Ter­raform Labs Pte. Ltd. and chief exec­u­tive offi­cer Kwon Do-hyung for pos­si­ble vio­la­tions of fed­er­al secu­ri­ties laws relat­ed to Mir­ror Pro­to­col, a blockchain technology.
Regard­less of where reg­u­la­tion on NFTs and cryp­to set­tles, some sug­gest using blockchain tech­nol­o­gy to com­ple­ment the law.
"There is huge oppor­tu­ni­ty for blockchain tech­nol­o­gy to improve the oper­a­tion of law," PiperAlderman's Baci­na told Forkast.
Smart con­tracts can dra­mat­i­cal­ly reduce the cost of enforce­ment of com­mer­cial dis­putes as all nec­es­sary data is read­i­ly avail­able on chain, Baci­na explained.
This both low­ers the bar­ri­er of entry for com­mer­cial dis­putes, mean­ing low­er mon­e­tary val­ue dis­putes may be worth chal­leng­ing as the costs are reduced, and makes com­mer­cial law lit­i­ga­tion more acces­si­ble to low­er net-worth indi­vid­u­als, Baci­na told Forkast.
Before that hap­pens, there is still some ground to cov­er, Baci­na said as a caveat.
"It's going to be quite a few years before we see a great deal of super auto­mat­ed smart con­tracts real­ly tak­ing over sig­nif­i­cant parts of our econ­o­my," Baci­na said. "We are not at the point of self-dri­ving cars, nor are we at a point where you're going to be run­ning invoice col­lec­tions straight out of smart con­tracts just yet."
Either way, ear­ly adopter dreams of oper­at­ing out­side the purview of law seem to have been dashed due to the ris­ing fraud in the industry.
"I think you lose the soul of what we're doing," CryptoSlam's Petsch­er told Forkast.
"We were excit­ed that this was some­thing we were going to be able to tack­le by our­selves and we're going to show the world how to do it and we would do it bet­ter," Petsch­er said. "We felt we didn't need those reg­u­la­tions," he said. "And again, I think we've come up short."