Global Bitcoin ATM Installs Spike by Over 100% in 2021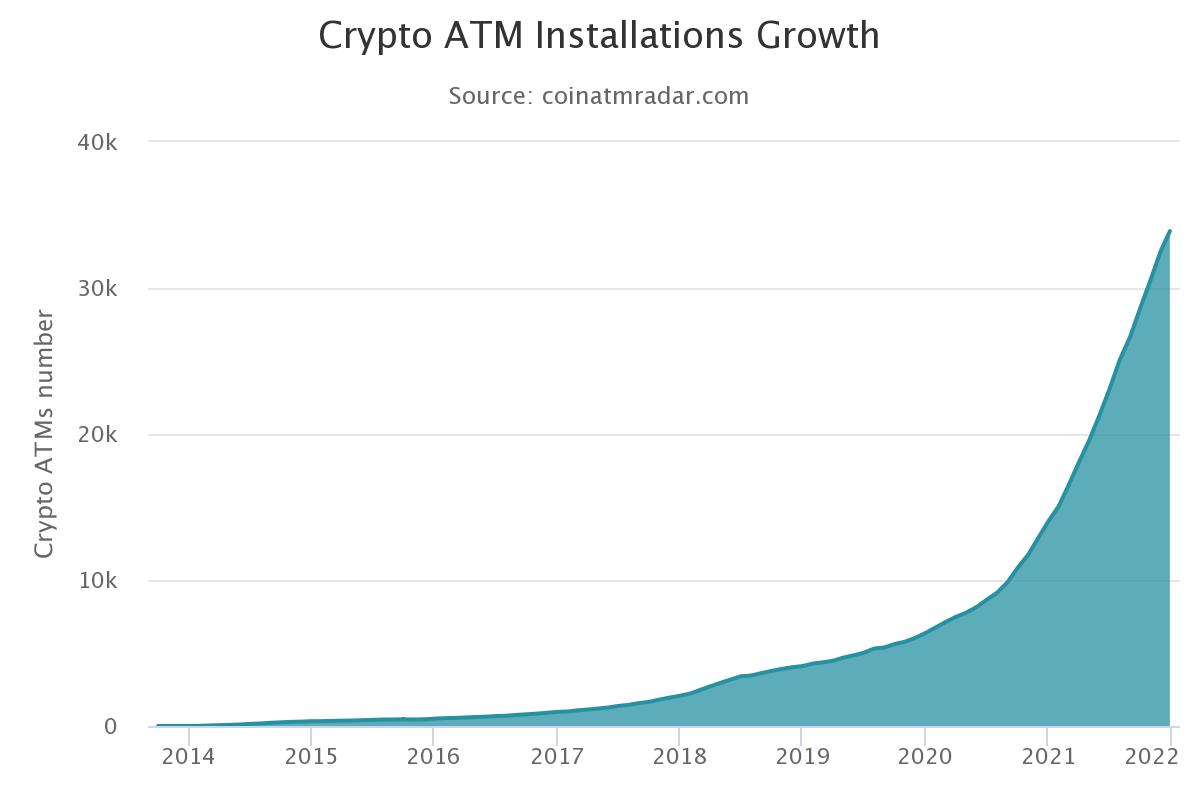 The num­ber of bit­coin ATMs around the world has more than dou­bled since the start of the year. Most of these ATMs are present in the Unit­ed, with the glob­al num­ber stand­ing at approx­i­mate­ly 34,000.
The num­ber of bit­coin ATMs installed around the world has grown by over 100% in 2021, the largest increase yet since ATMs began appear­ing in 2013. In Jan­u­ary 2021, there were just over 14,000 bit­coin ATMs, with that num­ber now stand­ing at just under 34,000.
The growth of bit­coin ATMs glob­al­ly is a sign that the asset is begin­ning to take hold in the wider econ­o­my. 2021 has been an excel­lent year for bit­coin on many accounts, and the ATM growth is just one of many omens for a good future.
The trend of more bit­coin ATMs con­tin­ues from 2020, which also expe­ri­enced a surge despite the pan­dem­ic. Bit­coin ATMs over dou­bled in num­ber in 2020, increas­ing from rough­ly 6,400 to 12,800 in the year. This trend first start­ed in 2018, fol­low­ing the ICO boom ear­li­er that year.
Bit­coin ATMs have their down­sides, main­ly that the trans­ac­tions are con­sid­er­ably more expen­sive. Con­se­quent­ly, some users have said that they pre­fer sta­tion­ary cryp­to exchanges to bit­coin ATMs. How­ev­er, it is a con­ve­nient way for the pub­lic to begin invest­ing in bit­coin and cer­tain­ly brings some expo­sure to the asset class.
The bit­coin ATM instal­la­tion was first report­ed to be expe­ri­enc­ing strong growth in Mar. 2021, and since then, more coun­tries have tak­en to it. As such, there are sev­er­al coun­tries across the world that now run bit­coin ATM operations.
Bitcoin ATMs popular in many countries
While there has been a glob­al lev­el of growth for bit­coin ATMs, the vast major­i­ty of these are present in the Unit­ed States — rough­ly 29,000. Bit­coin Depot alone launched more than 350 bit­coin ATMs in the U.S. in May 2021.
In Europe, Hon­duras opened its first cryp­to ATM as inter­est was grow­ing in the asset class. El Sal­vador, which rec­og­nizes bit­coin as legal ten­der, also has over 200 Bit­coin ATMs. Colom­bia fol­lowed suit and launched its own cryp­to ATMs after El Salvador.
Chi­na, mean­while, does not per­mit cryp­to. How­ev­er, it has launched a dig­i­tal ren­min­bi and cash exchange ser­vice ATM in Beijing.
Disclaimer

All the infor­ma­tion con­tained on our web­site is pub­lished in good faith and for gen­er­al infor­ma­tion pur­pos­es only. Any action the read­er takes upon the infor­ma­tion found on our web­site is strict­ly at their own risk.