Bitcoin price: US central bank tapering fears sees major crypto sell-off where market loses $570 billion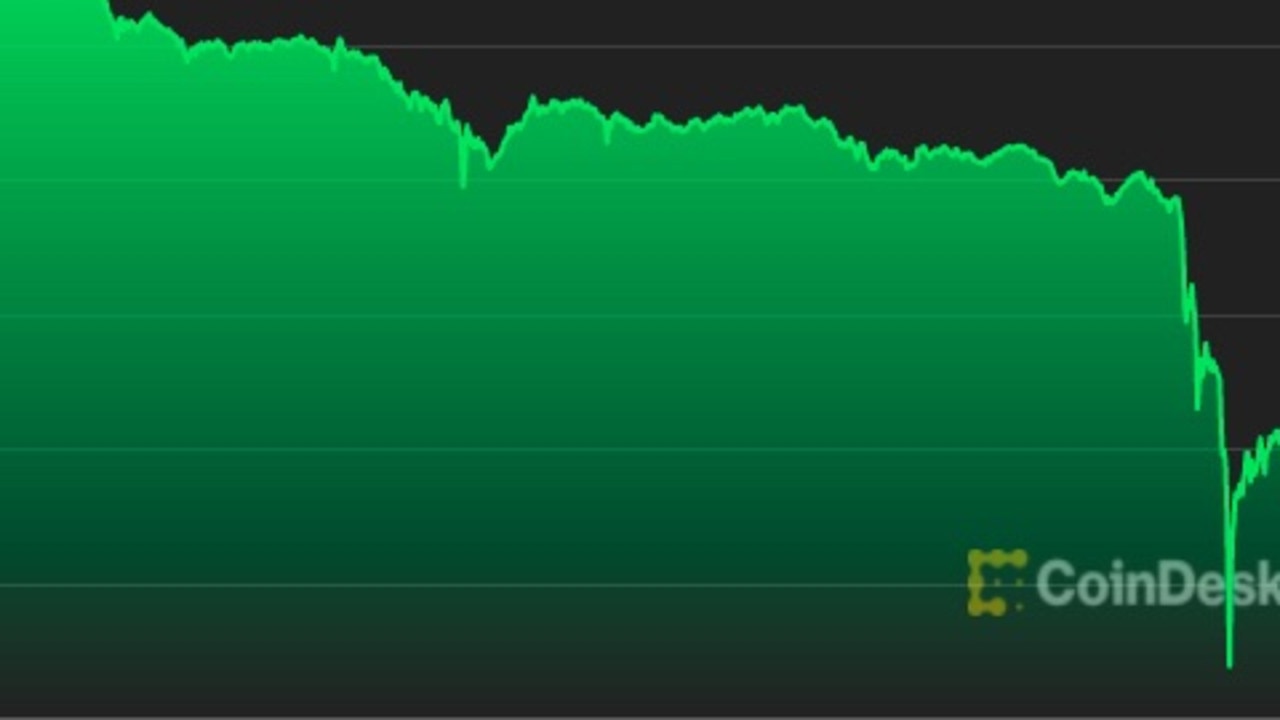 Cryp­tocur­ren­cy has been bat­tered in a bru­tal 24-hour peri­od, with bit­coin in par­tic­u­lar suf­fer­ing a $14,000 loss in the space of just 60 minutes.
Cryp­tocur­ren­cy has been bat­tered in a bru­tal 24-hour peri­od, with some coins record­ing falls as sharp as 20 per cent of their over­all value.
On Fri­day AEDT, the over­all mar­ket cap­i­tal­i­sa­tion of cryp­tocur­ren­cy was sit­ting at $3.7 tril­lion, but now the spec­u­la­tive coins are worth just $3.1 tril­lion all up. About $570 bil­lion was wiped out in a sin­gle day.
Bit­coin, the num­ber one cryp­tocur­ren­cy, is down by a whop­ping 16 per cent, shed­ding $$21,400 from its price since the day before, accord­ing to Coin­Desk figures.
At one point it lost $14,000 of its val­ue in just 60 minutes.
Sev­er­al weeks ago, things were very dif­fer­ent, as bit­coin surged to a new all-time high of $98,000. At its low­est point today it was on $60,000 per token.
Bit­coin isn't the only cryp­to that's been evis­cer­at­ed in the past sev­er­al hours. All the oth­er major play­ers includ­ing ethereum, Binance's BNB, solana, car­dano and Ripple's XRP have expe­ri­enced drops of around 10 per cent.
And there's a sim­ple rea­son why — rumours are sur­fac­ing of impend­ing greater reg­u­la­tions for cryp­to, prompt­ing a mass glob­al sell-off.
An eco­nom­ic fore­cast­er has pre­dict­ed that the cryp­to mar­ket is about to have its hands tied by red tape and, he reck­ons that bit­coins will soon only be worth $14,000 each.
Just before the week­end, well known investor Louis Navel­li­er warned that the US cen­tral bank could start "taper­ing" cryp­to, which could ruin the market.
"The Fed is taper­ing, and this should cre­ate a cor­rec­tion in risk assets, of which bit­coin is a part," Mr Navel­li­er wrote.
"The more the Fed tapers, the more volatil­i­ty we should see in both stocks and bonds — and yes, bit­coin, too."
He added that he could see bit­coin drop­ping to near­ly pre-pan­dem­ic lev­els in terms of price, and thought it could stay at that level.
"I would take a decline below $US46,000 (the 200-day mov­ing aver­age) to be a yel­low flag and a decline below the spring low of $US28,500 to be a com­plet­ed mas­sive dou­ble top, which points to a decline to below $US10,000, which inci­den­tal­ly would match many of the mul­ti­ple 80+ per cent declines in its sto­ried his­to­ry," he wrote.
The news sent the mar­ket into free fall.
Bit­coin is now the low­est it has been since September.
At time of writ­ing, bit­coin was slight­ly high­er than its 24-hour low, on $68,000.
How­ev­er, some see this is as a tem­po­rary blip for bit­coin, with cryp­to enthu­si­ast (and Pres­i­dent of El Sal­vador) Nay­ib Bukele mak­ing the most of the opportunity.
He announced that he was going to "buy the dip" to add to his nation's reserve. El Sal­vador was the first coun­try to turn bit­coin into legal tender.
The cryp­to mar­ket is famous­ly volatile and late last month, the Reserve Bank of Aus­tralia warned cryp­to investors they risked hold­ing spec­u­la­tive assets with "niche" uses that could lose most of their value.
The RBA's head of pay­ments, Tony Richards, said the val­ue of many cryp­tocur­ren­cies had been dri­ven by "fads and a fear of miss­ing out" and could crash when cen­tral banks decide to assert con­trol over their mon­e­tary systems.
"I think there are plau­si­ble sce­nar­ios where a range of fac­tors could come togeth­er to sig­nif­i­cant­ly chal­lenge the cur­rent fer­vour for cryp­tocur­ren­cies, so that the cur­rent spec­u­la­tive demand could begin to reverse, and much of the price increas­es of recent years could be unwound," he told the Aus­tralian Cor­po­rate Trea­sury Asso­ci­a­tion in November.